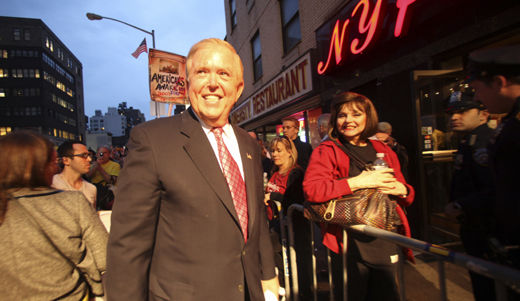 Meg Whitman, the billionaire Republican candidate for governor of California, spent weeks blasting undocumented workers and companies that hire them. She quieted down on the issue after she was exposed for having undocumented workers on her payroll.
During the days of his reign at CNN an audience of close to one million watched Lou Dobbs fulminate nightly against "the illegal aliens" taking over the country.
Dobbs aimed his sharpest arrows at "the employers who so shamelessly exploit the illegal aliens" and he called for laws that would make such employers face felony charges.
Now he appears at tea party rallies telling Fox News that he hasn't ruled out a possible Senate or even presidential run in 2012.
Meanwhile The Investigative Fund at The Nation Institute recently found that Dobbs has relied for years on undocumented labor for the upkeep of his multimillion-dollar estate and the horses he keeps for his daughter, Hillary, a champion show jumper.
Dobbs lives in a huge mansion on a 300-acre estate in Sussex County, New Jersey, just a few miles from where I lived during the 1990s until 2006.
His daughter still owns at least five horses worth more than $1 million apiece. Sometimes the horses are moved by immigrant workers from either that property or stables in Vermont down to Florida and then, back again. She received, as a gift from her father, a multi-million dollar home in West Palm beach, Fla. where she stays during winter equestrian festivals.
Anyone in Sussex County, N.J. will tell you that Mexican and Guatemalan workers do the landscaping on all the mansions in the area. My neighbor was one of those landscapers. By the truckload, they could be seen driving, several days a week, onto the property on which the Dobbs mansion sits.
At least a third of the landscapers, according to local officials, are undocumented. The wealthy land owners in the area make sure that, as much as possible, the police departments in Sussex, Vernon, Warwick and West Milford refrain from asking anyone any questions about their papers. The rich people in the area love their cheap laborers.
At least weekly when I lived in northwestern New Jersey, I passed not only the Dobbs estate but also other large properties with horses and grazing cows. On many of the horse farms, the majority of people working with the animals were undocumented immigrants.
Dobbs says he, like many of the other rich white men in the area, relied on outside contractors to hire his landscapers and horse groomers. The argument doesn't fly because he regularly used his platform at CNN to condemn the government and anybody else that used outside contractors to hire undocumented immigrants.
Now the investigation by The Nation shows that Dobbs knew and talked to his undocumented workers on a regular basis, in Spanish.
One undocumented worker, at least, worked for him for two years without papers until he was able to obtain a guest-worker visa designed for seasonal foreign workers. The visa was the same type of visa Dobbs regularly condemned as a form of "indentured servitude."
Other undocumented workers say that they were forced to work 13-hour days on the Dobbs estate and never got paid time-and-a-half after 40 hours.
Dobbs, on national television, frequently condemned employers of undocumented workers for paying these unacceptably low wages.
Workers at a Dobbs estate lived, not in apartments, but with the horses in the barn itself. Nine were packed into a tiny room just above where the horses spent the night.
My Guatemalan neighbor in West Milford said he worked on the Dobbs and other properties for more than two years and said the landscaping company never asked him for any papers. He left landscaping to take a $15 per hour job working for a construction contractor. "I did gardening for one rich man and gave that up to build a house for another rich man," he said.
In the eyes of undocumented workers Lou Dobbs is far worse, however, than the typical rich man. Dobbs blasted the "illegals" night after night on national television and got rich doing it. Then he went home to his estate where undocumented workers took care of him, his family and his horses.
Photo: Lou Dobbs at a tea party event in New York in April. Mary Altaffer/AP