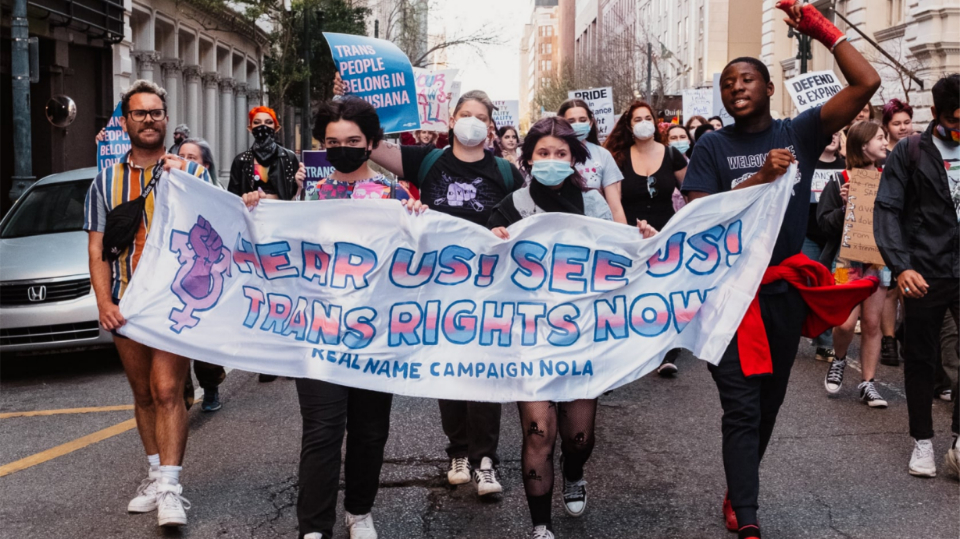 NEW ORLEANS—On March 28, Florida Gov. Ron DeSantis signed the 'Don't Say Gay' bill, forbidding instruction on sexual orientation and gender identity in kindergarten through third grade. This repressive act by the Republicans spurred other states to enact similar bills. Following Florida, Alabama lawmakers approved legislation that outlaws gender-affirming medications for transgender kids. Now, lawmakers in Ohio and Louisiana are considering copies of these attacks on the LGBTQ community.
In early April, the Louisiana Senate passed SB 44, which bans transgender students from participating in school sports consistent with their gender identity. This was followed by another bill, HB 837, that mimics Florida.
On May 3, a committee of Louisiana lawmakers shot down the 'Don't Say Gay' bill by a 4-7 vote. But legislators moved to resurrect HB 837 after a debate before the whole chamber, which led to the motion passing with a 55-39 vote. HB 837 would ban educators from teaching sexual orientation and gender identity to students up to the eighth grade while also preventing them from talking about their own identities in all grade levels in Louisiana public schools.
With SB 44 and HB 837 now heading to the governor's desk for signature, members from the organization Real Name Campaign NOLA, which represents local trans and gender non-conforming activists in the state, demonstrated on May 24. They demanded a veto of both bills.
David Abraham, an organizer with Real Name Campaign NOLA, talked about the organization with People's World and described what transpired the day they demonstrated.
"The Real Name Campaign primarily works to help Louisiana residents who are trans or gender nonconforming get access to correct identification with their real names and accurate gender markers," Abraham said, "but for the past two years we've been really involved in work around the state legislative session."
Some demonstrations that the organization has participated in focused on disrupting the veto override session in Louisiana, emailing legislators and the governor to not push forward anti-LGBTQ bills, and using direct confrontation tactics to force the hands of people in office in the state.
Lately, much of the group's effort has centered on trying to persuade Gov. John Bel Edwards on the question of vetoing the anti-LGBTQ bills. Despite being a Democrat, Edwards employs problematic language toward trans kids.
"He keeps using language like 'trans kids are going to perceive this as more bullying even though I don't think that's the intent of the bill' or that 'it's a solution for a problem that doesn't exist'," Abraham said. He argued that Edwards implies that trans kids are a problem and that does not take the bills seriously as a civil rights issue.
In response, Real Name Campaign NOLA took its message to the state capitol in its May 24 demonstration. During the protest, activists were met by capitol security and capitol police, who removed them with force.
Abraham described the events: "The capitol police just looked at us, I guess they were waiting for us to be combative back, which we would never do. So once again we were just basically removed, but they were much more restrained than they were last year."
The authorities' response was reminiscent of a similar moment last year when Real Name Campaign NOLA activists were removed from the capitol with excessive force that almost felt like an "assault," according to Abraham.
These actions pushed by the Real Name Campaign NOLA are a reflection of direct political action to resist the attacks against the LGBTQ community that are sweeping several states. Fellow comrades need to be participating against the assault on the rights of the LGBTQ community.
In addition to the hateful laws being pushed by Republicans, members of the LGBTQ community already face discrimination in housing and employment, lack full legal and civil rights, and are frequently subjected to hate crimes. Hiring discrimination is so pervasive that it condemns large numbers of LGBTQ people to long periods of joblessness, forcing them into dangerous situations.
The extreme right uses homophobia, transphobia, and attacks on gender non-conformists, gays, and lesbians as wedges to split the working-class and people's movements. Using false notions of morals and family values, the right attempts to use homophobia to gain allies for its corporate agenda among the working class and other social forces. The real threat to working families is not LGBTQ civil rights but the extreme right agenda.
Ultimately, working-class unity is key for defending the LGBTQ community. With more repressive legislation bound to appear, it is essential to build the broadest unity possible to defend all marginalized peoples at home and abroad. The work of groups like Real Name Campaign NOLA is an example of that fight at the local level.