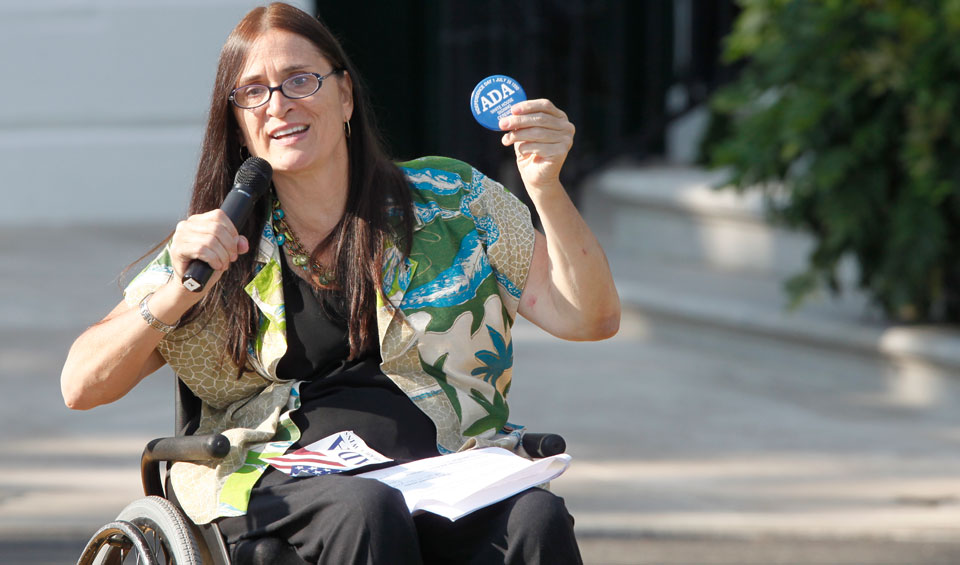 After a long battle with cancer, disability justice pioneer Marca Bristo passed away this week. The veteran community organizer was one of the key players in drafting and passing the Americans with Disabilities Act, civil rights legislation that prohibits discrimination against people with disabilities. Bristo also founded Access Living, a Chicago-based disability rights organization that is predominantly staffed by people with a wide range of disabilities.
When she was 23, Bristo's life was altered after she dove into Lake Michigan to retrieve a pair of sandals that her friend's dog accidentally knocked into the water. Unaware of the shallow nature of the lake, Bristo broke her neck during the dive and was rendered paralyzed from the waist down. The accident was a catalyst for Bristo's lifetime involvement in disability rights advocacy.
In 1984, she and a number of other disabled activists chained themselves to Chicago Transit Authority (CTA) vehicles, demanding more accessible options on buses and rail stations. The direct action was followed by a lawsuit against the CTA that resulted in the eventual implementation of bus lifts and, later, other accessibility measures on public transit.
Bristo was known not only for her policy initiatives but also for the mark she left in union organizing movements. "She was respected by everyone from the Chicago Teachers' Union to union members from the Chicago Transit Authority," said Amber Smock, the Director of Advocacy at Access Living. "Marca had a clear understanding that the struggle with labor issues was directly connected to the fight for disability rights."
Smock became acquainted with Bristo in 2010 after she got promoted to the advocacy position at Access Living. "She took a lot of pain to support younger women with disabilities," says Smock of the legendary activist and mentor. Smock says that counseling youth was emblematic of Bristo's leadership style.
The company's former president and CEO also appreciated people who challenged her just as much as she challenged others. Although she was remembered for having high standards and an unwavering work ethic, she was also recognized for her compassionate and receptive nature: "She knew how to engage with people from all walks of life."
Bristo's meticulous and strategic organizing approach earned her high praise from both grassroots organizers and politicians alike. In 1993, then-President Bill Clinton nominated her to lead the National Council on Disability, a position which she accepted and held until 2002. She also went on to help draft the ADA Amendment Act of 2008 under the Obama administration.
Smock credits Bristo's ability to navigate the political terrain to her acknowledgment of every person's humanity and struggle, "whether you were a person with a disability who was trying to be independent and needed support—or the president of the United States." Smock says, "Nobody was treated differently or better."
The veteran activist also spent the last decade of her life learning from young queer disabled people of color. "The disability rights movement has evolved into a more intersectional understanding of disability justice," says Smock. Despite Bristo's "relative privilege" as a white woman in social justice, Smock insists that Bristo always made it a point to prioritize the voices of queer, disabled people of color within the movement.
Bristo's drive for political transformation remained solid, even in the days leading up to her passing. The week of her death, House Speaker Nancy Pelosi reportedly called Bristo's home.  Even in the midst of her deteriorating health, Bristo urged the speaker to move the Disability Integration Act—designed to prohibit discrimination against disabled individuals who need long-term services—"to the committee and to a floor vote."
The undeniable legacy of Bristo's activism is the opportunities disabled communities have access to today. Once quoted as saying, "My wheelchair wasn't too wide for the doors, the doors were too narrow for my wheelchair," Bristo reframed the modern conversation around "accessibility." She challenged able-bodied people to confront their own privileges in society and passed the torch onto the next generation of disability justice leaders.