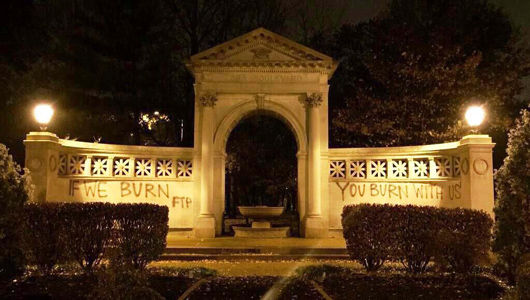 ST. LOUIS – Last night at 9 p.m., some 100 protesters congregated on Shaw Ave. here near the spot where 18-year-old VonDerrit Myers was killed by off-duty police officer Jason Flanery on Oct. 8. The police claim Myers was armed and fired at Flanery. While that has yet to be independently confirmed, an independent autopsy shows that Myers was shot seven times, six times in the back of his legs, and once in the face.
The historic Shaw neighborhood is a well-integrated neighborhood compared to much of St. Louis or any other city of its size. As the group of mostly college-aged white residents marched through the mist towards Grand Ave., chanting familiar slogans, a dozen police vehicles following slowly behind, their blue lights dizzying the rain.
Turning onto Grand Ave, the crowd moved towards the intersection of I-44. From the number of Guy Fawkes masks, college students in keffiyehs, and familiar chants the group shuffled through, you could mistake them for Occupiers ("This is what democracy looks like!).
While the Shaw and Ferguson neighborhoods are as different as the cases of Michael Brown and VonDerrit Myers, many here find the daily reports of white police officers killing defenseless black youth, and using over kill tactics on those who do resist, as irrefutable evidence of institutional racism's callous brutality.
Flooding the intersection of the I-44 on-ramp and Grand Ave, the protesters shut down all traffic with no interference from the police sitting in vehicles on either side of the crowd. Reporters are everywhere as are legal observers. Standing in the middle of the intersection, three young black women, all medical workers, stand in a cluster.
Janece Jones, Tynisha Smith, and Brittany Furr are out this evening to support the fight against police violence. While police violence and institutional racism are nothing new Janece Jones said that the movement in St. Louis "is different." She said that all of the "people coming together is new, this generation is different, we're not as crazy as people make us out to be." The three women laughed. "Maybe this will be an example," Smith said. Her friends nodded in agreement: "It isn't even about race anymore," she said. "It is about injustice."
After holding the intersection and blocking the I-44 on ramp for 10 minutes a few police officers walked over and stood a short distance away with their hands in their pockets. Before the order to disperse was given, the protesters withdrew from the intersection and returned to Shaw – leaving behind a message scrawled on Flora Pl. near the spot where 18-year-old VonDerrit Myers died violently: "If we burn, you burn with us."
Photo: James Raines/PW