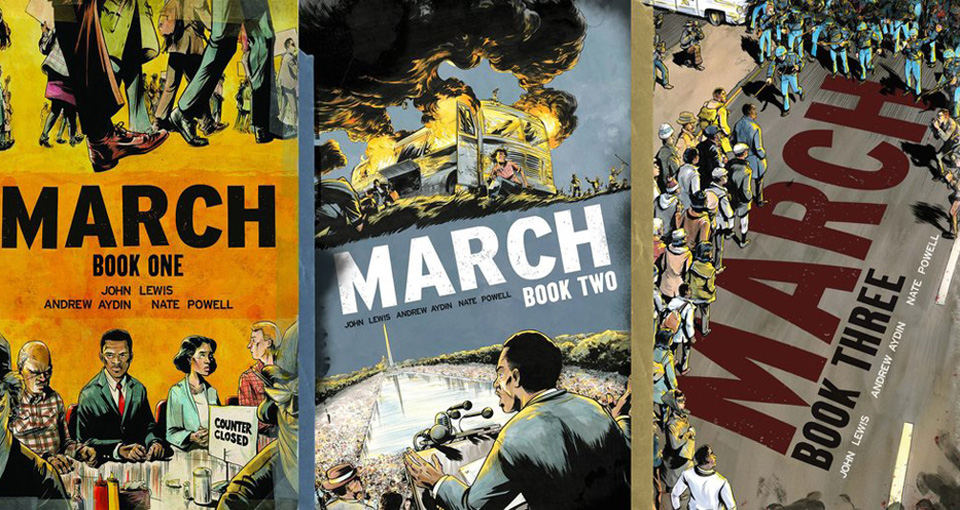 How many politicians are genuine heroes? How many citizens were committed body and soul to movements of peace and justice and later took office? There is a man in the United States House of Representatives that fits that bill. Representative John Lewis has served Georgia's 5th congressional district since 1987. Born into a large family outside of Troy, Alabama, his parents were sharecroppers. John Lewis grew up knowing segregation and as a youth began questioning the status quo. At an early age he committed himself to the Civil Rights Movement and continues to do so to this day.
Rep. John Lewis recently published the third and final book of his three volume graphic novel trilogy titled March. These illustrated books present the life of Rep. Lewis and his deep involvement in the fight for civil rights equality from the 1950s to the present day. Graphic novels are a popular medium nowadays for both children and adults. The transformation of comic books into a serious literary format has evolved considerably in recent years.
On October 8, Rep. Lewis discussed his life of public service and his recent graphic novels on stage at the August Wilson Center for African American Culture in Pittsburgh, PA. This event was a collaboration between the Pittsburgh ToonSeum and Sweetwater Arts Center and was sponsored by Carlow University and The Pittsburgh Foundation. Joining Rep. Lewis in front of a full auditorium were his March co-creators Andrew Aydin and Nate Powell.
The March trilogy of graphic novels was an ambitious project begun in 2013 and concluded in 2016 with March: Book Three. Co-writer Andrew Aydin is the Digital Director and Policy Advisor to Rep. Lewis and a life-long comic book enthusiast. Mr. Aydin explained how he originally thought of the idea of creating an illustrated history of Rep. Lewis' involvement in the Civil Rights Movement. Rep. Lewis had previously shared with Mr. Aydin how he was motivated by a comic book titled Martin Luther King and the Montgomery Story. This small comic book told the story of Rosa Parks and the Montgomery Bus Boycott.  After its publication in 1957-1958, 250,000 copies were distributed throughout the South via churches, labor unions, colleges, and civil rights organizations. The comic book influenced young activists including Rep. Lewis who was inspired to fight racial injustice using the principles of non-violence. Mr. Aydin convinced Rep. Lewis that sharing his own personal story in graphic novel format could help educate and inspire new generations.
Artist Nate Powell is the illustrator for all three volumes. His graphic depictions of the events the books portray create a realistic and stirring account of Rep. Lewis' life. Previously, Powell's 2008 graphic novel, Swallow Me Whole, received the Eisner Award for Best Original Graphic Novel.
March: Book One spans Rep. Lewis' childhood years in Alabama, his initial meeting with Martin Luther King, Jr., and the Nashville Student Movement. March: Book Two chronicles Rep. Lewis' participation with the Freedom Riders activists who rode interstate bus lines in mixed racial groups to challenge unlawful segregation throughout the southern United States. It also covers his election as Chairman of the Student Nonviolent Coordinating Committee (SNCC) and the historic 1963 March on Washington for Jobs and Freedom.
The recently published March: Book Three is the largest volume in the set and describes events such as Freedom Summer, the 1964 volunteer campaign to register as many African American voters as possible in Mississippi. Also depicted is the march from Selma to Montgomery for voting rights on March 25, 1965 in which peaceful protesters were met with violence on the Edmund Pettus Bridge. That day, which is known as "Bloody Sunday," John Lewis suffered a fractured skull. The words and imagery are blunt and reveal the violence and emotions encountered while fighting for civil rights.
These volumes are equally educational and emotional for students of the African American Civil Rights Movement. The three graphic novels are currently being used as valuable learning tools in many schools, colleges, and universities across the nation.
During the question and answer segment of the presentation, Rep. Lewis was asked what he thought of current struggles for equality. He replied, "I'm still hopeful. Still optimistic. We've come too far and we're not going to go back." Rep. Lewis added, "We are all one family…not just an American family, but a world family." He boldly told the audience that voting is the best non-violent tool in a democracy.
In conjunction with Rep. Lewis' appearance and signing in Pittsburgh, the exhibition, "From MLK to March: Civil Rights in Comics and Cartoons", is on display through November 20th in the BNY Gallery located within the August Wilson Center.
This exhibition, presented by the Pittsburgh ToonSeum, highlights the little-known comic books and editorial cartoons of the civil rights era, including work by Herblock of the Washington Post, Sam Milai of the Pittsburgh Courier and the Martin Luther King, Jr. comic book. It also examines the legacy of these early cartoons and comics on contemporary political cartooning and graphic novels. The exhibit includes work from Rep. John Lewis' March. The ToonSeum is an independent, non-profit museum dedicated to comic and cartoon art. Both the August Wilson Center for African American Culture and the ToonSeum are located within the Cultural District in Downtown Pittsburgh.