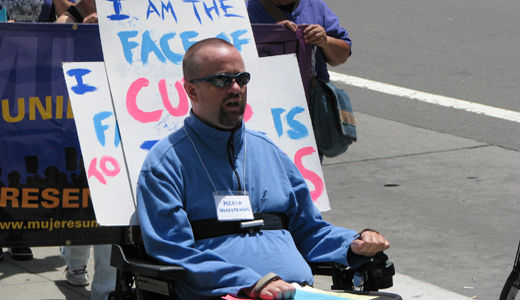 SAN FRANCISCO – Their chants – "Arnold, Arnold get a clue, better raise some revenue!" and "Tax the oil, tax the booze, save the services we all use!"- reverberated off buildings along Market St as hundreds of seniors, low-income parents, people with disabilities and their supporters marched through downtown June 3 on their way to a spirited Union Square rally.
There they demanded that Republican Governor Arnold Schwarzenegger and the legislature manage the state's $19 billion budget shortfall with "smart and common sense" revenue solutions instead of slashing human services.
Chris Finn is on the Board of Directors of Community Resources for Independent Living, which helps people with disabilities obtain independent living services. A wheelchair user, Finn said if proposed cuts go through, he would lose nearly 250 hours per month of disability services through In Home Supportive Services and other programs. "I wouldn't be able to get out of bed, use the bathroom, shower, eat – in short, I wouldn't be able to live."
The alternative, moving to a nursing home, would cost the government over twice as much for a far less satisfactory level of care and quality of life, Finn said.
Finn also works with the Bay Area Outreach and Recreation Program. The first power soccer player in the country to also be named a coach, he has traveled the world in connection with this sport for users of power wheelchairs. "If the cuts go through," he said, "I couldn't participate in these programs that help people lead independent lives."
Finn also pointed out that if services are slashed, hundreds of thousands of caregivers and service providers would lose their jobs, weakening the economy still further.
Jhequela King, wearing the bright red tee-shirt of Lifetime (Low Income Families' Empowerment through Education) said she is studying at area community colleges to become a respiratory therapist. The mother of a nine-month-old, King is in the CalWORKS welfare-to-work program. Gov. Schwarzenegger wants to eliminate CalWORKS, which would make California the only state without such a program.
"I want to be in a position to help others," King said. "If the program is ended I would have to give up school, and I'd be stuck in a low-income dead end."
As the march wound through downtown, it passed facilities of a number of corporations, including Chase Bank, the Hilton Hotel and Burger King, that organizers said benefit from tax loopholes costing the state hundreds of thousands in revenue.
Rally speakers, including Board of Education member Norman Yee, emphasized that the threatened services are not only vital to recipients' very lives, but they are also far more cost-effective for state government than the alternatives, and more could be lost in federal matching funds than would be saved by the cuts.
Democratic legislators have introduced bills to close corporate loopholes, reinstate previous tax rates for the highest income earners, and impose an oil severance tax, but the governor and the Republican legislative minority refuse to consider any tax increases. California is the only state requiring a two-thirds legislative majority to pass a budget and to raise taxes, and the Democratic majority falls short of that level.
With the new fiscal year set to start July 1, the constitutional deadline to pass a budget is June 15. But in recent years that deadline has often been missed by many weeks, gravely complicating the state's ability to meet its obligations.
As the rally wound down, organizers gave out the governor's office phone number, (916) 445-2841, urging all present to call it and share it with friends and family.
Among nearly two dozen march sponsors were California Partnership, California Alliance of Retired Americans, Health Access, Mujeres Unidas y Activas, and the San Francisco Labor Council.
Photo: Chris Finn protests devastating budget cuts in California. (Marilyn Bechtel/PW)