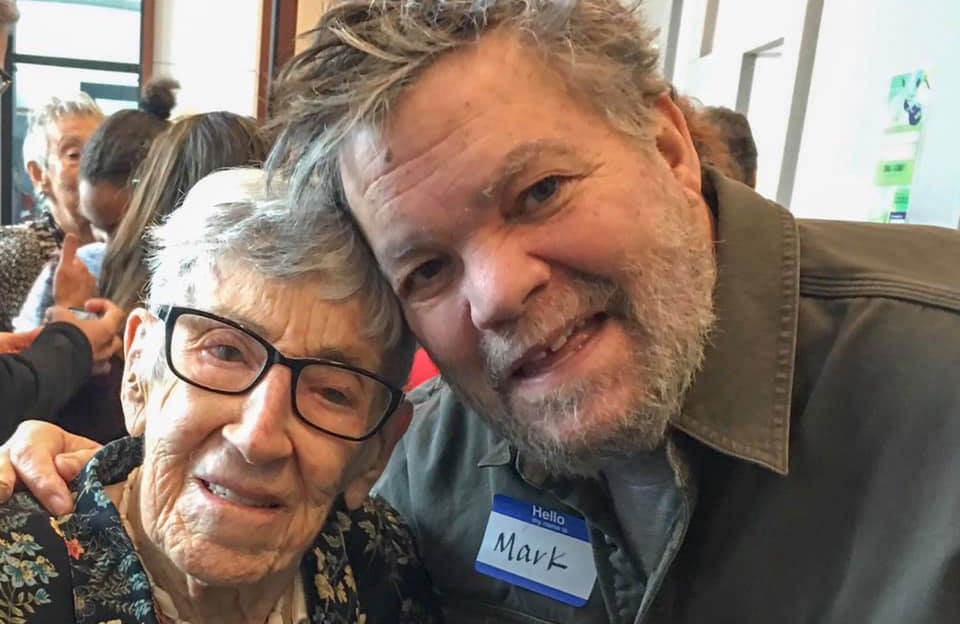 Mark was born in Buffalo, New York, the second of three children born to Anne and Milton Rogovin. Sandwiched between two sisters, Ellen and Paula, Mark became a loyal protector of those he loved from an early age. His fierce love for his family, and his 26-year wife and partner Michelle never waned.
Mark Rogovin received a BFA degree from the Rhode Island School of Design in 1968. Rogovin was an assistant to the great Mexican muralist David Alfaro Siqueiros on his last mural, the March of Humanity. From Mexico, he enrolled in graduate school at the Art Institute of Chicago.
A Chicago resident for more than 50 years, Mark brought his artistic vision to the west side of Chicago, when in 1972 he founded the Public Art Workshop, a community art and mural center, and co-authored the book, Mural Manual. To this day, the young men and women who made the Public Art Workshop home, learning photography, mural painting, and other visual arts remain a part of Mark's life.
In 1981 Mark co-founded the Peace Museum and was its director for four years. Shows that he helped create included Unforgettable Fire, incredible drawings and paintings by survivors of the 1945 U.S. atomic bombing of the cities Hiroshima and Nagasaki, Japan. He also helped create "Give Peace A Chance" featuring the songs of folk and rock musicians.
Mark worked for a dozen years or more at La Rabida Children's Hospital on the south side of Chicago, adding murals and other stimulating play spaces for children hospitalized for many months. He was also an avid carpenter and built sturdy office furniture.
In 1997, Mark helped organize a nationwide movement to celebrate the centennial of actor, singer, and activist Paul Robeson and co-authored, Paul Robeson: Rediscovered. Rogovin and Dr. Margaret Burroughs, founder of Chicago's DuSable Museum of African American History and a friend of Robeson, organized a campaign that resulted in the Paul Robeson postage stamp in 2003.
Most recently Mark Rogovin served as the head of the Rogovin Collection with a mission to promote the educational use of the documentary photography of his late father, Milton Rogovin. Mark produced films on his father's photography, Picture Man and Be Filled With the Spirit.
A social activist and citizen historian, Mark honored labor history in Illinois and throughout the world through his life of service as a caretaker to the Haymarket Martyrs Monument in Forest Home Cemetery (on the register of National Historic places). He was also active with the Illinois Labor History Society and co-authored the publication The Day Will Come: Stories of the Haymarket Martyrs and the Men and Women Buried Alongside the Monument.
Mark worked throughout his life on key campaigns and movements: the Committee to Save Lives in Chile (after the horrific 1973 coup by Pinochet against Allende's Popular Unity Government), solidarity in the struggles against apartheid in South Africa, and for the freedom of Nelson Mandela. He was devoted to freeing political prisoners, especially Angela Davis. Over the years he helped build street theater props, parade floats, made buttons and hundreds of posters, signs, and banners for these movements. He loved working on political campaigns and was especially proud to have helped elect Harold Washington Mayor in Chicago.
Mark loved the natural world and the people he encountered everywhere who brought joy and creativity to his life. Mark has a large "family" of friends in this respect as well.
Mark was a dedicated and loving husband to Michelle, loving brother to Ellen Hart and Paula Rogovin, and a dedicated uncle to Malaika (Ewan), Aliya, David, Steven (Raquel) and Eric (Robyn). He cared deeply for his grandnieces and nephews Makayla, Hoshea, Yacob, Benjamin, Elijah, Nahla, and Madison.
The family will be providing more information about a memorial service.
Mark's widow, Michelle Melin-Rogovin suggested the best way to remember Mark is "by taking time to help their fellow neighbor. Donate food. Say hello and take a genuine interest in others. Volunteer to lend a hand before being asked. Feed the birds. Plant a garden. Share what you have with someone who has less. Get involved in your community to make the world a better place. Make sure those you love know you love them, and be a part of their lives. If you've done this, you've remembered him well."
The family suggests a charitable donation to Northwestern University Clinical and Translational Sciences Institute at the Feinberg School of Medicine – to support pilot studies into neurodegenerative diseases and advance new directions in frontotemporal dementia research in particular. By mail: c/o Northwestern University Feinberg School of Medicine, 420 E. Superior Street, 9th Floor, Chicago, IL 60611 or feinberg.northwestern.edu/giving. If friends and family wish to make a credit card donation by phone, they may do so by calling 312-503-8933, and reference Mark Rogovin when you call.
There are plans for memorials to be announced at a later date.