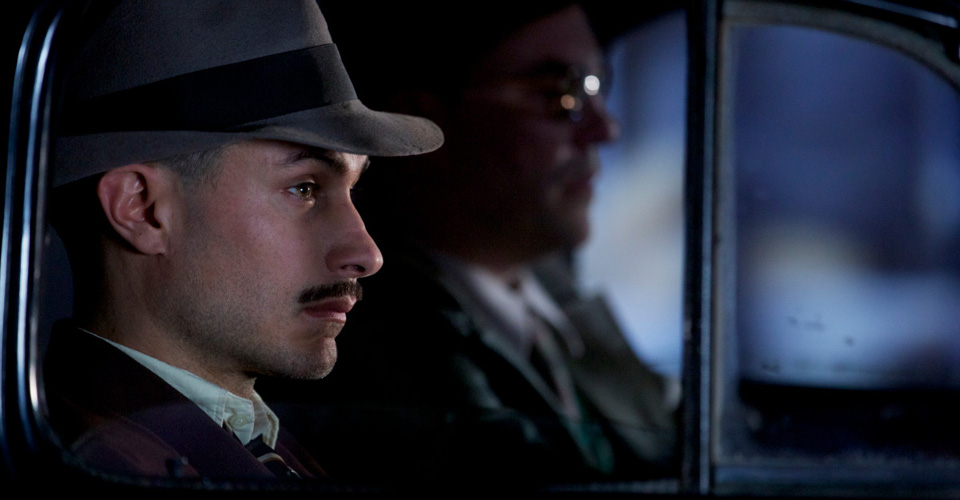 Pablo Larraín's Neruda opens in movie theaters on December 16, and it is a winner in every respect. People's World readers who love the poetry and the political example of Nobel Prize-winning writer Pablo Neruda, or who care to see how a left-wing political movement in the late 1940s protected its own and struggled to advance democratic norms in a thwarted democracy, will be stirred to great depths of compassion. It's simply a must-see.
Given the period setting, the director lends the film a noirish tone with many places for laugh-out-loud humor, in part stemming from his creative mash-up of genres: Is this a police procedural? A Neruda bio-pic? A "mockumentary?" A historical object lesson? One of the funniest scenes takes place when Inspector Peluchonneau, Neruda's pursuer à la Javart of Les Misérables, but with tragicomic Chaplinesque features, is riding in hot pursuit of the poet in the high Andes on his motorcycle, which breaks down. Viewers will recall that this same actor, Gael García Bernal, played Che Guevara in The Motorcycle Diaries back in 2004. The visual/historical/ideological pun is hilarious.
Bill Meyer's original review, published below, appeared before the Nov. 8th U.S. presidential elections, which Hillary Clinton was forecast to win handily. Now that the runner-up in the popular vote actually won that election thanks to the Electoral College, Neruda takes on a new and unexpected dimensionality.
Given what we have seen so far in President-elect Trump's appointments and continued thin-skinned tweetings, the incoming administration is poised to make a hard-right turn. Not what the nation asked for, but it looks like that's what we're going to get. Many progressives and small-d democrats had, of course, assumed and predicted as much, and tried to warn the voters appropriately.
What Neruda gives us is a country suddenly wrenched from its bourgeois democratic moorings into a virulent, violent, anti-communist, anti-constitutionalist phase with dire consequences for civil liberties, for political parties of the left, and for life itself. Chilean workers are hunted down with impunity, with no regard for public or international opinion except for that coming from the empire of the North. So how does a people resist? What does international solidarity look like? How gorgeous, even in terrible times, can we make the unity between popular struggle and the creative talents of its artists? What is the role of intellectual and cultural work?
Congressional repeal of a number of key programs such as Medicare, the NLRB, Social Security, support for public education, etc., plus nationwide "right to work" and one or two Supreme Court appointments by the new president, may well bring the United States to such a pass, and sooner than we can even imagine. We had better be prepared. — Eric A. Gordon
— — —
The Chilean rising star auteur, Pablo Larraín, brought two new stunning biopics to the Toronto International Film Festival this year. Both about as far apart in style as you would expect in a biography. The first, Neruda, is flashy and playfully experimental, while Jackie is a personal rumination on a tragic American figure.
Taking on the life of Chile's famous communist poet and politician, Pablo Neruda, Larraín chooses to focus on a short moment in his political life. It's 1948, the U.S. is turning on its former ally the communist Soviet Union, and Chile follows in lockstep. The love affair of convenience has soured and now it's not easy to be a communist Senator in a hostile environment, even if you are one of the world's most beloved poets. Neruda accuses the government of betraying the Communist Party and is immediately impeached. Rather than be arrested, Neruda goes underground and plays cat and mouse with an incompetent bizarre detective in a story that takes strange twists and unusual turns.
Neruda is a multi-layered creative "anti-biopic" shunning all conventions while raising the bar for experimental storytelling. Part real, part magical realism, the concocted role of Inspector Peluchonneau, brilliantly realized by multi-dimensional actor, producer, activist Gael García Bernal, reveals Larraín's absurdist style. While playing a buffoon in search of the missing poet hero, García Bernal shapes the character with depth and self-realization. The more he fails to find Neruda, the more he comes to know himself. This works on the viewer also, as we learn not only facts of the great man's life, we also come to realize the meaning and power of his poetry. During this period Neruda was writing his classic epic collection of poems, Canto General. (Full collection HERE. Waldeen's Lost Translations HERE). He was known to enter the Senate chambers and instantly receive calls to recite his poetry as the politicians stopped everything for a moment to be lifted from the daily repetition of governmental work. This adoration would be reenacted wherever he travelled, as workers, artists and especially women would be moved to Nirvana by his poems of life and love.
The film addresses many aspects of Chilean political history. The collectivist minded Neruda was constantly guided in his escape plans by the decisions of the Communist Party's leadership. In another eerie scene dictator Augusto Pinochet is found running an internment camp years before he brutally took power in a coup that ousted and assassinated beloved President Salvador Allende. Neruda died shortly after the coup, and many believe he could have been assassinated also.
Luis Gnecco, who brilliantly brings Neruda to life, describes his character as "a paradox, as sensitive as a person can be, sensual, hedonistic, and at the same time politically committed and active. Always shining, blessed by the light of genius and inspired by the muse of passion which, if it really existed, would in his case be blind and stubborn."
A well known activist and supporter of progressive causes, Gael García Bernal (Motorcycle Diaries, No) takes on the role of the imaginary inspector in a totally fresh and creative manner. "This film's starting point is the word, the dangerous word that makes you fall in love and which creates new worlds," says García Bernal. "The characters are caught up in that whirlwind during the action of the film. They suffer because they can't break free of the constraints of poetic creation. And obviously the poet is the one who reads that language, who can bring it back to earth, by making it at once myth and truth."
Larraín describes the style of his film,  "We invented a world, just as Neruda invented his. The film we made is more a 'Nerudian' film than it is a film about Neruda, or perhaps it's both." He gives credit for the imaginative story to screenwriter Guillermo Calderón who also wrote the award winning film The Club. Larraín's brother, Juan de Dios Larraín, who has helped many budding filmmakers, produced this one also.
The original review published on October 24, 2016, includes additional commentary on Jackie.