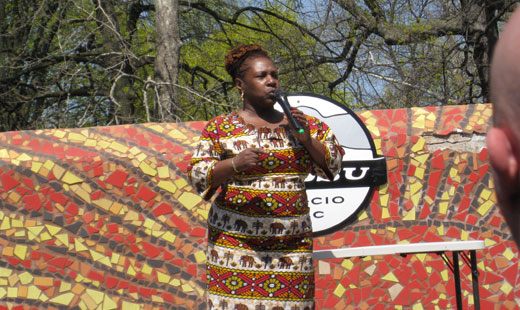 DETROIT – More than the first warm, sunny day of the year (which certainly helped uplift people after an unusually long Michigan winter), what made May 1st special was the broad cross section of Michigan labor and faith leaders who proudly celebrated the great U.S. holiday, May Day, by calling for worker's rights and immigrant rights.
In fact, all over the nation, the AFL-CIO called on people to come to local May Day events.
"Today is a special day," said Chris Michalakis, President of Metro Detroit, AFL-CIO. He said Labor Day is a great holiday but today is a day of "international labor solidarity, a day when we think about labor struggles not just here in the United States, but all over the world."
A case in point for Michalakis was the crushing death of hundreds of Bangladesh garment workers who became victims so Walmart shoppers can have cheap t-shirts even as the company also exploits its U.S. workforce.
"No matter where you are or live or what your nationality is, we need international solidarity," he said.
A major theme of the rally was the demand for a comprehensive immigration bill.
"We've got to fight for immigration reform because no longer should babies be torn away from their parents in local neighborhoods like we are in right now," said Reverend Charles Williams of the Historic King Solomon Baptist Church. "Black, brown, yellow, it does not matter, we are all God's children," said Williams.
"What always amazes me is that far too many people pretend we are not a nation of immigrants," said Michigan American Federation of Teachers President David Hecker.
He noted that except for Native Americans, all of us are immigrants. It was immigrants, working in the sweatshops of our nation that helped build this country and make it great he added.
Al Garrett, AFSCME Council 25 President said we need a pathway for citizenship for "folks who are in the shadows of America, working every day and being exploited by employers." He added "we want it now, not ten to twelve years from now."
Elder Leslie from Michigan United, a labor and faith based organization working for immigrant rights, movingly spoke about her adopted Senegalese son Michael Mendy, an artist and Detroit resident, who had been living in the U.S. since 1998. In 2010, he was shot during a robbery, but instead of going after the robber, the police detained him and turned him over to ICE. A campaign is being waged for his release.
Circulating through the crowd with a petition to raise the minimum wage to $15.00 an hour was Good Jobs Now organizer, Daryl Austin. He said "families are struggling. You cannot make it on $7.40 cents. There is no way a single parent can do anything with that."
"We need it, don't you think it's time?" he asked.
The same is being said about comprehensive immigration reform.
Photo: Michigan United organizer, Elder Leslie, speaks at Detroit May Day rally. John Rummel/PW