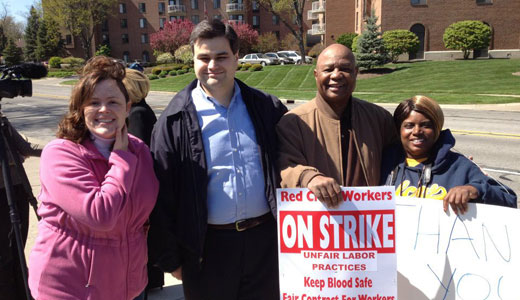 TOLEDO, Ohio – May Day returned to this industrial city Tuesday as hundreds rallied in front of the municipal Government Center in a powerful protest against the union-busting drive of the American Red Cross.
Many wore bright yellow T-shirts of United Food and Commercial Workers Local 75, on strike against Toledo Red Cross since March 27. They were joined by busloads of blood collection workers who walked out of the agency's facilities in Cleveland and Lansing, Mich., after years of fruitless contract talks.
Congresswoman Marcy Kaptur, D-Ohio, praised the workers for defending "a right that was won first in this part of America – the right to bargain for a fair contract."
The same fight is being waged across the country, in Mexico and elsewhere, she said. "You are not just standing up to Red Cross but for workers everywhere."
"Happy May Day" she said, to loud cheers.
Pete Gerkin, president of the Lucas County Board of Commissioners, a retired auto worker with 30 years of service at the Jeep/Daimler Chrysler plant and a veteran of "30 picket lines and one arrest," praised the bravery of the strikers.
The battle at Red Cross, he said, recalls the fight of those who died in 1934 at Toledo Autolite in the nation's first sit-down strike that led to the formation of the United Auto Workers.
"You're tough," he said, "taking on Red Cross" which "is making blood a commodity and making workers a commodity."
Instead of fighting the unions over health insurance, he said, "Red Cross should fight for national health care."
"We tried everything for four years to avoid a strike," said Lance Rhines, business agent for OPEIU Local 459 in Lansing. "Red Cross is a multi-billion-dollar pharmaceutical company. It's not the humanitarian agency it used to be. This company doesn't care about workers. It doesn't care about health care. It snubs its nose at the law and has been fined $50 million by the FDA (for tainted blood). That money could have paid for its employees' health care."
Mike Parker, principal officer of Teamsters Local 580, also on strike in Lansing, told the People's World the union had obtained internal documents showing that the Red Cros had been planning for years to bust the unions by ending bargaining rights over health care.
Red Cross, he said, is demanding the right to alter or eliminate any health care plan at will, in effect cutting wages by increasing insurance premiums without union agreement.
The fight is not just over quality affordable health insurance, he said. It's also about adequate staffing levels and guaranteeing safety of the blood supply and the workers.
Red Cross, he told the crowd, "is against community, against solidarity. We haven't hit them in the pocketbook yet, but we will. We will impact their bottom line."
He urged the strikers to reach out to the community using social media.
"You have a good story, a winning story, an American story," Parker said. "We will win. We are not going away."
"We are the voice of conscience," said Al Mixon, principal officer of Teamsters Local 507, representing 250 workers on strike in the 19-county Northern Ohio Red Cross region. "Workers in 80 countries are celebrating May Day. May Day is Labor Day throughout the world and started with the fight for the eight-hour day. Today we are fighting to protect collective bargaining rights. We are fighting for our kids and grandkids. We are the 99 percent."
"We have to tell our story – every minute of every day," he said. "There's more of us than there are of them. There is nothing equal to the power of the people!"
The rally ended with loud cheers as John Maroney representing the UFCW national office announced that the union's regional council was contributing $20,000 to the Local 75 strike fund and the local planned to make a matching donation.
"The Red Cross will not, it cannot bust your union," he said.
Photo: UFCW Local 75