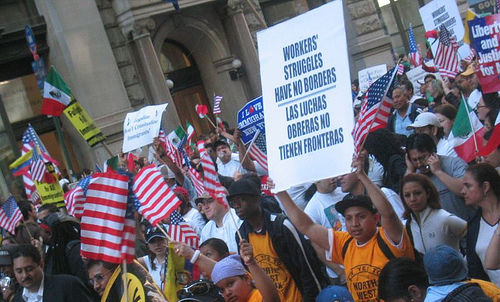 WASHINGTON – Mayors Bill de Blasio of New York City and Eric Garcetti of Los Angeles announced today plans by more than 30 mayors to file an amicus brief in the Texas v. United States lawsuit to support President Obama's recent executive action on immigration reform. The brief opposes a lawsuit pending in Brownsville, Texas, brought by states seeking to block President Obama's immigration reform efforts.
The two mayors led the effort to organize more than 30 cities, the National League of Cities, and the U.S. Conference of Mayors in filing a brief arguing that the public interest across the country is served clearly and overwhelmingly by implementing immigration reform by executive action. The brief also argues that blocking executive action with preliminary injunction will stall desperately needed changes to the federal government's immigration policies. The cities represented by these mayors together account for approximately 28.2 million people, including 7.5 million immigrants.
"Our mission is urgent. Delaying implementation of the president's executive action will further hurt our families, negatively impact our economies, and create unnecessary insecurity in our communities," said Mayor Bill de Blasio. "Cities are where immigrants live, and cities are where the president's executive action will be successfully executed. We are organized, and we will fight for the changes this nation needs and deserves, and fight those who oppose immigration reform, be it in the courtroom, in Congress, or in our communities. Our voices will be heard."
"Our cities cannot afford delays to immigration reforms that will strengthen our economy and help families," said Los Angeles Mayor Eric Garcetti, who established a Mayor's Office of Immigrant Affairs. "This isn't a blue or red issue, but a human and economic one."
This joint effort to offer the court the crucial perspective of American cities is an outcome of the December immigration summit hosted by de Blasio at Gracie Mansion and the organizing efforts of the Cities United for Immigration Action coalition. By submitting this "friend of the court" brief, America's mayors are making a strong statement in support of the president's plan to grant administrative relief to over four million undocumented children and adults. The amicus brief will demonstrate to the Court that executive action will benefit cities by providing work authorization to millions, increasing local tax revenue, and stimulating local economies, facilitating the civic engagement of immigrants, keeping families together, and improving public safety by strengthening our neighborhoods and communities.
In December, 25 states led by Republican governors brought a lawsuit captioned Texas vs. United States in the Federal District Court for the Southern District of Texas, seeking to halt the implementation of the president's executive action. In response, a group of 12 states in January joined by the District of Columbia filed an amicus brief challenging the lawsuit by arguing that, contrary to the plaintiffs' claims, the president's immigration reform will in fact "further the public interest" of states and their residents, both immigrants and citizens. A group of 27 law enforcement leaders and other groups have also filed amicus briefs in support of the president's executive action on immigration reform.
This is the first submission to the court from the city perspective.
"San Francisco is proud to file an Amicus Brief joining cities large and small from across the country and the U.S. Conference of Mayors to support our president's bold action on immigration and create the change to help our residents succeed," said San Francisco Mayor Ed Lee. "As the son of immigrant parents, this issue is very personal to me. Mayors must lead on this reform to provide all of our residents with hope, opportunities, and the services they deserve. We know our diversity drives our cities' economies and makes us all stronger."
"The president's executive action on immigration is a step forward for America," said Salt Lake City Mayor Ralph Becker. "We need to support his efforts to address our broken immigration system."
"Filing an Amicus Brief is our way of saying: Pittsburgh stands on the right side of history. The president's action on immigration was an important first step towards progress-for the growth and prosperity of our nation. We must not go backwards," said Pittsburgh Mayor William Peduto.
"The City of Dayton is proud to be a leader in welcoming people from diverse backgrounds to its community," said Dayton Mayor Nan Whaley. "This order will strengthen our commitment to inclusion by allowing all residents to fully participate and help grow the economic vitality of the region. It is essential that all citizens feel safe and engaged in the place they call home."
"This proposal is fair, economically beneficial for everyone, and the right thing to do," said Madison Mayor Paul Soglin.
"Right now, our immigration system invites the best and brightest from all over the world to come and study at our top universities, including Washington University and St. Louis University, and then once they've gotten the training they need to build a new invention or create a new business, our system too often tells them to go back home so that other countries can reap the benefits, the new jobs, the new businesses, the new industries," said St. Louis Mayor Francis Slay. "It's evidence of the broken system we have today and why we must fight to fix it."
The following mayors have signed on to the amicus brief:
Mayor Bill de Blasio, New York, New York
Mayor Eric Garcetti, Los Angeles, California
Mayor Kasim Reed, Atlanta, Georgia
Mayor Stephanie Rawlings-Blake, Baltimore, Maryland
Mayor Byron Browm, Buffalo, New York
Mayor Rahm Emanuel, Chicago, Illinois
Mayor Steve Benjamin, Columbia, South Carolina
Mayor Nan Whaley, Dayton, Ohio
Mayor Michael Hancock, Denver, Colorado
Mayor Muriel Bowser, Washington, D.C.
Mayor Pedro Segarra, Hartford, Connecticut
Mayor Annise Parker, Houston, Texas
Mayor Steven Fulop, Jersey City, New Jersey
Mayor Paul Soglin, Madison, Wisconsin
Mayor Ras Baraka, Newark, New Jersey
Mayor Michael Nutter, Philadelphia, Pennsylvania
Mayor Bill Peduto, Pittsburgh, Pennsylvania
Mayor Charles Hales, Portland, Oregon
Mayor John Dickert, Racine, Wisconsin
Mayor Tom Butt, Richmond, California
Mayor Lovely Warren, Rochester, New York
Mayor Ralph Becker, Salt Lake City, Utah
Mayor Ed Lee, San Francisco, California
Mayor Gary McCarthy, Schenectady, New York
Mayor Ed Murray, Seattle, Washington
Mayor Francis Slay, St. Louis, Missouri
Mayor Marilyn Strickland, Tacoma, Washington
Mayor Mike Spano, Yonkers, New York
The following mayors have expressed their support and will sign on to the brief, pending final local approvals:
Mayor Karen Majewski, Hamtramck, Michigan
Mayor Virg Bernero, Lansing, Michigan
Mayor Tom Barrett, Milwaukee, Wisconsin
Mayor Betsy Hodges, Minneapolis, Minnesota
Mayor Greg Stanton, Phoenix, Arizona
Photo: Immigrant and labor rights activists march in New York City. http://www.flickr.com/photos/kcjc/ / CC BY 2.0