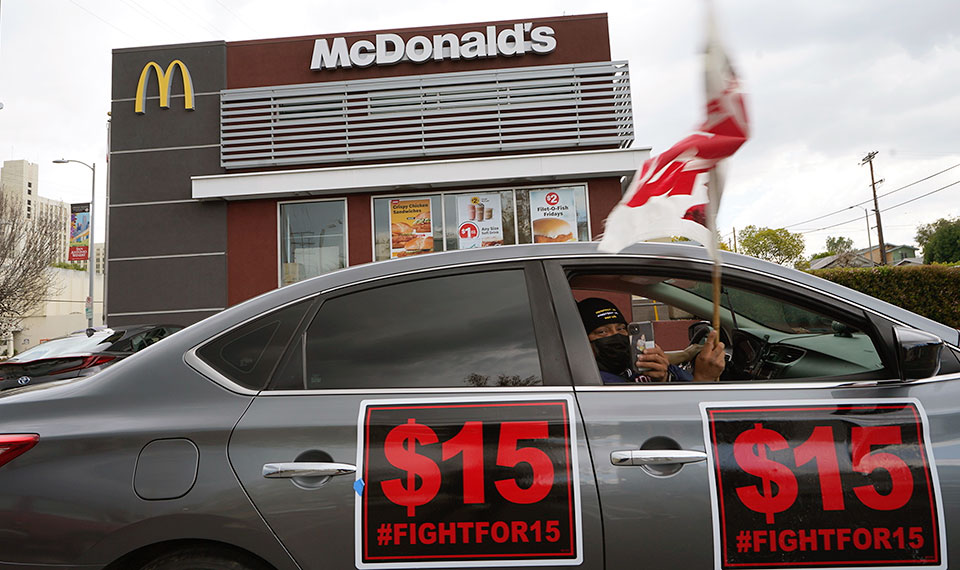 CHICAGO —McDonald's workers in at least 14 cities from coast to coast are being forced to stage yet another 1-day strike, for decent living wages, on May 19, the day before the fast food giant's shareholders meeting.
Their demand: $15 and a union…what else?
The latest forced strike occurs in a different backdrop from prior walkouts. Democrat Joe Biden, who strongly supports raising the federal minimum wage to $15 an hour by 2024—plus raising the wage to that level for tipped workers by 2025—inhabits the White House.
And several of the big burger chain's fast food competitors have raced ahead of the giant in raising their workers' pay. Starbucks just did and Chipotle will. Its current minimum is $13 hourly.
Still, there are several constants as the McDonald's workers will take to the streets: The company's resistance, along with that of its fast-food allies, its enormous profits which it doesn't share with its workers–and the looming Senate blockade, via filibuster, of the federal minimum wage hike.
The opposition doesn't deter the workers.
McDonald's doesn't have to wait for Congress to pass $15. Even in 2020, the height of the recession, the company pulled in nearly $5 billion in profit and paid out billions to shareholders. "No employer needs to wait for Congress to raise the minimum wage to pay fairly," their website message says. "Stand with striking workers!" it declares.
The campaign, calling for community support, is already on line, at the actionnetwork.org. Actual demonstration sites so far are Union Park in Chicago, plus rallies in Oakland and Los Angeles, Calif., St. Louis, and Kansas City, Mo., Houston, Milwaukee, Warren and Flint, Mich., Charleston, S.C., and Charleston, W. Va., Durham, N.C., and Sanford and Fort Lauderdale, Fla.
McDonald's, meanwhile, wraps itself in the "flag" of small businesses, citing its 2,000 franchises, rather than its actual behemoth size. The franchise-holders, it claims, can't afford to raise wages.
McDonald's concedes, however, that where states and cities raised wages above the current federal minimum of $7.25 hourly—which took effect 12 years ago—it obeys the law.
It also obeys the law for the wage for tipped workers: $2.13/hour, which hasn't risen since the early 1990s. Bosses are supposed to make up the difference between that and the regular minimum if workers don't get enough in tips. In practice, many don't, but stiff the workers instead. That's wage theft.
McDonald's says it isn't lobbying anymore against raising the federal minimum wage. But lobby trackers note it's still a member of the National Retail Federation and the National Restaurant Association, and both oppose the hike. So does the Chamber of Commerce.