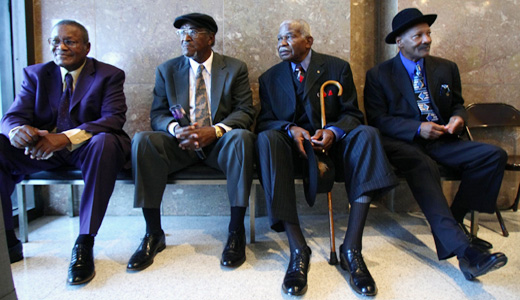 WASHINGTON – The 1,300 sanitation workers from Memphis, Tenn., whose strike for union recognition, respect on the job and a better standard of living led Dr. Martin Luther King to the Mississippi River city 43 years ago were inducted as a group on April 29 into the Labor Hall of Fame in Washington.
The moving ceremony, with a documentary about the strike and the workers' win afterwards, featured the eight surviving members of the original AFSCME Local 1733: Alvin Turner, Ben Jones, Baxter Leach, Herbert Parson, Cleophus Smith, Ozell Ueal, Russell Walton, and Joe Warren. Leach, Turner and Warren spoke at the ceremony.
Before the ceremony, all eight had a private meeting at the White House with President Obama. He honored the Memphis sanitation workers' "fight on behalf of all workers for safe conditions, respect in the workplace and a better life for themselves and their families," a White House statement said.
"As workers across the country continue to face challenges to their rights, the issues for which these men fought continue to be relevant and the president remains committed to the causes for which they marched," the statement concluded.
At the Department of Labor ceremony, the three told why and how the men banded together and how Dr. King came to help them. The workers wound up striking – indeed, King called for a general strike the night before he died and the African-American community agreed – to move their wages above poverty, better their working conditions and for union recognition.
The strike was called when a garbage truck's loader crushed two men to death while they were eating their lunch, and the city didn't care.
The white power structure didn't even want to recognize their existence, much less negotiate. Their non-violent crusade, marked by their keynote "I am a man" signs, galvanized the city and the country – and they eventually won. "Many people know we lost Dr. King in Memphis, but they don't know why or who he was marching with: These men who said, 'Enough is enough'," declared Labor Secretary Hilda Solis.
Photo: from left, Memphis sanitation workers Russell Walton, Ozell Ueal, Joe Warren and Rev. Leslie Moore, outside council chambers at Memphis City Hall on April 3, 2008, before a ceremony honoring their role in the civil rights struggle. (Lance Murphey/AP)