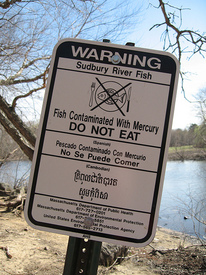 Scientists have found mercury contamination in every fish sampled in 291 streams across the country, according to a U.S. Geological Survey study released yesterday.
About a quarter of these fish contained mercury exceeding the Environmental Protection Agency safety level for people who eat average amounts of fish.
The new study underscores that mercury is one of the most serious contaminants in our nation's waters, and highlights the role of industrial pollution, particularly emissions from coal-fired power plants.
Mercury is a neurotoxin, causing nervous system damage. Fetuses and young children are particularly vulnerable because their nervous systems are still developing. Therefore, nursing mothers, pregnant women and women who may become pregnant are especially at risk from consuming mercury-contaminated fish.
The main source of mercury in our lakes and rivers is mercury emitted into the atmosphere and deposited onto watersheds by rain and snow. Some mercury is also present naturally.
Coal-fired power plants are the largest source of mercury emissions in the United States. According to the Sierra Club, around 48 tons of mercury are emitted each year from power plants in the U.S.
"Controlling emissions from power plants would clearly be the most effective way to bring about a large reduction in the amount of toxic mercury in our air and water," Bob Schildgen, the Sierra Club's Mr. Green "answer guy," noted in his column.
The Geological Survey studied mercury contamination in fish, riverbed sediment and water from streams across the nation, sampled from 1998 to 2005. Atmospheric mercury is the main source for most of these streams, the study report said, but 59 of the streams also were potentially affected by gold and mercury mining.
All 50 states have mercury monitoring programs. Forty-eight states issued fish-consumption advisories for mercury in 2006, the most recent year of national-scale reporting to the EPA. The EPA regulates mercury emissions to air, land and water.
In February this year, the EPA announced that it intends to control air emissions of mercury from coal-fired power plants by issuing a rule under the Clean Air Act.
Interior Secretary Ken Salazar said the Geological Survey study "shows just how widespread mercury pollution has become in our air, watersheds, and many of our fish in freshwater streams."
"This science sends a clear message that our country must continue to confront pollution, restore our nation's waterways, and protect the public from potential health dangers," Salazar said.
suewebb @ pww.org