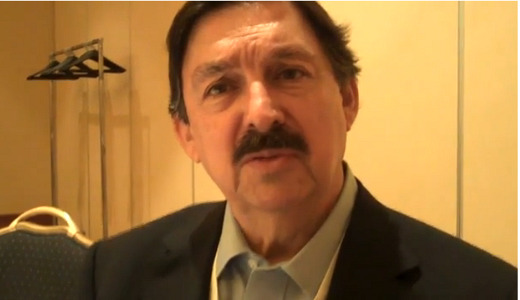 VANCOUVER, Canada – In a wide-ranging video interview (below), Napoleon Gomez Urrutia, president of Los Mineros, the independent National Miners, Metallurgical and Steelworkers Union of Mexico, talks about the Mexican government's recent strike-breaking attack on copper miners in Cananea, Mexico. He describes some of the international solidarity the miners are getting from around the world and tells us about the talks now going on with the United Steelworkers union (USW), aimed at merging the two unions into a North American industrial union that can take on transnational giants like Grupo Mexico, owner of the Cananea mine and the third largest copper company in the world. The new union will unite Mexican, Canadian, Caribbean and U.S. workers.
We sat down to talk during a break at the second congress of the International Trade Union Confederation (ITUC) on June 22 in Vancouver. Gomez has been living in exile in Vancouver for the last four years with the support of the United Steelworkers. He moved first to the U.S. and then to Canada fearing for his and his family's safety in the face of illegal attacks on the union by the Mexican government.
Even in exile, Gomez has been overwhelmingly elected president five times by his union's membership despite the government's illegal refusal to ratify the election results. Gomez continues to manage the union's affairs from his office in the USW's Vancouver offices. His support in the union is so strong that other companies in Mexico that have contracts with Los Mineros travel to Vancouver for bargaining sessions with the union.
Our interview followed a briefing on the situation in Cananea for the U.S, delegation to the ITUC congress, hosted by Ken Neumann, USW national director for Canada, and Fred Redmond, USW international vice president for human affairs. Arlene Holt Baker, AFL-CIO executive vice president, thanked Gomez for the update and pledged the continuing support of the U.S. labor movement in building the necessary solidarity to win justice for the Mexican miners.
Napoleon Gomez – Interview at International Labor Congress from Scott Marshall on Vimeo.
Photo: Napoleon Gomez Urrutia (PW/Scott Marshall)