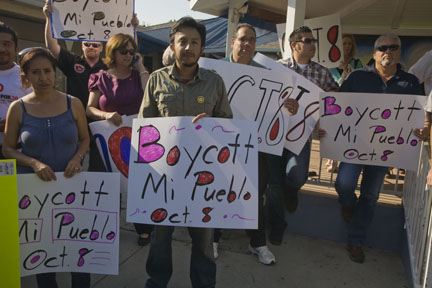 SAN JOSE, Calif. – Mexican supermarket (mercado) workers, supporters and union organizers marched through the Latino immigrant community on San Jose's East Side, from Guadalupe Church to the Mi Pueblo supermarket, Sept. 26. They protested the use of the E-Verify immigration screening system by the Mexican market chain, and accused the chain's owners of using immigration enforcement to terrorize workers during their effort to organize a union in the stores.
Mi Pueblo Foods management announced earlier this month that they had decided to voluntarily implement the controversial federal immigration program, in which employers contact a database maintained by Immigration and Customs Enforcement, to verify the immigration status of job applicants. Some workers also say the chain is demanding that current employees re-verify their immigration status.
Mi Pueblo management says it is obligated to use the E-Verify system. But a reporter from the Los Angeles Times quoted a spokesperson from the Department of Homeland Security, who asserted that this government agency does not force employers to use the E-Verify program. Father Jon Pedigo, the parish priest at Guadalupe Church, compared the situation of the workers to that of the Israelites in Egypt, saying they are exploited as workers in the U.S. much as the Israelites were by the Pharaoh. He condemned the use of E-Verify, saying it made workers more vulnerable to pressure by employers.
Workers have been trying to join Local 5 of the United Food and Commercial Workers Union for the past two years, in a bitter campaign that has seen the firing of hundreds of Mi Pueblo employees. They and their supporters demanded that Mi Pueblo sign the Mercado Code of Conduct, and announced they plan to boycott every Mi Pueblo Foods store starting on October 8, 2012 at 12:00 noon.
Photo: David Bacon