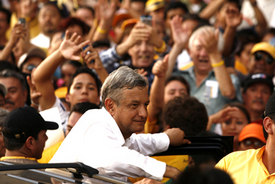 MEXICO CITY — Buildings and walls across the city are splashed with election billboards and graffiti as passions boil over in one of Mexico's most heated presidential election campaigns ever. Mexicans go to the polls July 2 to decide whether their country will join the "pink tide" of center-left governments that is churning up the political landscape across Latin America.
The two presidential frontrunners are Andres Manuel Lopez Obrador of the center-left coalition For the Good of All, composed of the Democratic Revolution Party (PRD), the Worker's Party and the Convergence; and on the right, Felipe Calderon Hinojosa of the ruling National Action Party (PAN). Polls show the two running neck-and-neck.
Lopez Obrador is promising a mix of public works and social programs to eradicate poverty and create employment. Among the 50 points in his election platform, he is promising the introduction of a universal pension system; renegotiation of the NAFTA agreement to protect agriculture; a massive public housing construction program; an increase in minimum wages and a guarantee of free health care and education to all; and the tackling of widespread police corruption, drug smuggling and crime.
Lopez Obrador is also promising honest, transparent government, important attributes in a country stained by years of corruption, graft and nepotism.
Calderon is promising, among other things, greater social spending, job creation and clean government.
The Alliance for Mexico coalition, consisting of the Institutional Revolutionary Party (PRI) — which governed Mexico for 71 years — and the Green Party, is trailing badly. Polls suggest that the coalition's presidential candidate Roberto Madrazo Pintado is no longer a serious contender. As a result, some PRI leaders have called on party supporters to back Lopez Obrador. Two other minor candidates are also vying for the presidency.
Many poor and middle-class people are turning to Lopez Obrador because they are disillusioned with the neoliberal capitalist model of economic development imposed by previous PRI and PAN governments, which has resulted in widespread poverty and massive emigration to the U.S. These governments signed free trade agreements with the U.S. and Canada that have led to destruction of local industry, falling wages and a steep reduction in agricultural production and employment.
Lopez Obrador has also been bolstered by his popularity as governor of Mexico City. During his five years in that office, he successfully implemented large-scale public works and social programs, winning broad support.
The PAN is doing everything possible to thwart Lopez Obrador's victory in July. In recent weeks, PAN has been running slick television ads painting Lopez Obrador as a danger to Mexico. They accuse Lopez Obrador of being a prolific spender who would cause a fiscal crisis, and of having ties with Venezuelan President Hugo Chavez and Zapatista Subcomandante Marcos. The PRD responded with its own TV ads attacking PAN. In particular Lopez Obrador charges that Calderon's brother-in-law won lucrative government contracts while Calderon served as energy minister under outgoing president Vicente Fox.
To curb the level of animosity and the fierce war of words, the Federal Electoral Institute compelled both parties to sign a "civility pact" on June 13. Electoral authorities also banned several aggressive television advertisements from both sides as libelous.
There are fears that PAN will commit election fraud to secure victory at the polls, a routine practice in Mexican elections. Student Armando Rivera Barragan, 18, complains that a PAN representative told his class that the party will give all young voters scholarships to attend post-secondary institutions if: they vote for PAN and the party wins, and they attend PAN meetings and bring 10 people with them.
What disturbs Barragan most is that the PAN representative also asked students to deliver voter ID cards to her. He thinks PAN will use the cards to carry out voting fraud.
"This is only in my electoral district — I can not think of what other 'techniques' they are using to get votes," he said.
Voters will also elect candidates to the national legislature on July 2.