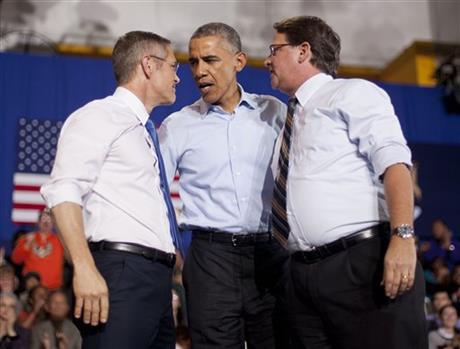 Republicans won a sweeping victory in Michigan on November 4. Governor Rick Snyder was reelected by a margin of 51-47 percent over Democrat Mark Schauer. They strengthened their hold on the state legislature by picking up 4 seats in the House of Representatives to increase their margin over the Democrats to 61-47 and one seat in the Senate where their margin will be 27-11. In the Congressional races, Republicans won nine of fourteen seats to maintain their edge. Republican-backed candidates also won two out of three state Supreme Court races and will have a continued majority there.
The lone bright spots for Democrats were the election of Rep. Gary Peters in the race for the U.S. Senate and the election of Democrats to all but one of the open seats on the State Board of Education and on the Boards of the three major state universities. Despite a massive get-out-the-vote effort on the part of Democrats, labor and their allies in the people's movements, Republicans will continue to have a lock on state government for at least the next two years. They can be expected to continue to promote the pro-business, anti-labor and anti-abortion agenda that resulted in the passage of right-to-work legislation, tax cuts for business, tax increases for homeowners, the working poor and seniors and restrictions on access to abortions during the current legislative cycle.
Some observers are speculating that the election outcome indicates that Michigan, a state that President Obama won in 2008 and 2012 is becoming a red state. A closer look, however, provides evidence to the contrary.
In the governor's race, Mark Schauer faced an uphill battle from the beginning despite strong ties to labor and a progressive record. No incumbent Michigan governor has been defeated since 1990. The former congressman was a virtual unknown to most Michigan voters at the outset of the campaign. He promised to fight to repeal right to work and tax increases on seniors, homeowners and the working poor but offered little in the way of specifics. He was outspent by Snyder by 2-1 not counting the millions in "dark" money spent by the Republicans' wealthy backers. He was also faced with the challenge of increasing voter turnout, which has been problematic for Democrats in midterm elections in recent years.
While overall the overall turnout of registered voters was down in comparison with the last midterm election in 2010 (45 percent-42 percent), the number of registered Democrats who voted actually increased statewide as the following figures (in millions) indicate:
2010
1.9 Snyder (R)
1.3 Bernero (D)
3.2 million total
2014
1.6 Snyder (R)
1.5 Schauer (D)
3.1 million total
While Republican turnout was down, the increase in Democratic turnout fell far short of what was needed to win. Voter turnout in the Democratic stronghold of Detroit was down by 10,000 voters compared to 2010 some of which may be attributable to the continued decline in the city's population. Some question whether Detroit Mayor Mike Duggan, who worked closely with Snyder on the Detroit bankruptcy and may have gubernatorial aspirations of his own, did all he could to bolster the turnout for Mark Schauer.
Snyder's role in the Detroit bankruptcy proceedings was likely a factor as well. His actions played well with suburban and outstate voters including independents. These voters are more likely to attribute Detroit's financial difficulties to corruption and alleged mismanagement than to decades of massive disinvestment in the city by the auto industry, discriminatory real estate and lending practices and the state's failure to make good on its revenue sharing commitments to the city. Further, Snyder, despite his pro-business, anti-labor agenda, has a moderate veneer, especially in comparison with tea party types in the state legislature, which also appealed to independent voters who went for him by a 2-1 margin.
Republican gerrymandering of legislative districts played a significant role in the election outcome. They used their control of the state legislature following the 2010 census to rig the playing field in their favor. Consider these statistics:
Democrats won 51.2 percent of the total vote in state house races yet won only 43 percent of the seats. Republicans, with 48.8 percent of the vote, won 57 percent of the seats.
Likewise, in the state Senate races, Democrats won 49.3 percent of the total vote but won only 29 percent of the seats. Republicans, with 50.7 percent of the total, won 71 percent of the seats.
In the races for U.S. Congress, Democrats won 49.1 percent of total votes cast but picked up only 5 of 14 seats (36 percent). Republicans, with 47.6 percent of the vote, won the other nine (64 percent).
If districts were drawn fairly, based on the vote totals above, Democrats would have a slight edge in the House, Republicans a slight edge in the Senate and the Congressional seats would be split between the two parties. Gerrymandering is a major form of disenfranchisement as the figures above indicate. It's another reason many voters are cynical and apathetic.
In fact, the big story continues to be voter apathy. Nearly 6 in 10 registered Michigan voters (58 percent) stayed home (an even larger percentage sat it out if you consider that not all those eligible are registered to vote). Clearly, large numbers of working people are alienated from the electoral process. The reasons are many and complex.
Capitalist free market ideology promotes consumerism and individualism at the expense of social solidarity. It encourages us to see ourselves as consumers rather than citizens with civic responsibilities. Many see elections as rigged in favor of the rich and powerful. The Citizens United decision and its impact only serves to confirm their sense that ordinary citizens have little influence in our government. The drop in union membership here in Michigan is yet another crucial factor in the decline in social solidarity. Union membership, which stood at 26 percent here in 1989, fell to 16 percent in 2013.
If labor and its allies are to be successful in developing strategies to counter these trends and increase voter turnout, we need to take a deeper look at the sources of alienation and stop dismissing non-voters as simply disinterested and unaware of their true interests. In fact, their choice may be a rational response based on their experience with the electoral process. Further, we need to address the issue of gerrymandering. A ballot initiative to create a bi-partisan or non-partisan redistricting commission similar to those that exist in 21 other states is worthy of consideration.
Photo: Gary peters (right), the U.S. Senate Democratic candidate in Michigan, who, unlike many other Dems, was not afraid to campaign with the president, won his election. Pablo Martinez Monsivais/AP