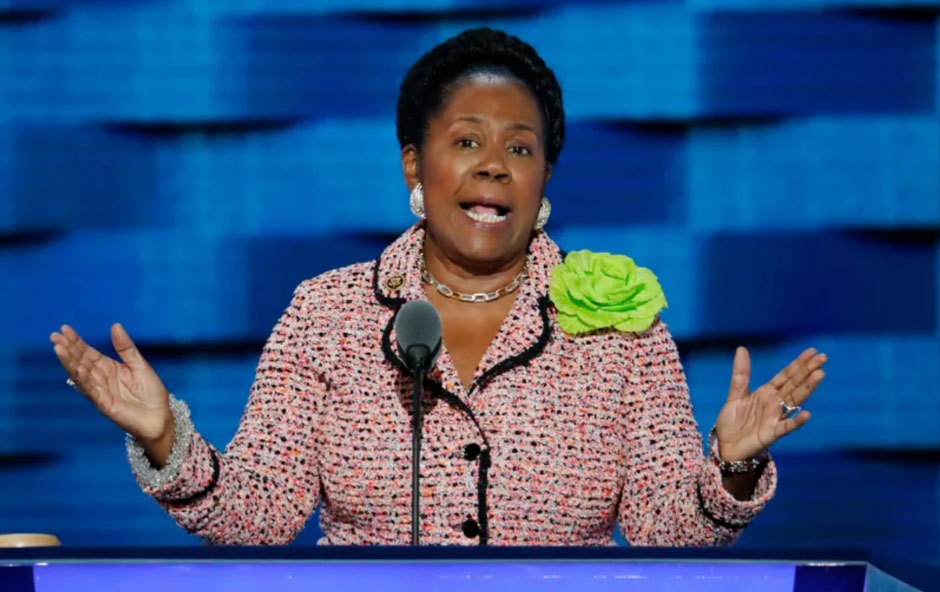 WASHINGTON—Politics, and specifically the mid-term elections, was a big part, but not the only part, of the agenda at the Congressional Black Caucus foundation's D.C. conference.
From presenting strategies to dealing with dog-whistles – and attracting non-African-American voters while doing so – and agitating for criminal justice reform to strategizing to elect lawmakers who would fully fund the federal share of money for the nation's poorest schools, politics seemed present in many sessions available to the 10,000 participants. The conference runs from September 12-16.
Politics even arose in the opening remarks by Rep. Sheila Jackson Lee, D-Texas, the foundation chair, when she mentioned many CBC members represent constituents threatened by super-Hurricane Florence, which is expected to roar into the South Atlantic states on September 13.
GOP President Donald Trump claimed just before Florence hit that his Federal Emergency Management Agency did a great job in Puerto Rico last year. Impartial reports, from a team of George Washington University medical school professors, and from the Government Accountability Office, said it failed miserably. Almost 3,000 people died and Puerto Rico still hasn't recovered.
"Because of the CBC, FEMA is funded to be able to be responsive" when Florence hits, Lee said. "And we are prepared to fight to ensure there is no delay" in aid to people who had to flee "and no repeat of what happened to Puerto Rico," Lee, who represents Houston – also flooded last year – said.
"We are in a pivotal moment, not only for 2018 but for building up the lives in the future of those we represent," she added.
"The first thing we have to do is win an election" to put pro-education and pro-minority legislators in Congress, Teachers President Randi Weingarten told People's World in an interview after she joined other leaders in advocating full funding – including making up a past $580 billion federal deficit – for U.S. education Title I money to schools which serve poor students.
The money, according to a report released at the conference, would come from repealing the Trump-GOP $1.5 trillion tax cut for the rich and corporations and redirecting part of it to the schools – a goal both Weingarten and National Education Association President Lily Eskelsen-Garcia enthusiastically supported.
"The timing of the report is important," Weingarten said. "It basically says the promise of the War on Poverty has not been realized – and in fact, the same people calling for alternatives to public schools have been those who refused to provide the tools and conditions public schools need" to help their students to learn. Those "same people" are led by voucher and private school advocates, including Trump Education Secretary Elizabeth "Betsy" DeVos.
"Six decades after Brown v Board of Education" – the U.S. Supreme Court's desegregation decision – "and five decades after passage of the Elementary and Secondary Education Act" in 1965, "we are going in the wrong direction," she said at the press conference about the report. She didn't need to elaborate why. The crowd got it.
In another instance of politics at the confab, one future panel will feature the three African-American Democratic gubernatorial nominees this year: Stacy Abrams of Georgia, Ben Jealous of Maryland and Andrew Gillum in Florida. Abrams, the Georgia state senate minority leader, is in a toss-up race in that red-turning-purple state, as is Gillum in purple state Florida.
Delegates also took time out to highlight the key role of African-American women, both behind the scenes and now, out front both in organizing and politics. But it also reminded participants of unfinished business: Harkening back to Dr. Martin Luther King Jr's. famous "I have a dream" speech in 1963, the conference theme was "The Dream Still Demands."
Two other keynote speakers and honorary conference co-chairs, Sens. Cory Booker, D-N.J., and Kamala Harris, D-Calif., also drew political attention, but for a different reason.  One reporter asked both whether they would declare their candidacies for the 2020 Democratic presidential nomination at this year's conference. Harris said "no," and Booker didn't answer.
But in brief remarks, he added: "We have to ask the question, 'Why have we not achieved the dream of America?' and for all people, not just black people."