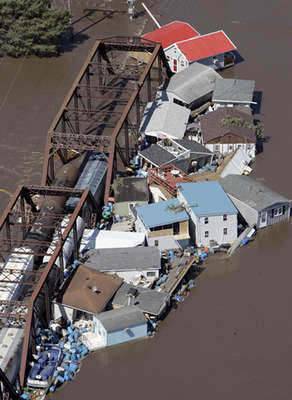 Emergency programs needed to rebuild, many say
As the rising Mississippi continued to crash through levees June 17, sending walls of water into Midwest towns and threatening thousands of additional acres of farmland, many were already done with days of crying and were beginning the clean up.
Floods that ravaged Iowa and much of the Midwest — Wisconsin, Illinois and Missouri — the second week of June changed peoples' lives forever. Thousands had come back to homes where water was more than waist deep on the ground floor and heavy furniture had floated from one end of the house to the other. For some it was even worse.
Flooding and storms in the Midwest have killed 17 people since May 25 with at least five dying as a result of the floods in Iowa.
George Naylor, 60, has a 470-acre soybean and corn farm 90 miles northwest of Des Moines, Iowa. One fifth of his crops were under water. "There was just way too much rain in too short of a time," he told the World. "Spring was real late in coming and my crops were planted too late because it was just too cold," he said. "I can still look out my window and see great big ponds of water on the fields and with all that moisture the little plants will be infected with fungus and disease."
Having to pick up the pieces of his own life hasn't deterred him from thinking about how the disaster he confronts is connected to other issues, including global warming and the role government plays after major catastrophes.
"The weather patterns seem awfully strange. It seems like storms have hit us up from Texas up to Iowa and all across the United States." Naylor said that "no one knows what Mother Nature is going to provide" and that "the real question is if we have the economic institutions to deal with what happens after" the disasters.
After Hurricane Katrina ravaged the Gulf Coast two years ago many became angry because they considered the way the disaster was handled to be even worse than the disaster itself.
These floods, some say, have exposed one of the worst infrastructure failures in history.
The Midwest levees, roads, water and transport systems have proven vulnerable to natural disaster in a way that many feel could have been prevented if infrastructure had been a top priority all along.
Citing long commutes, dirty water, delayed flights and failing dams, the American Society of Civil Engineers gave the nation's infrastructure a "D" in 2005 with a projection of a $1.6 trillion investment (not including security costs) over the next five years to bring the nation's systems up to a good condition.
In places like Cedar Rapids, where 25,000 were evacuated from their homes and 1.3 million acres of farmland were lost, people have begun returning home and cleaning up.
There is no way to recover what looks like $1 billion in crop damage, however. There is concern, nationwide, that large agricultural firms will use this damage to push for further hikes in already escalating food prices.
While they survey their losses in places like Cedar Rapids small towns in Iowa, Ill. and Missouri now confront what has become a rising and threatening Mississippi River. On June 17 levees broke in Gulfport, Ill., sending what looked like a tsunami gushing through the town.
Twenty-six more levees could potentially overflow along the Mississippi if vigorous sandbagging efforts now underway prove inadequate.
As was the case after the disasters of 9/11, Katrina and the Twin Cities bridge collapse, the people themselves along with the first responders, labor movement and many other community groups are proving to be the real heroes.
Jan Laue, executive vice president of the Iowa AFL-CIO, called attention to a situation that is "very tragic," also, "because a lot of people are going to be displaced and this will ultimately affect their jobs."
Her son's house near Cedar Rapids was flooded. "Union households are affected like anyone else," she said, adding, "A lot of work needs to be done to put things back to normal and to rebuild and fix hundreds of millions of dollars worth of damage."
Lau said the AFL-CIO is pushing for emergency programs to provide assistance and that it is coordinating efforts with the United Way and the Red Cross throughout the state.
A union official in Cedar Rapids said the situation is hard to evaluate because so many people in and around the city are isolated. "The floods here took everything even the courthouse, the police department and the jail. I don't think you can imagine what has happened here unless you see it."
She described a people determined, however, to clean up after the disaster and come back stronger than ever: "There is a sense of community and people are working together, helping each other and, despite the big mess, there is a lot of compassion, hope and good will."
plozano@pww.org
TOWN HALL May 2 – Confronting the COVID Economy: Women Fight Back