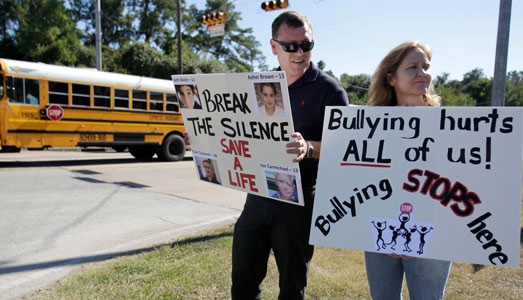 Millions are wearing purple Thursday to mark the second annual Spirit Day, when people put on the color purple to show support for lesbian, gay, bisexual and transgender youth and to speak out against bullying.

Excluding himself from that national campaign, which is growing in response to teen suicides, a Republican presidential hopeful, last night, described homosexuality as a "sin."
Being gay is wrong and a personal choice, Herman Cain said in a television interview.
"I think it's a sin because of my biblical beliefs," he declared, in an exchange with CNN's Piers Morgan. "And although people don't agree with me, I happen to think that it is a choice."
"You genuinely believe that millions of Americans wake up in their late teens normally and go, 'You know what? I quite fancy being a homosexual. ' You don't believe that, do you?" asked the shocked Morgan. Cain responded by saying there is no evidence to prove otherwise.
Spirit Day was started in 2010 as a response to such bigotry and in support of gay teens who, because of bashing and bullying, have taken their own lives. Schools, community groups, union members, actors, artists and many others are wearing purple today, the color on the rainbow flag that symbolizes spirit.
"Far too often I have been targeted just for being what I am. One of the worst things about it is that it makes me feel cut off from everyone. And that no one on earth cares about me at all," said Gregory Horne, an 18-year-old African American high school student who lives in Chicago's South Shore neighborhood.
Horne, who says, "I knew I was gay since I was five years old," is into both sports and music. "They made fun of me," he said about his classmates, "because I like playing the clarinet. It was tough dealing with the harassment when I tried out for intramural track but I put up with it and am more accepted now as both a musician and an athlete."
Horne said he is glad about Spirit Day because "it tells me there are decent people out there willing to accept me for who I am."
Studies show that nine out of 10 LGBT students feel harassed in school and 60 percent don't feel safe there.
Celebrities have gotten on board in the leadership of the Spirit Day movement. Among them are Cher, Conan O'Brien, Ellen DeGeneres, the stars of MTV's "Jersey Shore" and Tyra Banks.
"Just last month we had the suicide of Jamey Rodemeyer," said actor Wilson Cruz, who plays Rickie on "My So-Called Life." He was referring to the 14-year-old New York boy who took his life after years of anti-gay bullying. "We need this now more than ever."
"We're not just talking about suicides here," said Cruz. "We're talking about people not getting the education they need because they are afraid to go to classes. Whatever your feelings, what's not debatable is the safety of our children in school and their access to education."
Cruz believes Hollywood can set an example against the backwardness and closed-mindedness put forward by political candidates and others who appeal to bigotry and ignorance. As one of Hollywood's first openly gay actors, he says he feels good about many of the things going on in the entertainment world, including Zachary Quinto's low-key coming out.
Quinto plays Spock in the new "Star Trek" film and was part of the cast in the popular TV series "Heroes."
"I think that his talent will be the thing that people really concentrate on, more than anything," said Cruz. "We're coming to a time where your work can and will speak for itself." Cruz said that there is no freedom "until you are able to live your authentic life."
Photo: In this Oct. 5, 2010 picture, school buses bring students home from Hamilton Middle School in Cypress, Tex., as Brian Carter, Sharon Ferranti and others stand on a corner with signs to protest the treatment of Asher Brown, an eighth grader at the school who killed himself at home on Sept. 23, 2010. His parents blamed his suicide on two years of bullying they say he had suffered at the school. (Karen Warren/Houston Chronicle/AP)