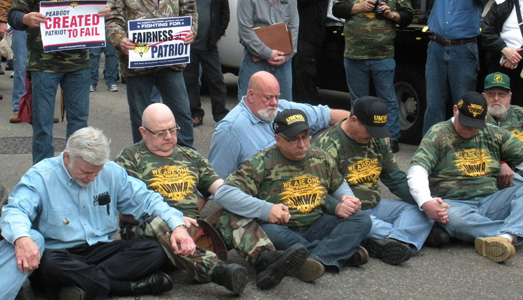 ST. LOUIS – Nine miners, including their union's president, were arrested in protests against the nation's largest coal company here today.
"I didn't come here today as the President of your union. I came here as a representative of our retirees and our widows, " United Mine Workers' of America (UMWA) international president, Cecil. Roberts, told over 1,000 miners, union supporters, community and faith leaders, as they rallied just steps away from the St. Louis Federal Court House here January 29.
The arrests took place after a march that followed the rally when those arrested took part in a civil disobedience action.
According to the union, Peabody Energy and Arch Coal – the nation's largest coal companies – created the spin-off company, Patriot Coal, in a scheme to rob thousands of union members and beneficiaries of their pensions and health care benefits.
Patriot Coal filed for chapter 11 bankruptcy in July 2012.
In 2007, Peabody Energy created Patriot Coal, and in 2008 Patriot bought Magnum, a spin-off of Arch Coal. Accumulatively, Patriot Coal inherited over $1 billion in retiree pension and health care obligations from Peabody and Arch.
Patriot Coal now wants to be released from its pension and retirement obligations covering more than 20,000 UMWA retirees and beneficiaries in West Virginia, Indiana, Illinois, Kentucky and Ohio.
And it was from out of the mines and towns in those states that miners and their supporters came here today, some in wheelchairs and others wearing the oxygen masks that give black lung disease victims the ability to breathe, a few minutes at a time.
Peabody Energy and Arch Coal are both headquartered in St. Louis and about 50 percent of Patriot's unionized retirees live in the Illinois Basin coalfields.
The bankruptcy case was moved to St. Louis last November.
According to Roberts, "This is nothing but a scheme to rob and steal from us, to take our benefits, benefits we've already paid for."
"What we have here is a company reneging on its promises."
"This is just a scam by Peabody. They are trying to bamboozle us," Roberts continued. "They may have $1,000 an-hour attorneys, but they've got $1 an-hour morals."
According to fairnessatpatriot.org – a website set-up by the union – "Over 90 percent of the retirees Patriot provides benefits for today never worked a single day for Patriot."
"We believe this company was established to fail, and that the spin-offs of Patriot and Magnum were fraudulent transactions."
Lew Moye, president of the St. Louis chapter of the Coalition of Black Trade Unionists (CBTU), called Patriot's actions "despicable and criminal."
UMWA international secretary-treasurer, Daniel Kane, told the assembled union members, "There are two groups of people in this world: those who earn their living by what they do, and those who earn a living by what others do."
He said the pension and health care obligations owed to mineworkers "aren't just a promise. You've already paid for them."
According to UMWA District 12 vice president, Steve Earle, "As far as they are concerned, we are expendable labor – without rights, without benefits."
District 17 vice president, Joe Carter, agreed and added, "They want to throw us aside like a piece of trash."
Missouri state representative, Karla May, Dem.-84, a member of the Communications' Workers of America, Local 6300, said, "I stand with you. We know their real goal isn't just to get rid of your health care and benefits. We know their real goal is to destroy all unions."
May, who is also a member of CBTU, also told the assembled union members about attempts "here in Missouri, and across the country, to impose so-called right-to-work, which would weaken all unions."
Roberts closed the rally with a childhood story. He said he had heard the old Biblical passage, "It is easier for a camel to pass through the eye of a needle than for a rich man to enter into the kingdom of heaven," but never quite knew what it meant "until now."
He added, "I know what it means. There will be justice done. We'll be judged by how we treat the least among us."
He concluded, "Our pensioners, our widowers, they are just as good – if not better – than those millionaires and billionaires. They deserve dignity and respect. And we will fight for our members and their families in the courts, in the coalfields and in the streets of St. Louis."
After the rally union members marched through downtown St. Louis to Peabody Energy's headquarters where nine UMWA members and Roberts were arrested as they peacefully sat in at the company building.
Photo: Cecil Roberts and other UMWA members, several of whom were black lung victims, engage in civil disobedience, arrested for sitting in at the coal company office.