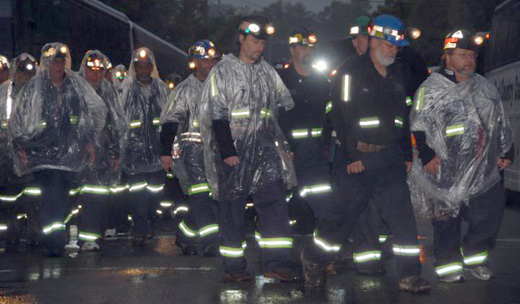 WASHINGTON (PAI) – Deaths in the nation's mines rose from 36 in 2012 to 42 in 2013, the Mine Safety and Health Administration (MSHA) reported. The entire rise was in non-coal mines and there was a big jump in the last three months, MSHA added.
MSHA Administrator Joe Main, a former safety and health specialist with the Mine Workers, noted the death rate per 200,000 miners hit record lows last year. But he declared all mine deaths "are preventable, and those in 2013 are no exception."
"While we have made a number of improvements and have been moving mine safety in the right direction, the increased number of metal/nonmetal deaths makes clear we need to do more to protect our nation's miners. It takes the entire mining community to continue to reach new milestones in health and safety. Miners need the reassurance that they will return home safe and healthy after every shift," Main added.
The entire 6-miner increase in deaths last year came in non-coal mines. In 2013, 14 of the 20 coal mine deaths were in underground mines, while 17 of the 22 non-coal mine deaths were in strip/surface mines. West Virginia again had the most dead miners last year, six.
Deaths jumped sharply in the last three months of 2013, to 15, compared to six in the last three months of 2012. Seven of the nine additional deaths in the last three months of the year were in non-coal mines.
Main said mine owners must "maintain effective safety and health management programs that are constantly evaluated, continue find-and-fix programs to identify and eliminate mine hazards, and provide training for all mining personnel" to prevent deaths. MSHA increased surveillance and conducted "impact inspections at mines with troubling compliance histories," he added. It's also issued more citations and closure orders for "patterns of violations" and focused attention on leading causes of mining deaths.
Photo: June 2010: Miners march to the candlelight vigil held outside Massey Energy headquarters the night before the Massey shareholder meeting. The vigil was held in remembrance of the 53 people killed on Massey property since 2000. As each name was read, a miner turned out his or her cap lamp. United Mine Workers Facebook page.