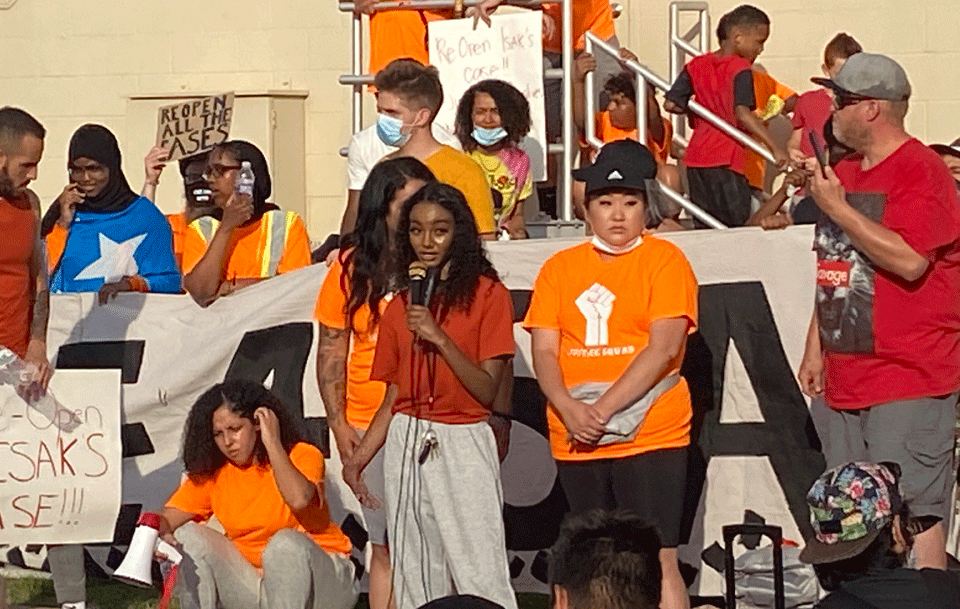 EAGAN, Minnesota—The protest on the one-year anniversary of the murder of Isak Aden, 23, at the hands of police officers here was both a somber remembrance of his life and a militant event demanding the reopening of his case. Family members, former schoolmates, teachers, and a thousand supporters gathered July 1 at the site where Isak, a Somali-American, was killed.
"My brothers blood is still here. These bullet holes are still in the walls. No matter how much stucco you put on it, you cannot cover them up," said his sister Samaya Aden, who led a march from a nearby outlet mall to the site in an industrial park where Isak's life was ended.
A year ago July 2, the day after Somalia Independence Day, an estimated 90 law enforcement officers, including two SWAT teams and armored vehicles, arrived on the scene to following a report of a distraught young man with a gun who had threatened his girlfriend earlier. As the first officers arrived, he was sitting on a curb of a parking lot and, as reported, acting suicidal.
After a couple of hours of what the Dakota County attorney office's investigation called "tense negotiations," five officers fired, hitting Isak 11 times. The report alleges he reached for the gun which he had set down near him after having threatened to kill himself. At the protest Wednesday, Samaya, challenged police reports that said Isak had a gun in his hand at the time he was shot.
On Friday, June 3, Minnesota Public Radio (NPR) reported that the Aden family is suing the officers and the four suburbs that sent police to the scene for $20 million. Attorney Matthew Lawless, representing the family, told MPR that video shows Isak had put the gun on the ground and "had raised his left hand to signal he was surrendering to the police."
In November 2019, County Attorney James Backstrom ruled "that it was objectively reasonable for these five police officers to subjectively believe Aden posed a deadly threat to other officers at the scene of this incident at the time they fired their service weapons and, therefore, they were legally justified in using deadly force in this instance." He cites Minnesota law governing use of deadly force and court precedents in supporting his conclusion.
The same legal arguments are cited again and again in Minnesota justifying police use of deadly force. Families who lost loved ones and protesters are urging the state legislature to change a host of laws that allow use of excessive and deadly force by law enforcement. So far, those efforts have failed, even in the wake of the murder of George Floyd.
In reading the county attorney's detailed November statement, it is evident that what killed Isak Aden was an over-zealous, militarized army of law enforcement that created a war zone out of a situation that was not a danger to themselves or any nearby residents. The report does not indicate law enforcement made any effort to contact family members of Isak or contact clergy from a local mosque to assist in defusing the situation. Instead, the report reads as if Isak was a terrorist holding hostages.
Other families who have lost loved ones to police violence were there to support Aden's family and spoke of their own loss and ongoing efforts to seek justice. Ashley Quinones, the wife of Brian J. Quinones, a man of Puerto Rican heritage, killed by three Richfield, Minnesota police officers in September 2019 came to offer her support.
Ashley is a founder of the Justice Squad, an organization that brings together Minnesota families whose relatives have been killed by law enforcement. She announced that the Justice Squad has teamed up with Take a Knee Nation to bring mothers and families members of those who have lost their lives to police violence to Minnesota for a march on July 12 to the state capitol starting at 11 a.m. (Donate to support the march here.)
At the end of the Eagan protest before the return march, a secondary school classmate of Isak's told how he had befriended and supported her when she arrived in the Twin Cities as a young Somali immigrant with few English skills. She recounted his many talents and achievements at his young age. Succeeding in college, working in a bank, starting a business, and becoming an accomplished visual artist.
"I remember him being such a wonderful person. The police who shot him deprived the world of his art, his laughter, his joy." Pointing the cement blocks on the side of the building, she said, "Each of those bullets went through a human being."
As she paused to let her voice recover from the emotion, she turned toward Sumaya and said, "There is a whole army behind Samaya and these other families, and we will be here until we get justice."