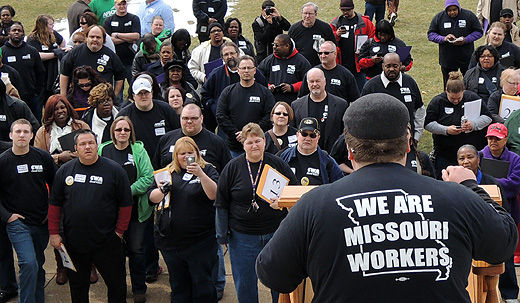 JEFFERSON CITY, Mo – "They want to take away your right to support your union," Bradley Harmon, president of the Missouri State Workers' Union (MSWU) CWA 6355, told 200 union activists and stewards as they rallied here on the Capitol steps March 27.
"They don't want us to be here," Harmon continued. "They want to kill us off this year so we won't be back next year."
Members of MSWU-CWA 6355, the Service Employees International Union (SEIU) Local 1 and the American Federation of State, County and Municipal Employees (AFSCME) District Council 72 were rallying against so-called right-to-work (RTW) and paycheck deception legislation, both of-which are designed to bankrupt unions.
RTW allows people who do not pay union dues to benefit from a union negotiated contract, grievance procedure, health and pension benefits, and higher wages, while paycheck deception restricts the ways in-which unions can collect and spend dues payments.
Workers in RTW states are paid about $1,500 less per-year than their counter-parts in non-right to work states.
With the Capitol dome just behind him, Harmon said state workers weren't just here to lobby. They were here to send a message to the right-wing republicans that currently control the Missouri House and Senate.
He said, "We need to let these people know, this is our building. They are in our House. These temporary squatters are not going to unravel our social safety net or take away our union."
"We came here today, as one. And that gives us power, which scares the crap out of the people in that building. And I'm just fine with that," Harmon concluded.
Jeff Mazur, executive director of AFSCME DC 72, called RTW and paycheck deception "a ruse, a red hearing designed to take away your voice."
However, the rally and lobby day wasn't just about union members.
While the various unions represent workers in the Department of Social Services, the Department of Family Services, Mental Health workers, Probation, Parole and Correctional Officers, and Home Health Care workers, among many other job classifications, the rally and lobby day was also about the people they service.
For example, 1.2 million Missourians rely on the Department of Family Services (DFS) which is currently facing possible staffing cuts of up-to 30 percent. Adding insult to injury, over 5,700 state employees have been cut since 2008.
Nancy Cross, vice president of SEIU Local 1, said, "It is unacceptable that they are trying to cut our jobs to balance the budget."
CWA public sector vice president, Brooks Sunkett, agreed with Cross and added, "They want to use the budget shortfall created by their policies to cut public workers and the service we provide."
Sunkett, representing 150,000 CWA public sector workers, added, "You don't help fix the economy by cutting jobs."
He also emphasized the reality voiced by all of the assembled unionists when he said, "two-thirds of all Americans will at some point in their lives rely on our social safety net. We are the voice of the voiceless."
Missouri AFL-CIO secretary-treasurer, Mike Louis, also took right-wing politicians to task when he said, "Inside of these walls are extremist politicians, attacking you, me, all of us." Louis continued, "We are here as the labor movement, public and private sector. We are united. We are one. And we're not going to take it."
After the rally state workers from all-across Missouri lobbied their representatives and senators against so-called right-to-work and paycheck deception legislation.
Harmon summed-up the mood of the rally and lobby day when he said, "This legislative session ends on May 17, and their right-wing, anti-worker agenda ends on May 17 too. But our union doesn't end on May 17. We'll keep going. We'll be here as long as it takes."
Photo: Tim Rowden, St. Louis Labor Tribune.