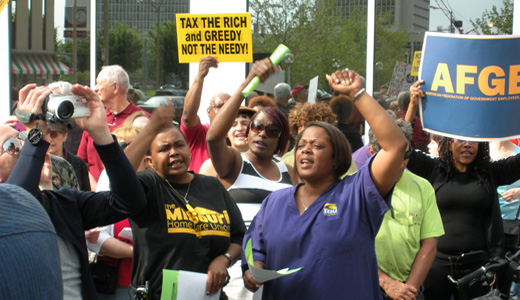 ST. LOUIS – "We are here today to serve our tax bill on what we see fit for Bank of America to pay," James Houston, an organizer with Missourians Organizing for Reform and Empowerment (MORE), told about 150 protesters as they gathered outside of the downtown Bank of America here April 18.
"We are all making sacrifices. But what are the banks doing?" Houston asked. "Bank of America, we are tired of you not paying your fair share!"
According to recent reports Bank of America, one of the largest financial institutions in the world, paid nothing in federal taxes for fiscal years 2010 and 2009.
As states across the country face crippling budget deficits, and as the federal government is about to reach its debt ceiling, many argue that Bank of America and all other banks and corporations need to pay their fair share in taxes.
"We need to agitate and aggravate these big banks every chance we get," Lew Moye, president of the St. Louis Chapter of the Coalition of Black Trade unionists (CBTU), told the protesters. "We need to make them uncomfortable."
"The problems we face aren't because of us. It is because of big banks like Bank of America."
"They want to make it sound like the teachers, the state workers, the fire-fighters and the police are the ones who ruined the economy," Moye continued. "We aren't the ones who ruined the economy. They are! The big banks ruined our economy!"
As labor activists, community leaders and concerned citizens chanted "Don't cut teachers. Don't cut cops. Collect those taxes from the top!" Moye called for a "coalition of the people" to reign in the power of the big banks and protect workers' rights.
Washington University professor Fredric Raines told the protesters, "We need to invest in America, or we will become a third-world nation where workers' have no rights."
Raines mentioned the all-out attack on workers' rights in the Missouri legislature. He said, "They want so-called 'right-to-work' laws. They want to repeal child labor laws. They want to make discrimination legal. They want to take away our minimum wage cost-of-living adjustment – something 76 percent of Missourians voted for."
Raines said, "The taxes that banks and corporations pay have been going down since WWII, and they keeps going down. The whole system is designed to protect them and their profits."
Ashli Bolden, from the Missouri Progressive Vote Coalition, told the People's World, "Some of the largest banks in the land – the ones who pay the least in taxes – are also the largest contributors to right-wing republican political campaigns."
"They are connected. Tax breaks for big banks and rich corporations are connected to huge political contributions," Bolden continued. "In other words, they bought those tax-breaks. That's not democracy. It's corporate control of our economy. And we're tired of it."
Photo: Protesters serve BOA with tax bill. Photo by Jason Fedarow, MO SEIU State Council.