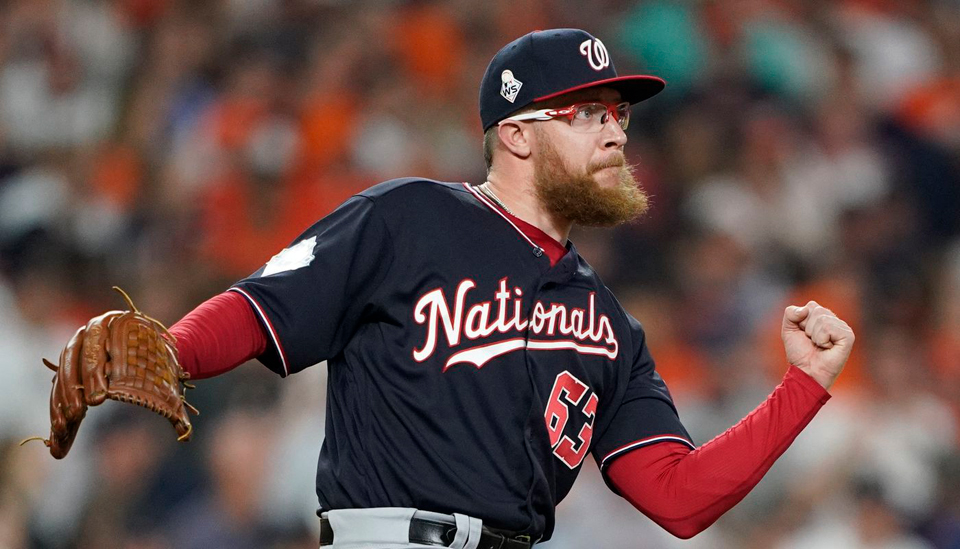 You occasionally find inspiration in the most random places. And often, you end up wondering how it happened in the first place. For this reporter and avid baseball fan—missing the ballpark sunshine, cheap seats, and overpriced domestic beer, that inspiration came from the Daily Beast and deals with Washington Nationals pitcher Sean Doolittle.
Over the weekend, and whether the Daily Beast sports desk knew it or not, they gave all lefty sports fans a new custom jersey name, bumper sticker, and rallying cry: "The Socialist Southpaw."
Catchy isn't it?
It should come as no surprise to baseball fans on either side of the political aisle that this moniker suitably fits Doolittle; he's a high profile member of the Democratic Socialists of America, earning their social media congratulations after the Nationals World Series Win.
So how did he earn the title?
Over the weekend, USA Today broke the story Major League Baseball was considering drastic changes and realignment for the 2020 season if there's a season, which would eliminate the classic American and National Leagues, and become the Cactus and Grapefruit league for the condensed season—basically continuing Spring Training.
All 30 teams would report to their Florida and Arizona spring training locations, play regular-season games in enclosed dome stadiums without fans, and would reduce team travel minimizing the risk of COVID-19. Divisions would be based on spring training geography.
This isn't the first radical idea coming from MLB. Earlier this month, one of the ideas discussed by the league and players union centered on putting all 30 teams in Arizona for the season.
The advantage?
Arizona has 10 spring training ballparks plus the Arizona Diamondbacks' Chase Field—a retractable dome park—all within a 50-mile radius.
"MLB has been actively considering numerous contingency plans that would allow play to commence once the public health situation has improved to the point that it is safe to do so," said the commissioner's office in a statement Tuesday, April 6. "While we have discussed the idea of staging games at one location as one potential option, we have not settled on that option or developed a detailed plan."
MLB will likely look at every possible scenario for kicking off the 2020 season, but it will need the players union's nod of approval before anything moves forward. The MLB Players Association says it would want to survey its membership to determine if the rank and file would support any such plan.
While MLB and the union reached a deal in March to offset the effect of a delayed or canceled season due to the COVID-19 pandemic, the question of whether or not a reconfigured season would take place, and what it would look like was left wide open for further discussion.
Enter Doolittle, a player rep (union steward) for the Nationals.
When asked during a phone interview with the Daily Beast about the 2020 season proposals, Doolittle responded: "If we're going to entertain this idea, for the players and the Players' Association, there has to be that solidarity with those workers who are in those supporting roles."
Those workers Doolittle is talking about are the hardworking, hourly wage stadium staff, team staff, and ballpark crews. While many are organized and represented by several unions and are being helped by the league and players, the issues come down to the time they would have to spend away from their families, risking infection, just to work. Nothing more.
Eireann Dolan, Doolittle's wife, chimed in: "That's incredibly dehumanizing and it sort of essentializes a person to their job."
Begs the question: Are corporate bosses co-opting the term "essential workers" instead of calling them disposable workers? A genuine question when addressing their motives for the sake of profit during this time of crisis.
MLB seasons are made by the folks working behind the scenes—a truth representing most of what we find entertaining, and their needs, fears, and dreams need to be taken into full account during such uncertain times.
Would this reporter love to see a 2020 season? Absolutely.
But not if it puts the lives of workers, union and non-union, at risk. We can all agree that no matter what happens, we can wait if we have to. Hell, waiting patiently is our national duty.
And like Eireann Dolan said: "I'm not trying to be a killjoy, I just wanted to ensure that in our haste to watch baseball again, we remember just how many people it takes to bring us baseball."