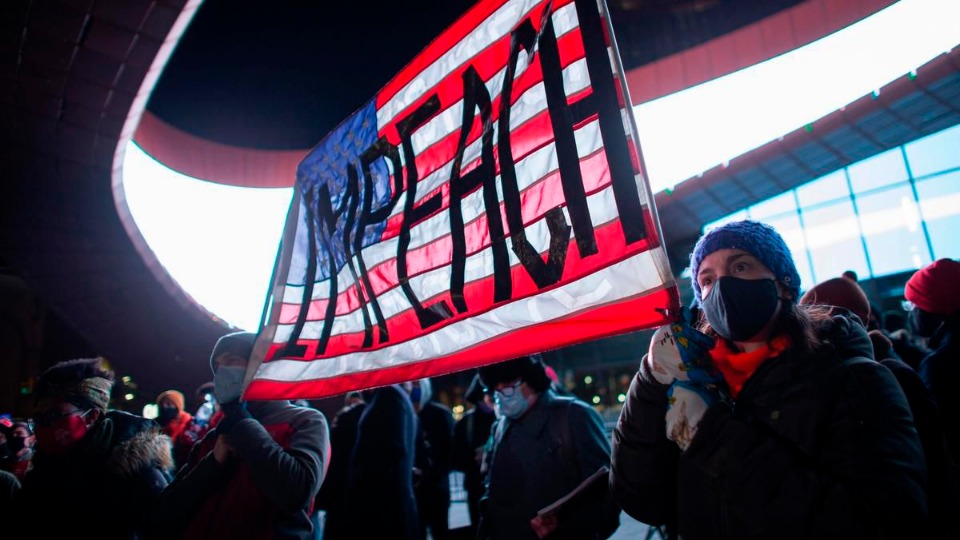 WASHINGTON—All day yesterday support grew and is mounting, even more today, for the immediate removal of the president, even as it is clearer than ever that major systemic changes are needed if genuine democracy is to be preserved in the United States.
House Speaker Nancy Pelosi, D.-Calif, issued an ultimatum to Trump Friday morning: Resign now or be impeached. In a letter to House members, she slammed Trump's "horrific assault on our democracy," and invoked the resignation of President Richard Nixon on the eve of his impeachment, saying Trump should do likewise.
Analysts both Black and white, meanwhile, along with President-Elect Joe Biden, are putting an intense focus on the fact that had a crowd of Black Lives Matter demonstrators entered the Capitol instead of the Trump thugs, hundreds might have ended up dead.
Racist and out-of-control law enforcement bodies and a justice system skewed to the wealthy and against Black and poor people are responsible for what happened and must be overhauled.
"No one can tell me that if that had been a group of Black Lives Matter protesting yesterday, they wouldn't have been treated very, very differently than the mob of thugs that stormed the Capitol. We all know that's true. And it's unacceptable. Totally unacceptable," Biden declared on national television.
The fascist thugs who carried out the attacks have mostly returned home, but they must be searched out, arrested, and punished. If Trump does not pay any price, and if his insurrectionist foot soldiers pay no price, a victory will have been scored by the fascists. That cannot be allowed.
Some 147 Republican lawmakers in the House and eight U.S. senators, led by Ted Cruz of Texas and Josh Hawley of Missouri, continued, after the insurrection, to push for overthrowing the results of the election. As graduates of Ivy League schools, the pair symbolizes the white-collar criminals who create death and destruction even though they keep their own hands clean as people misled by them form the mobs that do their dirty work.
The two should be shunned and their careers ended by expulsion from Congress. But just as guilty are the wealthy capitalist interests like the Koch family and other business figures who fill their campaign coffers with the blood money squeezed from America's workers. That dark money put those 147 House members in office and helped elect all the Republicans in the Senate who have enabled Trump for four years. White-collar criminal corporate leaders are to blame, too, for what happened in Washington this week. Campaign finance laws that allow corporate money to determine who is in office must be overhauled.
Racist police assumptions alone or criminal complicity?
The idea that conservatives and right-wingers are law-abiding participants in our democracy is being increasingly exposed as false. Former Boston Police Commissioner Ed Davis told the Associated Press that the feeling among law enforcement was that conservatives would not riot or invade, unlike Black Lives Matter protesters—this despite the fact that BLM demonstrations have been mostly peaceful.
With news emerging that the Capitol Police repeatedly turned down assistance from other agencies and police forces Wednesday, even as the Capitol was under assault, questions are being raised as to whether only racist police preconceptions were to blame for the paltry police response on Wednesday or certain elements were actually in cahoots with the failed coup attempt.
As was seen on Jan. 6, it was white supremacists and neo-Nazis who were in the vanguard of the invasion. Insurrectionists wore t-shirts emblazoned with "6MWE," code for "Six Million Wasn't Enough," a reference to the number of Jews killed by the Nazis. Others wore hoodies emblazoned with "Camp Auschwitz, Work makes you free," the slogan that greeted the victims at the entrance to Hitler's death factory.
Vice President-elect Kamala Harris said the actions of law enforcement Wednesday highlighted the existence of unequal justice in the U.S. "We have witnessed two systems of justice: One that let extremists storm the U.S. Capitol yesterday, and another that released tear gas on peaceful protesters last summer. It's simply unacceptable," she tweeted.
"Had we fought with police officers, the reaction would have been different," new Rep. Cori Bush, D-Mo., told PBS. "I know; I've been there," added Bush, a BLM leader since the Ferguson, Mo., police killing of Black man Michael Brown.
"When Black people protest for our lives, we are all too often met by National Guard troops or police equipped with assault rifles, shields, tear gas and battle helmets," BLM's global affiliate said in a statement.
"When white people attempt a coup, they are met by an underwhelming number of law enforcement personnel who act powerless to intervene, going so far as to pose for selfies with terrorists, and prevent an escalation of anarchy and violence like we witnessed today. Make no mistake, if the protesters were Black, we would have been tear-gassed, battered, and perhaps shot."
The Capitol Police performance, and the contrast, was unacceptable to House Speaker Nancy Pelosi, D-Calif., too. Police Chief Steve Sund quit after Pelosi said she would fire him.
The Capitol Police met the Trump mob only in regular uniforms, not riot gear. At least one officer took a selfie with invaders. Another carried off Pelosi's portable speaking stand. Some tore down the U.S. flag, replacing it with Trump flags and Confederate flags.
The spurning of prior aid offers from the FBI and other federal agencies, which were warning the Capitol Police of the threat from the invaders, white nationalists, and Trumpites is now coming under intense scrutiny. The 2,300-member police force arrested a few of the invaders afterwards, but they've also washed their hands of further probes and arrests, leaving that task to D.C. police and the FBI.
But the bigger issue now is that resignations of Capitol Police officials and probes of that department's actions, while necessary, are far too little. It's like arresting the bodyguard for not protecting his dead client and letting go of the people who organized and carried out his killing.
Reveling in democracy's destruction
The New York Times reported that Trump and his family enjoyed watching the mayhem on television. The president of the United States enjoyed watching the coup he had unleashed, a coup that has now resulted in at least five deaths.
As he reveled in the scenes of his coup unfolding, Trump was ignoring the deaths of more than 4,000 Americans happening the same day because of his criminally neglectful handling of the coronavirus pandemic.
And so far, the criminal thugs who carried out the insurrection continue, largely, to go free. They are enjoying what they consider their grand success, free to plan their next assault on the rule of law and recruit thousands more whose only regret about what happened at the Capitol was that they were not part of it.
If Trump and his lawyers and enablers are not prosecuted, they will have enjoyed a victory. It will be a victory that will help fuel and grow a mass fascistic movement in America.
Trump cabinet members, like rats, are swirling the waters around the sinking ship, choosing to resign rather than stay in place and use their power, along with Vice President Mike Pence, to remove Trump immediately via the 25th Amendment.
Transportation Secretary Elaine Chao, wife of GOP Senate Majority Leader Mitch McConnell, was the first to jump ship.
"As I'm sure is the case with many of you, it has deeply troubled me in a way that I simply cannot set aside," Chao wrote in an open letter to her agency's workers. But in another indication of Trump's vindictiveness, when acting Homeland Security Secretary Chad Wolf revealed he asked Trump to call off the mob, Trump retaliated by yanking his nomination for the Homeland Security post.
Chao was followed in her resignation by Education Secretary Betsy DeVos who, until her resignation, carried out orders from Trump to do everything in her power to destroy public education.
Moving toward removal
Pelosi and incoming Senate Majority Leader Charles Schumer, D-N.Y., have both endorsed the 25th Amendment option—and impeachment, too. So did 200 other lawmakers. The next House session is Jan. 11, when lawmakers could bypass committees and vote to impeach the president.
"Any day can be a horror show for America," said Pelosi, in endorsing the eviction options if Trump stays in the Oval Office. "What happened at the U.S. Capitol yesterday was an insurrection against the United States, incited by the president," Schumer said.
"If there was no President Trump, this would not have happened, plain and simple. The fish stinks from the head, plain and simple.
"This president should not hold office one day longer. The quickest and most effective way—it can be done today—to remove this president from office would be for the Vice President to immediately invoke the 25th Amendment. If the Vice President and the Cabinet refuse to stand up, Congress should reconvene to impeach the president," the senator added.
Biden's former boss, Democratic President Barack Obama, also laid the blame on Trump and the white supremacists.
"History will rightly remember today's violence at the Capitol, incited by a sitting president who has continued to baselessly lie about the outcome of a lawful election, as a moment of great dishonor and shame for our nation. But we'd be kidding ourselves if we treated it as a total surprise," he said.
"A political party and its accompanying media ecosystem have too often been unwilling to tell their followers the truth…. Their fantasy narrative has spiraled further and further from reality, and it builds upon years of sown resentments. Now we're seeing the consequences, whipped up into a violent crescendo."
The impeachment resolution has been unveiled by Reps. Ilhan Omar, DFL-Minn., Ayanna Pressley, D-Mass., and David Cicilline, D-R.I.
Omar wants to impeach Trump for violating his oath of office on two counts. Number one deals with Trump's lies about the election and his campaign to reverse the outcome by "unlawfully interfering" with the 2020 election in Georgia in particular, including threatening Georgia Secretary of State Brad Raffensperger if the secretary disobeyed. Trump's coup try was #2. Omar's resolution calls it "subversive of constitutional government."
"In violation of his constitutional duty to take care the laws be faithfully executed, Donald John Trump has abused the powers of the presidency to incite violence and orchestrate an attempted coup against our country," it declares.
"He incited a crowd of supporters in Washington, D.C., to violently attack the Capitol while both chambers of Congress were in session, saying 'You'll never take back our country with weakness. You have to show strength and you have to be strong.'
"After those supporters had violently breached the Capitol, he put out a further statement repeating his false claims of election fraud and telling the members of the mob, 'We love you, you're very special."
All that breaks Trump's oath of office and is "to the great prejudice of the cause of law and justice and to the manifest injury of the people of the United States."
"Trump misused the power of his office by threatening an elected official," Secretary of State Brad Raffensperger, "with unspecified consequences if he failed to pursue the president's false claims and attempting to coerce an elected official to commit fraud. His actions and statements on this call amounted to interference with the impartial election process."
Some Republicans may back impeachment, PBS reported, because impeaching and convicting Trump—which needs a two-thirds Senate majority—would not only evict him now but bar him from running again. Trump's threatened to do so in 2024.
Impeachment became the very first piece of legislation backed by new Rep. Marie Newman, a Democrat from Chicago's South Side, along with fellow Illinois Democrats Bobby Rush and Jan Schakowsky. Others include past and present Progressive Caucus Co-Chairs Pramila Jayapal (Wash.), Raul Grijalva (Ariz.), and Mark Pocan (Wis.), a Painter, plus Rep. Stephen Horsford (Nev.), a Unite Here member.
Amidst the invasion and its aftermath, workers and their allies got three pieces of positive news which also impact the impeachment situation and the investigation of what happened Wednesday. The first two were the wins of the Rev. Raphael Warnock and investigative journalist Jon Ossoff, the Democrats, in Georgia's two special U.S. Senate elections. Their victories give Senate Democrats a 50-50 tie, which Harris will break on Jan. 20.
"We now have a generational opportunity to work with a pro-union president, a pro-worker House of Representatives, and a new Senate," AFL-CIO President Richard Trumka said.
The third piece was when Biden nominated federal appellate judge Merrick Garland as Attorney General. Obama nominated Garland to the Supreme Court in 2016, but Majority Leader Mitch McConnell, R-Ky., refused even to allow a hearing for him.
As for impeachment, many are saying not a day can be wasted to move ahead forcefully.
"This is not a one-off incident. It is the result of years of collaboration on the part of the Republican Party, who have aided and abetted Trump's criminal attempts to destroy our republic, and the cause of democracy around the world," Omar said.
"All leaders should denounce this coup. And the president should be impeached and removed from office for his open sedition."
"Donald Trump presents a clear, direct threat to our democracy and national security, and yesterday's acts of white supremacist domestic terrorism on the U.S. Capitol—incited by Trump himself—is further evidence of the danger he presents," Pressley said.
"Our nation cannot afford one more day with Trump in office. He must be immediately impeached by the House of Representatives and removed from office by the United States Senate. We must act with the urgency to defend our republic."
Blowback?
Destruction of democracy in countries around the world and use of coups to destroy democratically elected governments around the planet are the stock and trade of the corporate moguls who've backed Trump and other extremists and the government they control. It was only a matter of time before these tactics would come back to bite the U.S. and unfold the way they did at the nation's capital on Jan. 6.
But investigative journalist Allan Nairn reminded Amy Goodman on Democracy Now! that what goes around comes around. After reciting a long list of U.S.-sponsored invasions and overthrows of foreign governments, he said the U.S. is now tasting its own medicine.
"It's always been the case the U.S. establishment was willing to use terror and kill civilians overseas, either to do things like seize oil, seize political power, or basically on a whim" in Asia, Latin America, the Middle East, and elsewhere, Nairn told Goodman.
The comment of the Venezuelan government, which has been the target of multiple U.S.-backed coup attempts, was along the same lines: "With this unfortunate episode, the United States is experiencing what it has generated in other countries with its policies of aggression."
Like free stuff? So do we. Here at People's World, we believe strongly in the mission of keeping the labor and democratic movements informed so they are prepared for the struggle. But we need your help. While our content is free for readers (something we are proud of) it takes money — a lot of it — to produce and cover the stories you see in our pages. Only you, our readers and supporters, can keep us going. Only you can make sure we keep the news that matters free of paywalls and advertisements. If you enjoy reading People's World and the stories we bring you, support our work by becoming a $5 monthly sustainer today.