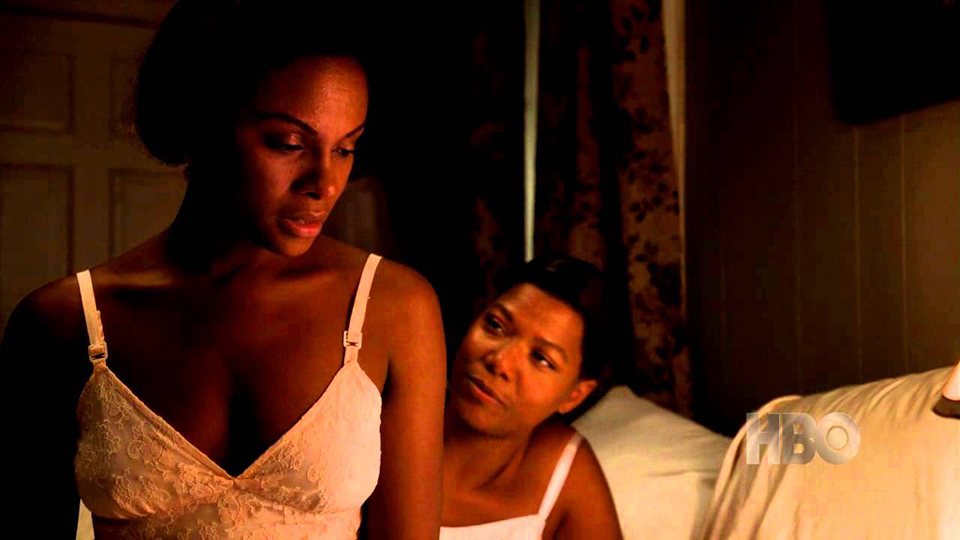 The social media campaign #OscarsSoWhite put front and center the controversy around the lack of media representation of marginalized people in Hollywood, and entertainment as a whole. It's no surprise then that this struggle for narratives that represent the diversity of people of color, women, LGBTQIA (lesbian, gay, Black, trans, queer, intersex, asexual) individuals, and others is a recurring theme at the 48th annual gathering of one of the largest entertainment conventions in the world, San Diego Comic Con. With hundreds of panels and events to highlight all things in the entertainment industry from July 20-23, one panel, "Moonlight and Magic: Black LGBTQ Contributions to Sci-fi," sought to shed light on the contributions of the often overlooked, underutilized, and oppressed Black LGBTQ community.
The film Moonlight, the story of young Black man growing up in Miami and coming to terms with his identity and sexuality, made history this year by being the first film led by a gay, lesbian, transgender, or queer character to win the Oscar for Best Picture. An annual study by the Gay & Lesbian Alliance Against Defamation, (GLAAD) examined LGBTQ representation in media and found that, despite Moonlight's achievement, LGBTQ representation in media as a whole has not improved greatly. GLAAD started the Studio Responsibility Index five years ago to "map the quantity, quality, and diversity" of LGBTQ characters in the entertainment industry. GLAAD President and CEO, Sarah Kate Ellis, pointed out in the recent study that although Moonlight was history-making, "nearly half of the inclusive films released by the seven major studios included less than one minute of screen time for their LGBTQ characters."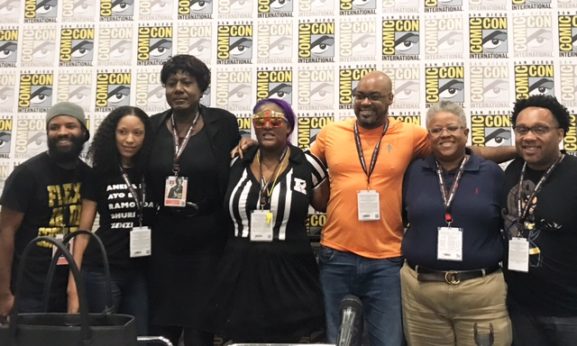 The study points out that although there has been a slight increase of one percent (17.5 to 18.4) in representation from 2015 to 2016, a majority of this representation has been gay white men. In fact, the racial diversity of LGBTQ characters actually decreased since 2014 to 2016. The study found that only 20 percent of LGBTQ characters were people of color, compared to 25.5 percent just the year before. The numbers aren't much different behind the scenes either, as those in the Black LGBTQ community struggle to find work and platforms to tell their narratives.
The "Moonlight and Magic" panel touched on many of these topics and more in its hour-long session at San Diego Comic Con on Thursday, July 20. The panel included LGBTQ activists, creators, and professionals within the entertainment industry. The panel began with moderator Faith Cheltenham coming into the auditorium proclaiming that Black lives matter, and that "Black creators" matter as well. Cheltenham, who organized the panel discussion, is the Vice President of BiNet USA, an advocacy group and national network for those who identify as bisexual, and the co-creator of the science fiction focused blog Tor.com.
Joining Cheltenham on the panel were African-American blogger, writer, and transgender rights advocate Monica Roberts; Prism comics board member and creator of the popular hashtag GayMediaSoWhite Viktor Kerney; Mills College professor and artist Ajuan Mance; Bent-Con creator and artist Sean Z. Maker; Queerbait anthology editor William O. Tyler; also attorney and BiWoCC (Bisexual Women of Color Collaborative) founder Eliot Sutler.
The panelists talked about the dangers in the lack of representation for Black LGBTQ individuals, and how it affects society. Roberts noted that the current presidential administration, led by Donald Trump, often picks groups of people as targets to attack, and that transgender people are part of their targets. "Hate thought, and hate speech, leads to hate violence," she said. Roberts noted the fact that since the beginning of 2017 alone, 15 transgender people have been fatally shot or killed by other violent means. Of those 15, she noted that 13 were Black and one was Native American. "The level of respect for Black transwomen is low," she went on to say. "Transwomen are often shown in stereotypical and narrow roles in media, such as sex workers, inmates, or dead bodies."
The panel also made the connection between the violence against transwomen, and the violence and oppression experienced by Black women. Sean Z. Maker has made it his goal to create Black women characters since, as Maker noted, "Black women aren't often allowed to be heroes in media." Roberts furthered this sentiment by explaining, "Demonizing Black womanhood and Black femininity has happened since Black people got off the [slave] boat," she said. "This dehumanization plays into the violence and murder that both Black transwomen and Black women face."
Eliot Sutler explained why her love for science fiction and fantasy is connected to the plight of Black people, and Black LGBTQ people. Noting her paper "Black Vampire Lore and the African Diaspora," Sutler said that similar to how the vampire has been categorized as "the other," commodified, and often hypersexualized, so too have Black people. "It's good that we're having these conversations of what it means to be different, to look different, and be gender fluid," Sutler said.
The speakers also highlighted ways they are combating the lack of representation and resources for Black LGBTQ in media and the country. Roberts runs a popular blog called TransGriot, which has been going since 2016, that highlights the issues of the transgender community. Ajuan Mance has made the LGBTQ Cartoonists of Color Database, as a source to find LGBTQ artist and creators of color to work with and/or support their work. While Cheltenham is in the beginning stages of launching YesBlackPeople.Com, which is a 2017 digital version of the Green Book, a guide used by Black people during the Jim Crow era to navigate places that were safe for them to travel. YesBlackPeople.Com seeks to do that for the modern times, in an era where there has been a spike in hate crimes since November 2016.
Finally, the panelists offered words of encouragement and hope for the future of LGBTQ representation. "If you don't see it, make it," Mance expressed to the audience. Viktor Kerney expounded on that advice, "You can't ask for permission. Do what you need to do. Believe in yourself."
Below is a video featuring writer and activist Monica Roberts speaking to People's World on the need for LGBTQ (and specifically transgender) representation in media in the face of ongoing attacks and violence against transgendered and Black people.