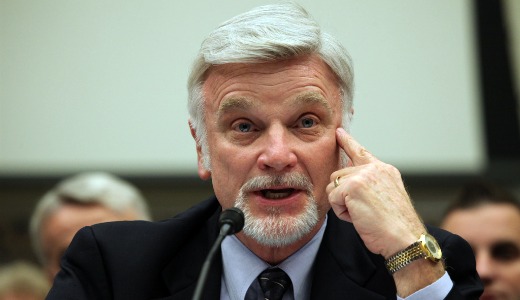 WASHINGTON – The Feb. 28 indictment of the security supervisor at Massey Energy's Upper Big Branch mine – where an explosion killed 29 West Virginia miners last April 5 – will be the first of many indictments in the tragedy, Mine Workers president Cecil Roberts predicts.
And he wants former Massey CEO Don Blankenship to be one of them.
In an interview during the AFL-CIO Executive Council meeting in Washington, Roberts said the indicted mine supervisor, Hughie Elbert Stover, would, in so many words, start "singing" to federal officials, naming higher-ups who were also responsible for the fatal conditions in the mine.
Booth Goodwin II, U.S. attorney for West Virginia, unveiled the grand jury indictment of Stover on Feb. 28, on counts of lying to FBI and Mine Safety and Health Administration investigators and of attempted destruction of documentary evidence of conditions in the mine.
Stover, Goodwin said, allegedly committed both offenses in Jan. 2011, though the lies involved whether Stover illegally tipped off other Massey officials about MSHA inspections of Upper Big Branch in the months before the blast last year.
The indictment "does show the feds are still very much in pursuit of truth and justice" in the Upper Big Branch disaster, Roberts said. "They've worked on this diligently – and when a U.S. attorney works on something like this diligently, somebody's going to jail."
That in turn would lead to Stover starting to sing. "You indict someone and say, 'We know you know more.' He's facing one to 20 years in jail – and he starts to think about the wisdom of providing something" in evidence "to get himself off the hook."
Once that happens, Roberts said, the indictments start cascading, and reaching into the upper echelons of Massey, which is known for Blankenship's anti-unionism, for contesting every MSHA violation and for an awful health and safety record.
"They may need a bus" for all the Massey officials who will be indicted and jailed as a result of the Upper Big Branch blast, he predicts.
"And I hope Don Blankenship's on that bus."
Image: Cecil Roberts, photograph via House Committee on Education and Workforce Democracy