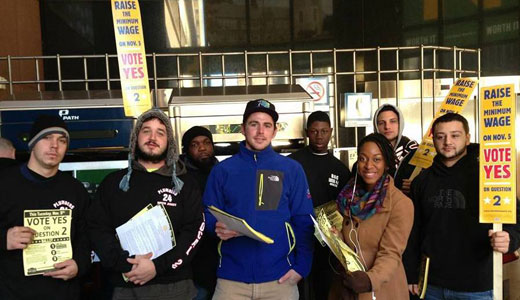 TRENTON, N.J. – New Jersey is one of the 13 states that saw a bump in the minimum wage starting Jan. 1. In the Garden State the minimum wage became $8.25, up one dollar from $7.25.
Voters in this state approved the hike on Election Day, last November, after a successful campaign by unions, community organizations, civil rights groups and religious leaders.
New Jersey State AFL-CIO president Charles Wowkanech highlighted the importance of this minimum wage hike:
"New Jersey's minimum wage of $7.25 was simply infeasible given our state's high cost of living, and as of tomorrow, approximately 400,000 workers will realize a long-overdue raise….The significance of this increase cannot be understated. Forty more dollars a week will make the difference between falling further behind and making ends meet; it is a full tank of gas, a trip to the grocery store or extra time to spend with family; and for workers who are in poverty, despite having two or three jobs, a little more money can provide the means for future advancement."
The Working Families United for New Jersey, Inc. "Raise the Wage" Campaign, of which the New Jersey State AFL-CIO was a founding partner, demonstrated a coordinated statewide effort among hundreds of community, labor, faith, student, women, business and civil rights groups never before seen in New Jersey, Wowkanech said. "Working with community allies will continue to be an ongoing effort of the New Jersey labor movement as we seek to improve the standard of living for all New Jersey's working families."
Women's' groups, in particular, have pressed hard for the minimum wage hike, seeing it as an issue of particular importance to women and their families. In New Jersey more than 60 percent of those who received the increase are women, helping to narrow a bit the wage gap between men and women.
Photo: Volunteers for New Jersey's "Raise the Wage Campaign" getting out the word before the November vote, from the Facebook page.