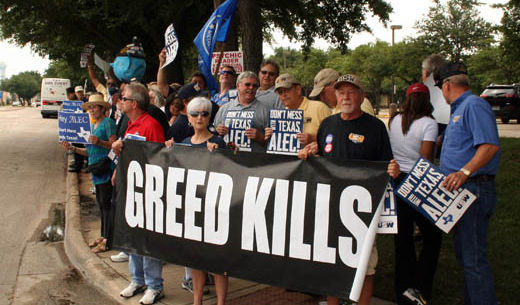 Common Cause joined a coalition of 84 public interest, religious, environmental, labor, public health, civil rights, and investor organizations today in calling on pharmaceutical giant Pfizer to end its membership in the American Legislative Exchange Council (ALEC).
The letter to Pfizer signed by the organizations argues that the company's corporate social responsibility policies do not line up with ALEC's public policy agenda. Specifically, the letter contrasts Pfizer's public commitment to addressing climate change with ALEC's denial of climate change and opposition to renewable energy measures. The letter also highlights differences between ALEC and Pfizer on public health laws, citing ALEC's support of the tobacco industry.
ALEC is an organization of more than 1,000 state legislators and an undisclosed number of corporations. Its corporate and legislative members meet several times annually to vote as equals on "model" legislation that often is tailored to benefit the corporations involved. The task force meetings where the group does the bulk of its work are closed to reporters and the public. Common Cause has filed a tax "whistleblower" complaint against ALEC, accusing the organization of masquerading as a charity while acting as a lobby for its corporate members.
More than 100 corporations and non-profit groups have left ALEC since 2011, when Common Cause and other groups launched a campaign to call public attention to the group's activities. Several organizations that signed the letter released today, including Common Cause, Forecast the Facts, and the American Federation of Teachers, also are launching petitions today asking Pfizer to end its relationship with ALEC.
Pfizer also is facing increasing pressure from shareholders regarding its political spending and lobbying. Pfizer has not yet heeded requests, including a shareholder proposal at the company's 2014 annual meeting and a pending proposal for 2015, to reevaluate its membership in ALEC. Some shareholders allege that ALEC's agenda is severely out of step with Pfizer's corporate culture and may bring significant reputational and business risk to the company.
Other corporations that recently have left ALEC include Microsoft, Google, Facebook, Yelp, Yahoo, eBay, AOL, SAP America, Occidental Petroleum, and Northrop Grumman.
Read the letter and see the complete list of signers here.
Statements from Signing Organizations
Arn Pearson, Vice President of Litigation, Common Cause
"Pfizer should stop supporting and associating itself with a group that misleads taxpayers and the IRS about its extensive lobbying activities. Instead, the company should follow the lead of over 100 other corporations and end its relationship with ALEC."
Randi Weingarten, President of the American Federation of Teachers (AFT)
"Nurses and health professionals want Pfizer to put patients before profits by ending its membership in the American Legislative Exchange Council. Pfizer should renounce ALEC's policies that deny health coverage for the most vulnerable members of our communities and ALEC's advocacy against the right of workers to have strong unions."
Brant Olson, Campaign Director, Forecast the Facts
"ALEC is rolling back clean power rules in statehouses nationwide. For Pfizer to claim that climate change is a top priority while backing ALEC lacks all credibility."
Lisa Graves, Executive Director of the Center for Media and Democracy
"A company that produces medicine should not be funding a group that has been a key player in blocking paid sick days. Pfizer cannot claim to support public health, but also be in league with big tobacco and major polluters through ALEC."
Rashad Robinson, Executive Director of ColorOfChange
"ALEC's history of championing legislation that jeopardizes the rights of Black people-including discriminatory voter ID and so-called "stand your ground" laws-as well as their current attacks on worker's rights and the open Internet should be reason enough for Pfizer and all other corporations that value their relationships with Black consumers to sever all ties with the organization. Pfizer has a choice: They can stand with ColorOfChange and black communities or they can stand with ALEC, whose policies put our communities in harm's way."
Photo: Texans rally against ALEC, the right-wing stink tank. Jim Lane/PW