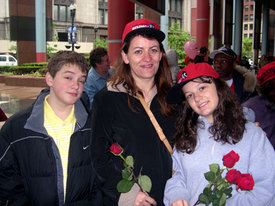 CHICAGO — On May 11, hotel housekeepers, their children, members of Unite Here Local 1 and their supporters held a Mother's Day rally in front of the State of Illinois building, calling attention to the problem of increasing workload-related injuries in the hotel industry.
Edona Hashimi, 12, missed school to speak at the event and show her support for her mom. Hashimi told the World she was there "to let everybody know how hard our moms work and to show them our moms are always there for us, and to say, give my mom a break."
"I hope they get what they want," she said.
According to a new union-sponsored, nationwide study of 87 hotels titled "Creating Luxury, Enduring Pain," hotel housekeepers, predominantly women of color and largely immigrant, experienced a 4 percent jump in workplace injuries over the past five years. The report says housekeepers are injured at twice the rate of other hotel workers.
Causes include the speed-up associated with rising room quotas, where housekeepers are required to clean a certain number of rooms per day, heavier mattresses and linens, and chronic understaffing.
During the rally, several workers led a bed-making demonstration on an actual bed to show just how difficult the task can be.
Deborah Hood, a worker at the Hyatt Regency, told the World she cleans and changes the beds in up to 16 rooms a day. During a typical day, she changes 144 pillows. "We are here today fighting for higher wages and better health insurance," she said.
The Rev. Dr. Calvin Morris of the Community Renewal Society told the crowd he remembered how his mother was a hotel worker and raised him by herself.
"You are fighting for respect," he told the workers, "to help make other people's lives comfortable."
He went on to say that his mother was diagnosed with a severe illness when she was 18, yet she continued working in a hotel for 30 years doing backbreaking work, eventually dying at the young age of 48.
"She worked even though she shouldn't have, to support her son," said Morris.
"So I honor my mother today, for people in this country and around the world. I owe it to her, honoring working moms," he added. "The struggle in the U.S. is a global struggle, a world struggle. Let's do what our mothers did for our generation — so let's unite here and rise."
Other speakers included state Sen. James DeLeo and Esther Lopez, deputy chief of staff for Gov. Rod Blagojevich.