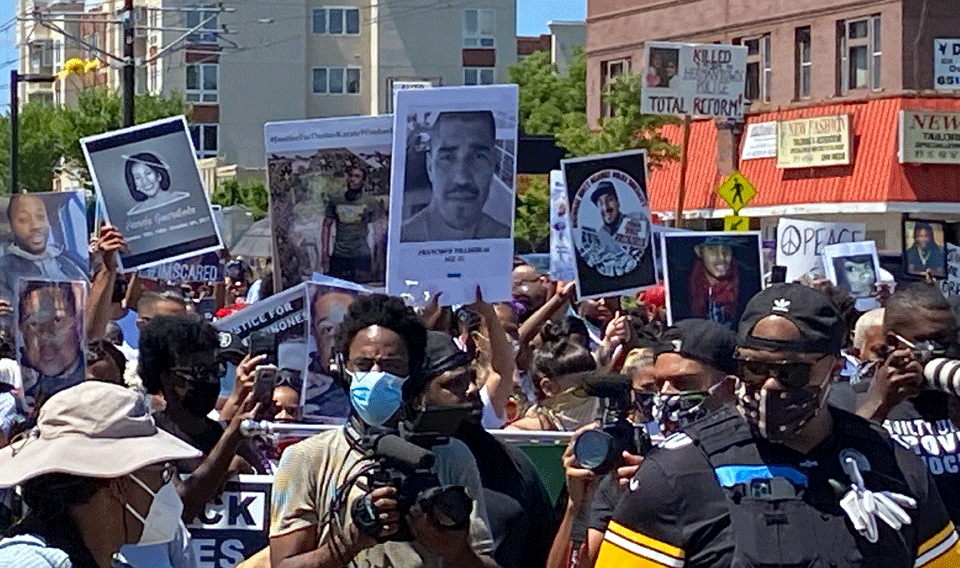 MINNEAPOLIS – George Floyd's call out to his mother as officer Derek Chauvin pressed his knee into Floyd's neck called into existence a simmering national and global movement for an end to police violence.
On Sunday, in St. Paul, Minnesota, 110 mothers and family members of loved ones killed by law enforcement in the United States gathered to say that enough is enough at the National Mothers March Against Police Violence.
The mothers led an estimated 1,500 protesters on a two-mile march to the Minnesota state capitol building.
Take a Knee Nation aided the mothers and family members to travel to Minnesota, now known globally as the epicenter of a national rebellion to end police violence. The call for the march was sparked by the Justice Squad, a group of Minnesota families whose relatives died at the hands of law enforcement.
At a pre-march rally at the corner of Dale Street and University Avenue, Bobby, an uncle of Oscar Grant, 22, who was killed by a BART transit police officer in Oakland, CA in 2009, called for a 15- second moment of silence for the 15 people who have been killed by U.S. law enforcement since May 25, the day George Floyd was murdered.
In a theme resonating throughout the march and on the capitol steps, Bobby ended his remarks with a slogan, "all power to the people," to end police violence.
Justice Squad families raised their demand to reopen their cases to a national level shortly after the arrest of the officers involved in the killing of Floyd.
That demand resounded in chants heard along the march led by the mothers carrying placards with large format photos of family members they lost to police violence.
Other demands called for the conviction of those responsible for Floyd's death and "an end to police violence and the system of policing as we know it."
One by one, family members came to the microphone detailing the callous brutality with which their family members were killed – the kind of brutality the world witnessed as Derek Chauvin cut off George Floyd's air supply for nearly 8 minutes while bystanders implored him to stop.
Mothers and family members from Georgia, Florida, Colorado, New York, Ohio, Missouri, California, and Maryland to name a few states, spoke representing all the other families.
Valerie Castile, the mother of Philando Castile who was killed by police four years ago this month, welcomed the mothers and family members and thanked them for responding to the call for the demonstration.