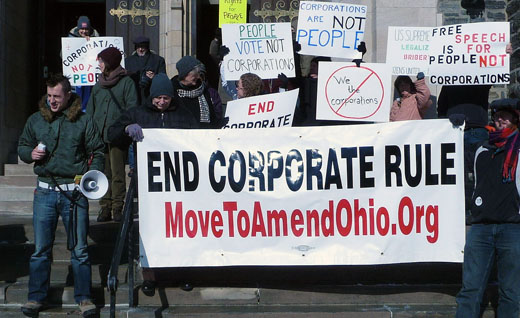 Overturning corporate personhood is a key legislative goal of Vermont Senator Bernie Sanders. In December Sanders introduced the Saving American Democracy Act. The legislation calls for the Senate to set forth a process for a initiating a constitutional amendment to repeal the Supreme Court's Citizens United vs. Federal Election Commission decision.
The Citizens United decision, which gave corporations legal rights equal to U.S. citizens, was taken by the high court in January 2010.
The amendment would insure that corporations are not considered equal with people with constitutional rights and that corporations are subject to regulation. In addition it would prohibit corporations from making contributions to election campaigns and insure that Congress and state can regulate election campaign finances.
A companion bill was introduced into the U.S. House or Representatives by Florida Congressman Ted Deutch
Commenting on the law, Sen. Sanders said, "There comes a time when an issue is so important that the only way to address it is by a constitutional amendment."
Campaigns are being undertaken across the country to oppose the Supreme Court's decision. In Los Angeles in early December the City Council voted to support a constitutional amendment on the issue.
On Wednesday January 4th the New York City council is considering a similar vote. The Working Families Party is circulating a petition on issue. It can be signed here.
The NY City Council is expected to pass the resolution. It is sponsored by Progressive Caucus Members Brad Lander, Melissa Mark-Viverito and Stephen Levin with the co-sponsorship of the entirety of the Progressive Caucus and the support of Speaker Christine Quinn according to a press release.
Several other cities across the country have taken similar measures among them Boulder Oakland, and Albany.
According to truthout.org, "In 2011, four constitutional amendments to overturn the case were introduced. To pass, two-thirds of lawmakers in both houses must vote for the changes.
Photo: Creative Commons 2.0