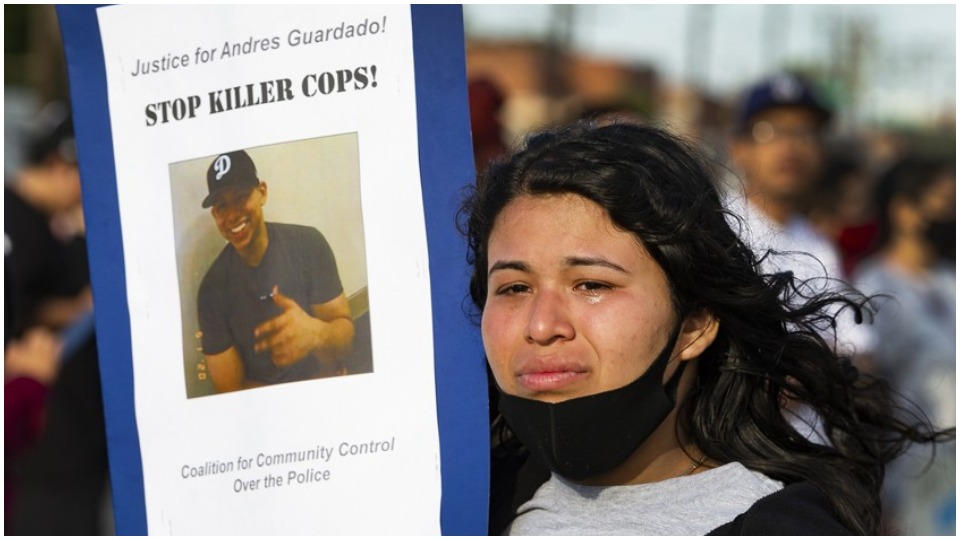 COMPTON, Calif. — Community pressure is mounting on authorities to bring murder charges against Los Angeles Sheriff Deputy Miguel Vega for murdering Andres Guardado on June 18 in broad daylight, near Gardena and West Compton in Los Angeles County. Deputy Vega shot the 18-year-old Guardado in the back five times when the youth was kneeling with his back to the deputies, posing no threat whatsoever. Demonstrations, rallies, marches, and community meetings have reverberated throughout the community since Andres's murder. The most recent demonstration was at Deputy Vega's house in Covina on July 30 where 75 protesters shouted "murderer." Police stood guard in front of the house. Protests continue.
The community outrage and demand for murder charges against Vega is led by Guardado's family and friends, as well as the Coalition for Community Control Over the Police, Unión del Barrio, Black Lives Matter Los Angeles, Harriet Tubman Center for Social Justice, and many other organizations and prominent civic leaders.
Cliff Smith, a leader of the Coalition for Community Control Over the Police, told a rally on July 26 at East Rancho Dominguez Park in Compton, "Deputy Vega needs to be arrested and charged with murder. That's unquestionable." Jennifer Guardado, sister of Andres, told the crowd that justice must be won for her brother. Speakers from other organizations echoed these demands. As the rally ended protesters took to the streets to march, some on foot and others in a car caravan, to the Compton Sheriff's Station. Many of the protesters have also been involved in the massive, ongoing demonstrations in Los Angeles protesting the police murder of George Floyd in Minneapolis.
The demand for justice for Andres Guardado has drawn support from a number of prominent community leaders and labor unions. Cliff Smith, of the Coalition, is also the elected business manager of Roofers Local 36 Union. Another recent voice for justice for Andres is UNITE-HERE Local 11, the large union of Los Angeles hotel workers, where Andres's father, Cristóbal Guardado, is a member. Local 11 wrote a letter in late July to Los Angeles County Sheriff Alex Villanueva demanding that he resign for mishandling the investigation of Andres's murder, and for resisting accountability and oversight on this case and others. Local 11 was joined by 60 co-signers, including Black Lives Matter LA, JusticeLA, Clergy and Laity United for Economic Justice (CLUE), and the American Civil Liberties Union (ACLU) of Southern California.
Andrés Dae Keun Kwon, of the ACLU of Southern California, said the police killing of Andres Guardado is "incredibly disturbing." He said that the L.A. Sheriff's Department has a long history of withholding records related to police killings and that Sheriff Villanueva is "out of control, unhinged, and truly thinks he's above the law."
Congresswomen Maxine Waters (CA-34) and Nanette Diaz Barragán (CA-44), representing this area in South Los Angeles, issued a joint statement June 21 demanding "justice for Andres Guardado." Specifically, they asked California Attorney General Xavier Becerra to "conduct a full investigation into this incident." Their statement began: "Another day, and another Black or Brown kid has been shot in the back by police…. Andres Guardado is the latest young man of color killed by police gunfire…. The officers involved did not wear body cameras. Far too often, young Brown and Black men are caught up in a 'shoot first, ask questions later' scenario with police officers. We will not stand for it, whether it is in Atlanta, or like this case, in Los Angeles." The Los Angeles County Board of Supervisors also demanded a full investigation of the killing of Andres, and the FBI has announced they will conduct an inquiry.
The multi-racial political movement calling for justice for Andres has blasted the Sheriff's Department for criminal misconduct in handling the case. They point to the fact that Sheriff Deputies ripped security cameras off the walls of nearby buildings at the murder scene and took them away. Andrew Haney, manager of Freeway Auto Shop, where Andres worked as a part-time security guard, said the Sheriff's Department took security footage from his shop without a warrant, and Memo Torres of nearby LA Taco had a video showing where security cameras were broken off the walls. The community has demanded that the security cameras and footage be presented for a full investigation of the murder, but have been met with silence.
Andres was also a student at Los Angeles Trade Technical College studying to become a mechanic. The Community College District issued a statement in support of the Guardado family and called for a "full investigation." Andres was the son of two immigrants from war-torn El Salvador seeking a better life in the United States. Family and friends described Andres as a young man who loved life, was helpful to others, and was loved by his family and all who met him. Andres's uncle, Noe Abarca, said, "He was always happy. I never saw him sad or angry. He had gained the respect and the admiration of our whole family. I haven't slept in two days." Andres was also working hard to prepare for his future, and had "no history of trouble," according to his family.
Sheriff Vega, on the other hand, does have a history of trouble. He began as a deputy in the notoriously corrupt Men's Central Jail, where deputy-instigated violence against the incarcerated made national news, leading to the arrest and conviction of top Sheriff's Department leaders. Vega also has a history of allegations of abuse of force, giving false statements, and other inappropriate behavior. He was suspended for four days in the past. No charges have been brought against Sheriff Vega for the murder of Andres Guardado to date, and he remains on the force.
The Sheriff's Department's defense of Vega is extremely weak, and typical of the lies routinely told to cover up police misconduct and murder. The department claims that Andres was seen talking to someone in a car in front of the auto shop. The officers claimed they "saw" a gun and that led to a foot chase and the shooting. Andres's family said that he did not have a gun, and ran because he was being chased and he was scared. He was told to halt and he did. He got on his knees, with his back to the sheriffs, and then was shot in the back five times, which the autopsy requested by the family confirmed.
To get involved in the campaign for justice for Andres Guardado, go to the Facebook page of the Coalition for Community Control Over the Police. Also, send an email message to Attorney General Xavier Becerra at the AB's website or call (916) 445-9555 and ask him to do a full investigation into the death of Andres Guardado.