REDDING, Calif.—Driving through northern California is such a peaceful, solace-filled, meditative journey. One could get caught up in beautiful dreams and thoughts with scenery so ancient, green, and mountainous; lakes that glitter silver-blue hues in the sunshine. The last thing it evokes is thoughts of a brutal murder in the midst of the beauty.
On Sept. 7, 2018, a grim discovery was made in the Shasta Lake, Calif. woods. A young Native woman was found shot in the head. She was so disfigured that her own mother, Tammy Carpenter, would not be allowed to identify her.
Later, she was identified by her fingerprints. That Native woman was Angela Lynne McConnell, 26 at the time of her death. She was of Hoopa and Mohave descent. "Ang," as she was called, was an enrolled member of the Hoopa tribe and my niece.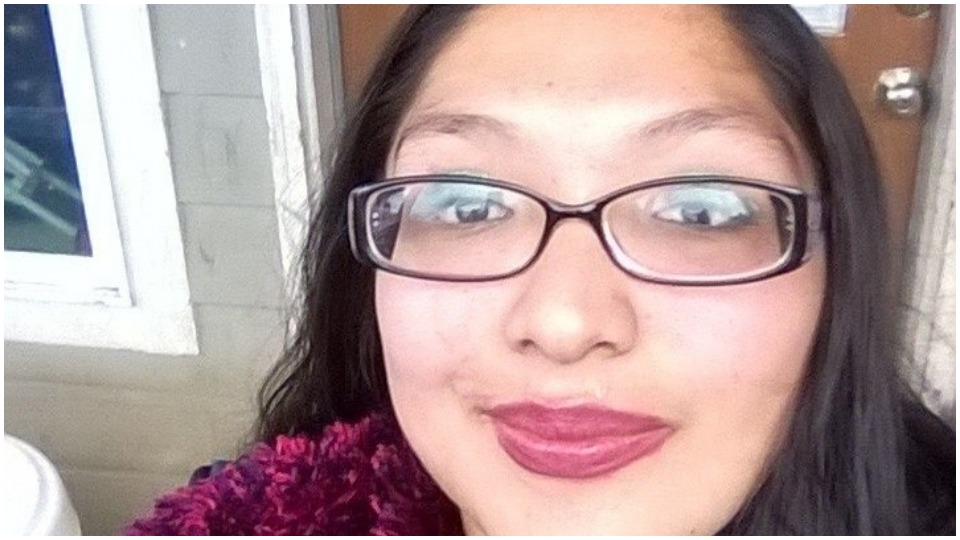 The Shasta County Sheriff's Office (SCSO) is still investigating the case, and this September is the one-year memorial for Angela's death. A story by Jim Schultz published on Sept. 19, 2018 by the Redding Record Searchlight, stated that "According to the sheriff's office daily logs, nearly 20 deputies, investigators, and other personnel were sent…to an unidentified residence to investigate a homicide case." Though the case got a big initial response, it remains unsolved.
Read earlier People's World coverage of the case:

Another Native woman killed: Angela McConnell murdered in Northern California
On Saturday, Sept. 7, 2019, in Hoopa, Calif., which is about a two-hour drive from Redding, we all gathered for the one-year memorial for Angela Lynne McConnell at the Hoopa Neighborhood Facility Lawn on the Hoopa reservation where Ang originally lived with her mother. Family and friends came to share food, photos, and fond memories of her, as her mother Tammy tried to hold back tears of sadness and loss.
At this time, SCSO's lead investigator, Kody Bodner, is still working the case. He is in communication with Tammy on a weekly basis and continues to say there are no new leads in this case.
When asked about new developments on Tuesday, Sept. 10, Bodner responded, "There are no new leads at this time that I can disclose."
In the meantime, rumors continue, but no one is saying anything conclusive. So the questions remain: Is the SCSO equipped to solve such a murder? If not, why not?
Most Indigenous murder cases fall through the cracks of bigotry and racism. According to the Urban Indian Health Institute (UIHI), a division of the Seattle Indian Health Board, murder is the third leading cause of death among American Indian/Alaska Native women. Approximately 71% of American Indians and Alaskan Natives live in urban areas, and Redding certainly is an urban location.
In 2016, the National Crime Information Center reported that "there were 5,712 cases of Missing and Murdered Indigenous Women and Girls (MMIWG). The U.S. Department of Justice's federal missing persons database, NamUS, however, only logged 116 cases."
Also, there is poor data collection by numerous cities. The problems of underreporting, institutional racism in the media, inadequate relationships between law enforcement (local, tribal, federal) and Native communities, and a lack of substantive relationships between news journalists and the Indigenous communities all still hamper proper documentation and reporting.
In the age of social media, there are several websites that people can search to learn about the Missing and Murdered Indigenous Women and Girls epidemic. On Facebook, there exists a public group titled Missing and Murdered Indigenous Women USA.
At events to which they are invited, activists bring buttons, banners, shawls, and bandanas to bring awareness to the public about the epidemic.
They believe that having tools provides the dramatic visuals that awaken people to the genocide that continues today. The MMIW movement is strong and supported by volunteers nationwide.
We need to demand change and justice for our MMIW if we expect any positive outcome for the cases that remain unsolved due to poor record-keeping and discrepancies based on bias. The MMIW epidemic is rampant throughout the United States and Canada.
It is time to step forward because we, the family of Angela, refuse to suffer in silence. On May 4, a protest march was held in Redding  by the family and supporters demanding "Justice for Angela."
We believe that this murder can be solved if the SCSO is properly equipped and has the intent to do so. Whether by tire tracks, footprints, fiber evidence, DNA of perpetrator(s), position of the body, the victim's blood trail, and ammunition shell casings, this case can be solved.
Ang's family hopes that the SCSO will continue to actively pursue those responsible for the murder of Angela because "her murderer(s) is(are) still out there somewhere." Otherwise, the family will take the case to the Office of the Attorney General of California as has been done before when local law enforcement is "dragging its feet."
The Hoopa tribe have matched the SCSO reward offer of $15,000 for a total  $30,000. The Major Crimes Unit is urging anyone who has any information about the homicide to contact the Shasta County Sheriff's Office at 530-245-6135 or the Anonymous Hotline at 530-243-2319.