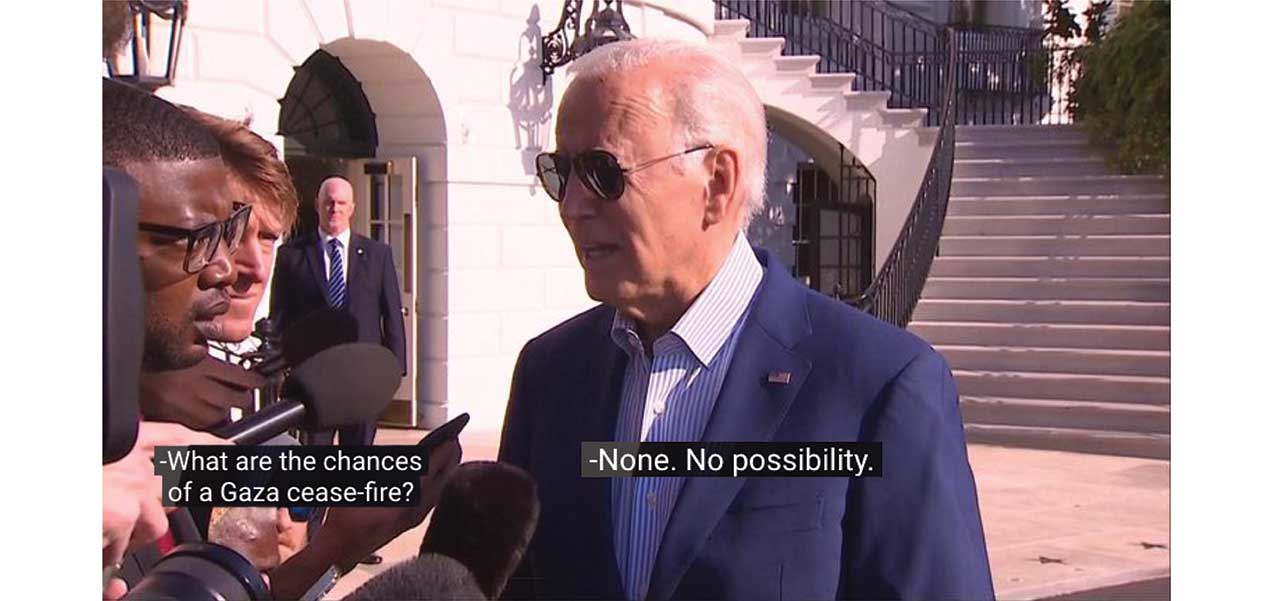 WASHINGTON—At least 100 officials in the U.S. State Department and the United States Agency for International Development (USAID) have signed onto a memo demanding that the government immediately push for a ceasefire in Gaza and accusing President Joe Biden of "spreading misinformation" while Israel commits war crimes.
The document has not yet been made public, but a copy was obtained by Axios, who reported on its existence Monday morning. It is the second major broadside against the White House to emerge from within the government in as many weeks.
Last Monday, Politico obtained a separate document authored by another group of State Department staffers who also blasted the Biden administration for refusing to criticize the actions of Israeli Prime Minister Benjamin Netanyahu and his military.
That such a rebellion was in the offing was first hinted at on Oct. 19, the night Biden addressed the nation to ask for more weapons money for Israel and Ukraine. Just over an hour before Biden hit the airwaves, HuffPost reported that a group of State Department insiders were possibly preparing to express their opposition with a rare "dissent cable."
Internal dissent
Such documents are formal disagreements with official policy that staff can send to top leaders through a protected internal channel. The instrument was established during the U.S. war against Vietnam to allow diplomats to warn when they believe the U.S. is "making dangerous and self-defeating choices."
It is now clear that the number of diplomatic staff dissatisfied with Biden is even larger than initially thought. There are the two known dissent cables dispatched so far, and several more are reportedly circulating and gaining more signatures.
In the latest memo, Biden is critiqued for "disregarding the lives of Palestinians" and "doubling down on our unwavering military assistance to the [Israeli government] without clear or actionable redlines."
Nothing Israel does—from cutting off electricity and aid to bombing hospitals—has deterred the president, who still shows an "unwillingness to de-escalate" the brutal campaign of his ally, Netanyahu, the statement says.
The State Department dissenters argue that Israel's actions "all constitute war crimes and/or crimes against humanity under international law," but rather than acknowledging that, Biden instead spreads "misinformation" about the nature of the war, especially by "questioning the number of deaths in Gaza."
The dissent cable that leaked last week said the U.S. must reverse course and pressure Israel for a ceasefire. It pointed the finger at the president, arguing he must also criticize Israel for the atrocities it commits rather than just repeating condemnations of Hamas alone.
The mismatch between Biden's words and the reality on the ground in Gaza, the first memo said, "contributes to public perceptions that the United States is a biased and dishonest actor, which at best does not advance, and at worst harms, U.S. interests worldwide."
"We must publicly criticize Israel's violations of international norms such as failure to limit offensive operations to legitimate military targets," the message stated, spelling out exactly what the White House has failed to say.
"When Israel supports settler violence and illegal land seizures or employs excessive use of force against Palestinians, we must communicate publicly that this goes against our American values so that Israel does not act with impunity."
That the U.S. is willing to tolerate such a high death toll among Palestinian civilians—over 11,100 as of this writing—"engenders doubt in the rules-based international order that we have long championed."
In the newest leaked document, signers say the U.S. should "advocate for the release of hostages by both Hamas and [Israel]," citing the 240 Israelis believed to be held captive in Gaza and the "thousands" of Palestinians imprisoned in Israel, including those "without charge."
The mutiny spreads
The sudden leaks of these dissent cables suggest that the mutiny in Washington against Biden's lockstep support for Netanyahu is growing.
Already in late October, Josh Paul, the State Department official who signs off on U.S. arms transfers to foreign countries, resigned his post in protest, saying "provision of lethal arms to Israel" does more harm than good. "We cannot be both against the occupation and for it," he said.
A letter by over 1,000 USAID employees released in early November decried the "numerous violations of international law" in Gaza and said that "further catastrophic loss of human life can only be avoided if the United States Government calls for an immediate ceasefire" and an end to "Israel's illegal occupation of the Palestinian territories and settlements on occupied land."
News also emerged in October concerning widespread disillusionment among staffers within the Biden administration who disagreed with the president's support for Netanyahu but felt too intimidated to speak out. In anonymous interviews with the media, a number of employees said they feared losing their jobs if they raised questions.
The emergence of the dissenting State Department cables suggests, however, that many government employees can no longer be silent as their boss supports war crimes and genocide.
On Capitol Hill, meanwhile, Rep. Cori Bush's ceasefire resolution continues to gain more support from veterans, peace organizations, and labor, including the American Postal Workers Union. Hundreds of Congressional staffers—mostly workers of color—joined the campaign as well, staging a walkout last Wednesday to demand a ceasefire.
An open letter from over 500 former Democratic campaign staffers who helped Biden win against Donald Trump in 2020, released Thursday, also piled on with the same message.
"As President of the United States, you have significant influence in this perilous moment," the letter said. "You must call for a ceasefire, hostage exchange, and de-escalation, and take concrete steps to address the conditions of occupation, apartheid, and ethnic cleansing at the root of the horrific violence we are witnessing now."
When asked the same day about the chances of a ceasefire, Biden's reply: "None. No possibility."