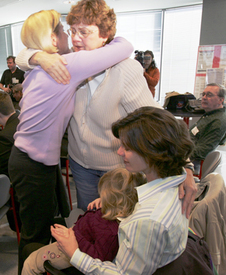 A recent court decision has boosted the struggle for the legalization of same-sex marriage. Last week the New Jersey Supreme Court unanimously ruled that same-sex couples have a constitutional right to the same state benefits, protections and obligations as different-sex couples. The court split, however, on how to remedy current state law.
The majority ruled that the state Legislature must comply with New Jersey's constitution by amending state laws to allow equal marriage rights or create a separate legal status like civil unions.
While three dissenting judges argued that granting gay and lesbian couples the fundamental right to marry is the correct solution, the court's majority tempered its instructions to the Legislature by stating that the legal point at issue was that same-sex couples had a right to equal protection, not a right to marry.
In a press statement, New Jersey Stonewall Democrats President Barbra Casbar responded to the decision saying, "The only currency, the only word that is understood in our culture is 'marriage'! That is our goal! We will work to achieve 100 percent marriage equality!"
Casbar described the creation of a separate legal status, such as civil unions, as akin to the unconstitutional doctrine of "separate, but equal."
Steven Goldstein, chair of Garden State Equality (GSE), a grassroots organization that has taken the lead on marriage equality issues in New Jersey, denied that the court's ruling was a victory. "So help us God," he wrote in a public statement, "New Jersey's LGBT community and our millions of straight allies will settle for nothing less than 100 percent marriage equality."
Goldstein announced the introduction of a marriage equality bill in New Jersey's Legislature and the launch of a multifaceted public relations campaign to rally public opinion. GSE plans to organize a "Statewide Task Force for a Marriage Equality Statute" to mobilize broad support among LGBT and allied organizations for the bill. Dozens of public events across the state are planned as part of its "Awesome Autumn" barnstorming effort. A bus tour called "Equality Express" will bring marriage equality speakers to local forums and of worship to promote passage of the bill.
In conjunction with these public events, television commercials featuring the story of a deceased lesbian police officer and her partner will air across the state over the next few weeks.
Matt Foreman, executive director of the National Gay and Lesbian Task Force, congratulated the court on recognizing the "equal needs of same-sex couples" but also urged the state Legislature to amend state law to include full marriage equality.
Foreman warned that right-wing politicians would use the decision to attack both gay people and so-called activist judges in a "shameless" effort to create "wedge issues" for political gain in the Nov. 7 election. "[T]hey will use us," Foreman stated, "to try to distract voters from the war in Iraq and failures in education, energy and health care. Again they will resort to lies, myths and fear mongering to promote more discriminatory, anti-family state constitutional amendments."
Pride at Work Co-President Nancy Wohlforth echoed these concerns, saying, "We need to remind working folks about what we think is important in this election: finding an end to the war in Iraq, ending the ongoing cycle of government scandals, holding our government accountable, and finding candidates who will implement policies that will help working people find jobs, health care and decent wages."
National Organization for Women President Kim Gandy also guardedly praised the decision. "We regret that the court did not take the final step by ordering that the term 'marriage' be applied across the board to all couples," she said. "No other status can provide the full complement of state and federal protections that opposite-sex couples enjoy without question."
The New Jersey Supreme Court ruling came in an appeal of the case of Lewis v. Harris, a lawsuit filed in 2002 on behalf of seven same-sex couples who were denied marriage licenses.
National marriage equality activists say that regardless of the New Jersey Legislature's ultimate decision on the issue, federal law, with the so-called Defense of Marriage Act (passed in 1996), will not recognize any same-sex marriages and authorizes other states to refuse to recognize them.