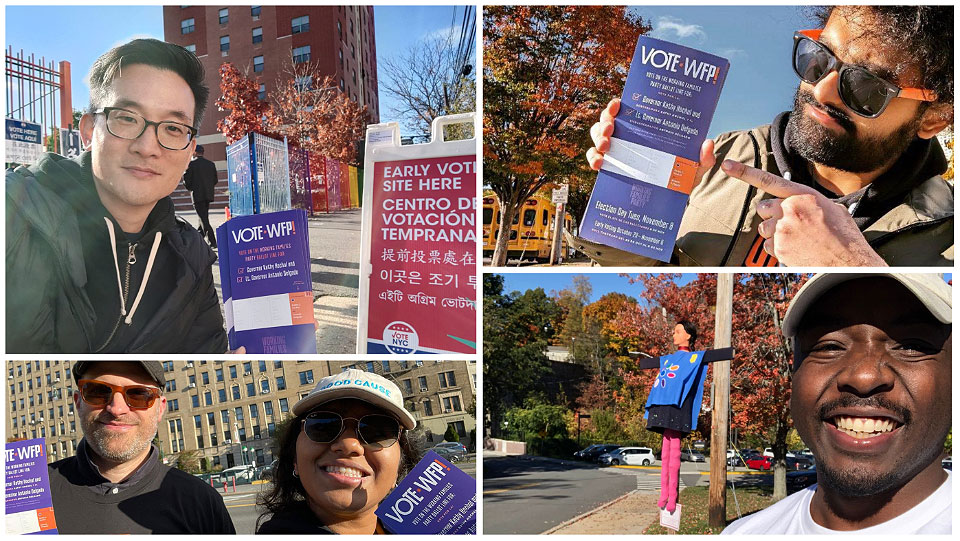 NEW YORK—In common with 22 other states this year, New York voters will elect every one of their state legislators. In most cases, the primaries determined the general election winners.
Only the most politicized voters could navigate through this year's fog. Maps redrawing state Senate districts were fought over in the courts and went through several incarnations. That battle resulted in two primary election dates: statewide offices and the State Assembly in June, and the U.S. House and State Senate in August. Turnout was much lower than in recent years (though typical in the longer view).
In some races, Democratic Party organizations, U.S. House members, NYC Mayor Eric Adams, and big-money PACs targeted progressive incumbents and challengers. Regardless, every Working Families Party–endorsed incumbent in the Assembly and Senate defeated his or her rival. And a few progressive competitors defeated incumbents or won open seat primaries.
"We're poised to expand the number of progressives in the State Legislature," said WPF Deputy Director Sharon Cromwell. "So we're heading into the next legislative session with more progressive champions than ever before, leaders who believe in making housing affordable and guaranteeing health care as a basic human right."
The long road to Democratic supermajorities
The state's reputation is solid blue. Not since President Ronald Reagan in 1984 has a GOP presidential candidate won. Except for Republican Gov. George Pataki's three terms (1995 through 2006), Democrats have occupied the Governor's Mansion in Albany since 1975.
In the Assembly, Democrats have held the majority since 1975 and a supermajority (or nearly so) since at least 1992. However, with few exceptions, Republicans controlled the Senate since World War II. Usually, the GOP won a majority of seats. In this century, Democratic Party renegades snubbed their own party and enabled Republican control, without an elected majority, several times.
This changed with the 2018 elections when progressive Democrats successfully primaried most defectors of the so-called Independent Democratic Conference (IDC). That November, eight Republican seats were flipped. Two years later, Senate Democrats won a supermajority and took the lead in progressive legislation.
What is possible when Republicans are thumped?
Abortion rights, gun control, and voting rights highlight the list of over 1,000 bills passed by the legislature in the 2022 session (January through June). In early May, a leak told of a future Supreme Court overturning of Roe v. Wade. In reply, liberals and progressives passed six bills. These deal with the right to an abortion for those from other states and legal protections for abortion providers and those who assist in providing the services.
In mid-May, 12 Black and two white people were shot by a racist teenager with an AR-15 rifle at the Tops Friendly Markets supermarket in Buffalo. Ten of the victims died. In late June, the Supreme Court overturned a state law—on the books since 1911—requiring "proper cause" for gun owners to carry weapons outside their homes.
The legislature passed bills signed into law that make ammunition more easily traceable, require licenses for semiautomatic firearms, and raise the minimum age for AR-15 style rifle purchases. The definition of "firearms" was expanded, and law enforcement was empowered to confiscate weapons in extreme cases. Lawmakers also created a Task Force on Social Media and Violent Extremism and criminalized public threats to cause mass injury and death. (State restrictions on carrying concealed weapons are tied up in the courts.)
Both houses passed the John. R. Lewis Voting Rights Act of New York. The Act, signed by Gov. Kathy Hochul, expands and further specifies protections for voting rights and accountability of elected officials to ensure these rights.
It is inconceivable that any of these reforms would have passed without Democratic supermajorities and a Democratic governor who signed them into law. A progressive and left core within these supermajorities was essential.
State Assembly
Democrats hold 107 seats to the Republicans' 43 in the Assembly. Three incumbent Democrats lost their June 28 primaries. In another sixteen districts, eight incumbent Democrats and eight incumbent Republicans either ran for another office or will retire. Hence, there are only 11 open Democratic seats and eight Republican ones. Regardless, few of the 150 are competitive.
Two WFP-endorsed contenders defeated centrist Democratic incumbents in the primaries. MaryJane Shimsky (AD 92, Westchester County) and Sarahana Shrestha (AD 103) probably will become new members of the growing progressive, social democratic, and democratic socialist collection. The Democratic Socialists of America, Rep. Alexandria Ocasio-Cortez, and the New York Progressive Action Network (Our Revolution) also championed Shrestha. Her Mid-Hudson district contains much of Ulster and some of Dutchess counties, adding geographical diversity to the progressive camp.
Juan Ardila, in Queen's AD 37, won an open seat in the primary. Backed by the WFP, AOC, and much of labor, his strictly positive campaign can be an example of a people's front strategy.
Ten WFP-endorsed incumbents in NYC won their primaries and will win in November. NYPAN, DSA, and AOC cross-endorsed a handful of them. Four progressives had no primary and will face Republican incumbents. Perhaps Andy McAdoo (AD 112, in mainly Saratoga but containing bits of Schenectady and Fulton counties) is the best located. In the district's current boundaries, President Joe Biden captured 52% of the 2020 presidential vote. The other three candidates in this category are Matthew Mackey in Mid-Hudson's AD 101, Colton Mennig in AD 122 (partly in the Mohawk Valley and partly in Central New York), and Scott Comegys in the Finger Lakes' AD 130. In each of these districts, Trump won by about 10 points in 2020.
Four WFP-embraced incumbents had no primary but represent districts that Biden won by eight to 12 points. That margin is close enough to be called "likely" but not "safe." They are Steve Englebright in Suffolk County's AD 4, Helene Weinstein in Brooklyn's AD 41, Aileen Gunther in the Mid-Hudson's AD 100, and Al Stirpe in Central New York's AD 127.
State Senate
The main takeaway of the new Senate districts? For the first time in decades, Republicans did not draw the new maps. Currently, Democrats occupy 43 seats to the GOP's 20.
In the Aug. 23 primary, one Republican incumbent, SD 44's Daphne Jordan, lost, but to a Republican incumbent from a different district (SD 49's James Tedisco). Three Democrats retired and another, progressive Alessandra Biaggi (SD 34), ran instead for the U.S. House. (She challenged Rep. Sean Patrick Maloney but lost in the primary.) Three Republicans retired, and one is running for a different office.
Kristen Gonzalez in SD 59 (Queens) will become the third DSA member of the Senate since she is unopposed this November. (The district is so blue, it is "impossible" for a Republican to win it.) She joins Sen. Julia Salazar (mainly Brooklyn's SD 18) and Jabari Brisport from Brooklyn's SD 25. (DSA member Zohran Mamdani serves in the Queens' Assembly District 36, which is almost entirely within Gonzalez's senate district.) The WFP also endorses all four (and NYPAN endorses Brisport). With incumbency comes broader support. Brisport, who faced a Mayor Adams–backed primary opponent, was supported by unions such as 1199SEIU and District Council 37.
Two WFP champions supported by NYPAN but not DSA were Gustavo Rivera (SD 33, the Bronx) and Robert Jackson (SD 31, Upper Manhattan). Both are more advanced than most of their colleagues. Members of the U.S. House, other Democratic elected officials, country Democratic organizations, individuals associated with the IDC, and charter school and real estate PACs backed primary challengers to their right. Both failed.
Also failing were primary contenders to other progressive incumbents. Andrew Gounardes (SD 26, Brooklyn), Cordell Cleare (SD 30, mainly Harlem), and Brad Hoylman (SD 47, Manhattan) comprised this list.
City and State New York identifies 38 safe Democrat and 12 safe Republican seats. Meaning, only 13 contests are competitive. In several of them, the seats might flip.
Senate District 2, in Suffolk County, Long Island, is the only "likely Republican" spot. Three districts are "lean Republican." They are Long Island's SD 1 (also in Suffolk County) and districts 43 and 44 in the Capital Region. In all four cases, the Republicans are cross-endorsed by the Conservatives and the Democrats are cross-endorsed by the WFP. NYPAN also backs Skyler Johnson (SD 1) and Andrea Smyth (SD 43).
Two districts are "toss-ups," both with Democratic incumbents. These are Long Island's SD 5 (Nassau County) and the Mid-Hudson's SD 38 (Rockland County). In both races, the WFP and the Conservative Party are fusing with the major party candidates.
Four districts are "lean Democrat." Districts 7 and 9 are in Long Island's Nassau County, District 42 is in the Mid-Hudson's Orange County, and District 52 straddles the Southern Tier (some of Broome and all of Tompkins counties) and Central New York (all of Cortland County). The WFP and Conservatives are fused with their Democratic and Republican counterparts in all four races.
In SD 52, the Democrat is Lea Webb, the other progressive besides Gonzalez who won an open seat primary. She is an African-American former Binghamton City Councilmember and current educator at Binghamton University, where she holds a neuroscience degree. (If you can't get a rocket scientist, get a brain scientist!) NYPAN and a legion of trade unions and social change organizations also endorse Webb. Her victory will stake out new state-level (but not local) territory by progressives.
Three districts are "likely Democrat." These are SD 4 (Suffolk County), the Mid-Hudson's SD 39 (parts of Dutchess, Orange, and Putnam counties), and SD 41, which straddles the Mid-Hudson (parts of Dutchess and Ulster counties) and Capital Region (all of Columbia and Greene counties). Only the Republican candidate in SD 39 (Rob Rolison) is not cross-endorsed by the Conservatives. Otherwise, candidates are fused with both the WFP and Democrats or the GOP and Conservatives. In SD 41, the Independence Party also sanctioned the Republican Susan Serino, and NYPAN also endorsed the Democrat Michelle Hinchey.
Awaiting action next year?
If Hochul is re-elected as governor, perhaps the larger progressive delegations can successfully push measures that did not become law in the 2022 session. Some of these bills were not signed by Hochul, some were passed by one chamber but not the other, and some failed to pass in both the Assembly or the Senate.
These measures include additional criminal justice reform, such as the Clean Slate, Fair and Timely Parole, and Elder Parole acts. The Clean Slate Act would clear individual criminal records after some time following the completion of sentences, as long as the person has not committed new crimes. Fair and Timely Parole requires conditional release to eligible inmates if they are not a current or unreasonable risk. Elder Parole makes parole eligible for inmates aged 55 or older if they have served at least 15 years of their sentence. A bill making it easier to release wrongfully convicted prisoners must also await future action.
Also on this list is "good cause" eviction, requiring just that for landlords to remove tenants. So too is climate legislation mandating a two-year moratorium on upstate cryptocurrency mining. In addition, there is the Build Public Renewables Act, which would expand the use of renewable energy under public control.
In general, candidates endorsed by the WFP, DSA, NYPAN, and the most advanced trade unions favor universal healthcare, higher taxes on the one percent and corporations, labor union rights, more public school funding, climate change measures, housing protections for tenants, renewable energy and criminal justice reform. With outsized Republican strength in Washington, the state arena is where these fights can be won today.