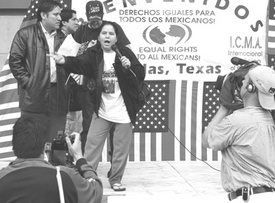 This week's clips are a brief roundup of a few of the hundreds of Labor Day parades, marches and picnics around the country.
DALLAS: Labor breakfast, immigrant rights march
Labor Day in Dallas began with the annual AFL-CIO breakfast. It was the largest in the event's history. Over 400 unionists, candidates and religious leaders attended. Democratic gubernatorial candidate Chris Bell was the main speaker. He energized the crowd with statistics showing Texas at the bottom of social well-being indicators such as school dropout rates and the number of people without health insurance.
Immediately after the breakfast, activists rushed downtown to catch the last part of the immigrant rights march called by ACORN and civil rights organizations.
About 300 marchers braved the rainy weather to walk from Guadalupe Cathedral, around the Kennedy Memorial, to the Dallas City Hall for the very upbeat rally.
A jar on the stage, beside a bundle of People's Weekly Worlds, collected donations for immigrant rights activist Elvira Arellano of Chicago, who is fighting deportation.
PITTSBURGH: Workers demand change in Washington
Western Pennsylvania's backbone, 60,000 working families, lined up behind their union banners and marched through downtown. They stopped in front of the City-County Building to pay their respects to Mayor Bob O'Connor, who died Sept. 1. The AFL-CIO dedicated the annual parade to O'Connor, who supported labor.
Bob Casey, the Democratic challenger to far-right anti-labor Republican Sen. Rick Santorum, drew cheers and thumbs up from the 197 union, band and performance contingents as they passed the reviewing stand. State Sen. Jim Ferlo's car, bedecked with banners calling for passage of HR 676, the national health care bill, was hailed all along the route. Allegheny County AFL-CIO President Jack Shea told reporters that "single-payer health care" cries out for action in Washington, and changing the Senate and the House is a big step toward achieving that goal.
Unite Here members carried banners demanding rights for immigrant workers. Despite a nasty $5 million TV ad campaign by Santorum, the banners won support from marchers and spectators.
DETROIT: Flight attendants lead 50,000 marchers
Two rivers of workers converged into downtown, swelling to 50,000 sporting bright T-shirts. Baby carriages and banners were in evidence. Teamsters and Building Trades union members started from their own staging area but joined with the rest of the labor movement, led by the UAW.
Dozens of uniformed Northwest Airlines flight attendants marched at the front. Facing a 40 percent pay cut with a 20 percent increase in workload, they are vowing to conduct selective strikes throughout the system. Northwest is in bankruptcy.
AFL-CIO President John Sweeney, UAW President Ron Gettelfinger and Michigan's U.S. senators, Carl Levin and Debbie Stabenow, marched together holding the AFL-CIO banner high.
Workers also marched or held picnics in Marquette, Muskegon and Grand Rapids.
In a Labor Day message broadcast over public radio, the Michigan AFL-CIO pounded on the staggering job losses in the state, 215,000 since Bush took office. The federation said, "We're had enough of policies and practices that serve the interest of corporate America while leaving the majority of workers behind."
LORAIN, Ohio: 'The air was electric'
Ohio's largest Labor Day celebration and political rally was in this industrial city of about 100,000, near Cleveland. Bruce Bostick, retired US Steel Lorain mill worker with 30 years of shop floor and union leadership, said, "I have never seen 30,000 people enjoy the day — we have music, the unions set up tents and it is a family celebration — then wait, stay for a political rally."
"They came for the politics, the elections," said Bostick. The air was electric, he said. "The enthusiasm for the politicians, I have never seen that before. This was a first for me."
Cheers and laughter punctuated the speech of Ted Strickland, Democratic candidate for governor. His opponent, Republican J. Kenneth Blackwell, the current secretary of state, is under a cloud for what many charge is his role in helping steal the 2004 election for Bush.
Sherrod Brown, the progressive Democrat challenging Republican Sen. Mike DeWine, was unable to attend due to illness.
LOS ANGELES: 'We're building power'
"All right! We're building power," said Maria Elena Durazo, president of the Los Angeles County Federation of Labor, welcoming hundreds of labor leaders and activists, elected officials and candidates to the federation's Labor Day Breakfast. Phil Angelides, Democratic candidate for governor against Republican Arnold Schwarzenegger, was the keynote speaker.
"I wanted to be in a city where the labor movement is showing the rest of America how we rebuild a movement of working people," said Unite Here President John Wilhelm.
Labor leaders announced a huge organizing drive of hotel workers, mostly immigrant workers, and security guards, mostly African-American, to be launched this fall.
At a mass following the breakfast Los Angeles Cardinal Roger Mahony's homily was a stinging indictment of grocery and hotel owners fighting tooth and nail to prevent workers from organizing, and of Congress for failing to protect immigration rights, "one of the most pressing moral and social issues of our time."
National Clips are compiled by Denise Winebrenner Edwards (dwinebr696@aol.com). Jim Lane contributed to this week's clips.