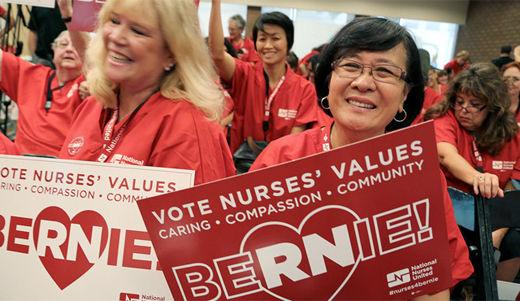 OAKLAND, Calif. (PAI) – Before a roaring, cheering, chanting crowd of jubilant nurses at a mass rally in Oakland, Calif., plus a national telephone hookup, Democratic presidential hopeful Bernie Sanders accepted the endorsement of National Nurses United on August 10.
The Vermont Independent is seeking the Democratic presidential nomination and gaining on the front-runner in the polls, former Secretary of State Hillary Clinton.
He grinned and thanked the nurses and their board, pledged they have the same goals of restoring the economy and the country to control of and benefit for the middle class, and urged them to join a mass movement to do just that. Twice, he called it "a revolution."
NNU's decision makes it the second AFL-CIO union to break the labor federation's request that unions not endorse candidates now. The two unions that have done so – NNU and the Teachers, whose board endorsed Clinton – are majority-female and woman-led.
Speaking to the crowd and answering questions, Sanders hit the themes that he has pushed during a 25-year congressional career, and reminded them that he has a stronger pro-worker voting record – 98 percent agreement – than other hopefuls.
His themes include campaigning against income inequality, for single-payer government-run national health care, for worker rights and the Employee Free Choice Act, and against job-losing "free trade" treaties, including the looming Trans-Pacific Partnership (TPP).
And Sanders drew roars and cheers when he said that as president, he would make ending pervasive racial injustice and reforming police-community relations a top priority.
"Canada guarantees health care for all, the UK (England) guarantees health care for all, France guarantees health care for all, Scandinavia guarantees health care for all. Why are we the only country that doesn't?" he asked, with outrage.
"And with all of that, why do we spend twice as much (per person) on health care?" compared to those nations, he continued. "That makes no sense!"
Sanders also returned, again and again, to the widening gap between the rich and the rest of us, which he has made the centerpiece of his campaign. That gap not only hurts the 99 percent, he said, but it also skews U.S. politics, putting it in the hands of oligarchs and corporations, he added.
That's one reason "I'm also very proud to work with you" – NNU – "to make Wall Street pay," through a tax on financial transactions, he declared. The tax, a top NNU cause would punish Wall Street for its financial finagling that produced the Great Recession seven years ago and help fund pro-people programs both NNU and Sanders advocate, NNU says.
As nurses, "You understand that just being a nurse is not enough" to change the health care system or the economy that often leaves people unable to pay for their care, Sanders said. "We have to change the health care system in America – and fundamentally change the priorities of this nation, so that every American can live with dignity and so that that all of the income goes to the (richest) 1 percent."
"It is not acceptable that the top one-tenth of 1 percent have as much wealth as the bottom 90 percent" of the nation's people, Sanders added.
"And the Walkers and the others," he said of Gov. Scott Walker, R-Wis., one of the 17 GOP presidential hopefuls "want to destroy unions. Given the power of the Koch brothers and the others like them, the trade union movement is the last line of defense for working people," Sanders told Leslie Remington, a Kansas City, Mo., nurse who called in.
Her call, about so-called right-to-work laws – one will come up in Missouri's fall legislative "veto session – also let Sanders restate his support for the Employee Free Choice Act, the now-dead labor law reform killed by a multi-million-dollar business ad campaign and Senate GOP filibuster threats.
But Sanders warned the crowd, and nurses on the line, that electing him to the Oval Office would not be enough. It would take a mass grass-roots movement, he said, to not only elevate him to the White House but also to elect senators and representatives next year to enact such a progressive program.
And he urged the nurses to unite with his still-building campaign in such a movement. That's the only way, he added, to overcome the baleful influence of big money on politics. Eliminating that clout is another of his presidential goals.
The nurses responded enthusiastically when NNU Executive Director RoseAnn DeMoro asked for volunteers to help build such a grass-roots drive. "The billionaires have the dollars, but we've got the people!" a beaming DeMoro concluded at the end of the rally.
Photo: NNU BLOG.