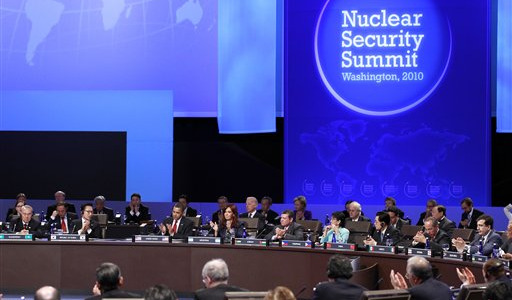 Leaders of 47 nations ended their Washington nuclear security summit April 13 with a communiqué pledging to increase the security of nuclear materials they control, in order "to strengthen nuclear security and reduce the threat of nuclear terrorism."
The non-binding agreement calls for greater international cooperation "to prevent non-state actors from obtaining the information or technology required to use such material for malicious purposes." Its signatories reaffirmed the International Atomic Energy Agency's role as the United Nations nuclear watchdog, and pledged to make sure the IAEA has the needed expertise and resources.
The summit also upheld the right of countries to develop and use nuclear power for peaceful purposes, while encouraging them to shift from using highly enriched uranium fuel to low enriched fuel.
Addressing the opening plenary, President Obama called the conference "an unprecedented gathering to address an unprecedented threat." Twenty years after the Cold War ended, he said, "we face a cruel irony of history – the risk of a nuclear confrontation between nations has gone down, but the risk of nuclear attack has gone up" and now "is one of the greatest threats to global security."
Noting that an "apple-sized" amount of plutonium could kill or injure hundreds of thousands, Obama said nuclear materials that could be sold or stolen exist in "dozens of nations," while "terrorist networks such as Al Qaeda" have tried to obtain materials for a nuclear weapon and "would surely use it" if they could.
Saying the 47 nations "have the opportunity, as partners, to ensure that our progress is not a fleeting moment, but part of a serious and sustained effort," Obama announced together with South Korean President Lee Myung-bak that a second nuclear security summit would convene in that country in two years' time.
Lee later told journalists that if North Korea made adequate progress in the six-nation talks on its nuclear program, that country would be welcome at the 2012 gathering.
Emphasizing that "real progress on the security of our people" requires "a new mindset," Obama told the gathering the problems of the 21st century cannot be solved by nations acting in isolation, but "must be solved by all of us acting together."
Among significant developments outside the plenary sessions, the Ukraine agreed to give up its holdings of highly enriched uranium, a leftover from nuclear weapons that had been based on its territory when the USSR dissolved.
Canada and Mexico also said they would work together with the IAEA to convert fuel in Mexico's research reactor to a lower level of enrichment, after which Mexico would get rid of all highly enriched uranium.
Considerable media attention centered on President Obama's meeting with China's President Hu Jintao, which reportedly brought agreement that China would participate in negotiations on new UN sanctions against Iran for its alleged nuclear weapons program. But The New York Times quoted a Chinese foreign ministry spokesperson as subsequently emphasizing "promoting a fitting solution to the Iranian nuclear issue through dialogue and negotiations." Iran has repeatedly stated it is not seeking to develop a nuclear weapon.
Many observers have called attention to the nuclear security summit's position in the midst of a series of U.S. and international actions aimed at lowering and ultimately ending the threat of nuclear weapons. Among these actions are: the president's April 2009 Prague speech calling for a nuclear weapon-free world, the administration's just-released Nuclear Posture Review statement, the U.S.-Russia New START treaty to reduce the two countries' nuclear weapons, and next month's Nuclear Non-Proliferation Treaty Review Conference.
Photo: The opening plenary session of the Nuclear Security Summit in Washington, April 13. (AP/Alex Brandon)