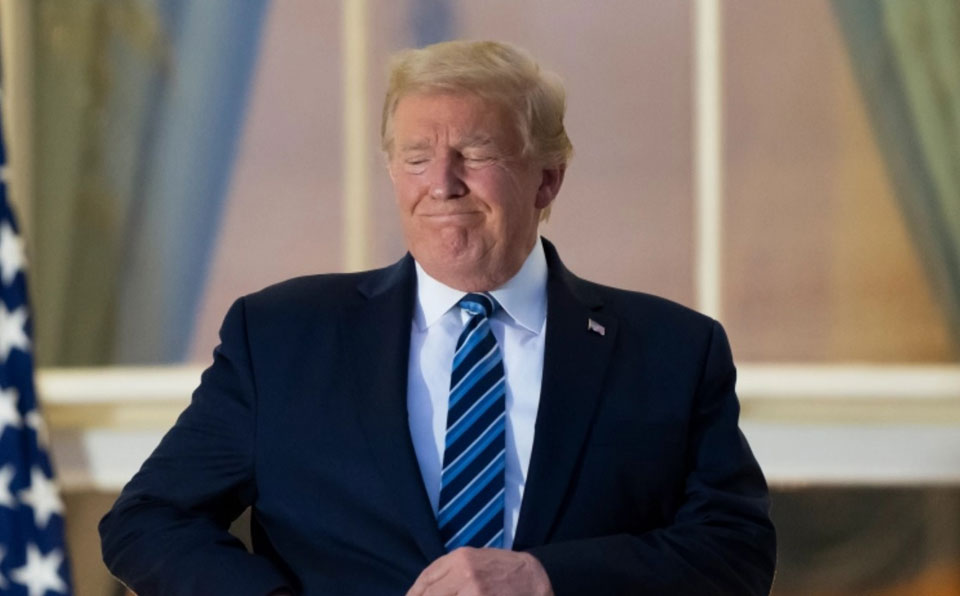 WASHINGTON–Outrage forced GOP White House occupant Donald Trump to shift positions on a financial rescue package for the millions of jobless people left high and dry by the depression he forced on the country after the coronavirus pandemic struck.
But Trump didn't agree to the whole thing, just to three specific bits and pieces. And before that, Trump declared nobody would get anything at all until after the Nov. 3 election, and then only if he wins it.
In short, he's holding the country hostage unless it votes him back into the Oval Office.
"I have instructed my representatives to stop negotiating until after the election when, immediately after I win, we will pass a major stimulus bill that focuses on hardworking Americans and Small Business," Trump tweeted (his capitalization) late at night on Oct. 6.
The firestorm was fast and furious, leading Trump to partially retreat.
"@RealDonaldTrump's ship is sinking. And he wants to take the rest of the country down with him,"
AFL-CIO President Richard Trumka tweeted about Trump. In a follow-up tweet, Trumka included Trump's GOP backers: "They're willing to let us suffer for political theater. I have never seen such dereliction of duty in my life."
"President Trump has shown his true colors: Walking away from coronavirus relief negotiations and refusing to give real help to poor children, the unemployed, and America's hard working families," House Speaker Nancy Pelosi, D-Calif., shot back in her own tweet.
Trump's refusal to marshal the government to combat the coronavirus forced governors, most of them from blue states, to scramble to shut down the economy in order to slow or stop its spread. But red GOP-run states have refused.
The result has been a deadly combination of pandemic that has killed 211,792 people so far and a depression that forced 26 million workers to take state or federal jobless aid–which is now running out in many cases–10 million to lose their health insurance coverage and one in seven kids going to bed each night without enough to eat.
Trump's tweet not only scotched the current talks between Pelosi and Trump Treasury Secretary Steven Mnuchin over a rescue bill, but also left the implication there would be nothing at all if Democratic presidential nominee Joe Biden wins the election. Trump currently trails in national polls by up to 16 percentage points and by ever-widening margins in key swing states such as Ohio and Pennsylvania.
Biden got it.
"Make no mistake: If you're out of work, if your business is closed, if your child's school is shut down, if you are seeing layoffs…Donald Trump decided that none of it–none of it—-matters to him," his statement said. "There will be no help from Washington for the foreseeable future."
"Instead, he wants the Senate to use its time to confirm his Supreme Court nominee before the election, in a mad dash to make sure the court takes away your health care coverage as quickly as possible."
Trump has nominated federal appellate judge Amy Coney Barrett to the High Court. Election Day is Nov. 3 and on Nov. 10, the justices will hear a case, backed by Trump, to kill the Affordable Care Act.
The Democratic-run House has passed two versions of the Heroes Act, the rescue bill.  Both include money for the jobless, aid to state and local governments who have seen their revenues crash along with the economy, cash to schools to reopen with anti-virus measures, aid to the airlines conditioned on keeping their workers on the job, and more.
Trump later tweeted he would sign only three parts of it: $135 billion for small businesses, another $1,200-per-adult payment from the Treasury—he didn't say anything about $500 payments covering each kid–and $25 billion more to U.S. airlines. And that's it.
"Are you listening Nancy?" his tweet sneered at Pelosi.
Her response was quick.
"All the president wants is his name on a check," she told reporters. "We're here to honor our heroes, crush the virus, put money in the pockets of the American people, beyond a check with his name on it."
In a letter to House Democrats, Pelosi also mentioned Trump's concentration on getting Barrett on the Supreme Court while ignoring the nation's needs. She followed that by adding: "His irresponsible statement and policies have damaged lives, livelihoods and the life of our democracy, instead of crushing the virus, honoring our heroes–in health care, first responders, sanitation, transportation, food workers, teachers, teachers, teachers and others–and putting money in workers' pockets."
Both versions of the Heroes Act include aid to schools to help them clean, sanitize, check student, teacher and staff temperatures for COVID-19 fevers and create social distancing, aid to state and local governments who've seen their revenues collapse due to the depression, and federal jobless benefits through Jan. 31, Pelosi noted. The bill also orders Trump's OSHA mandate firms to protect their workers against COVID-19. Trump was silent on all of them.