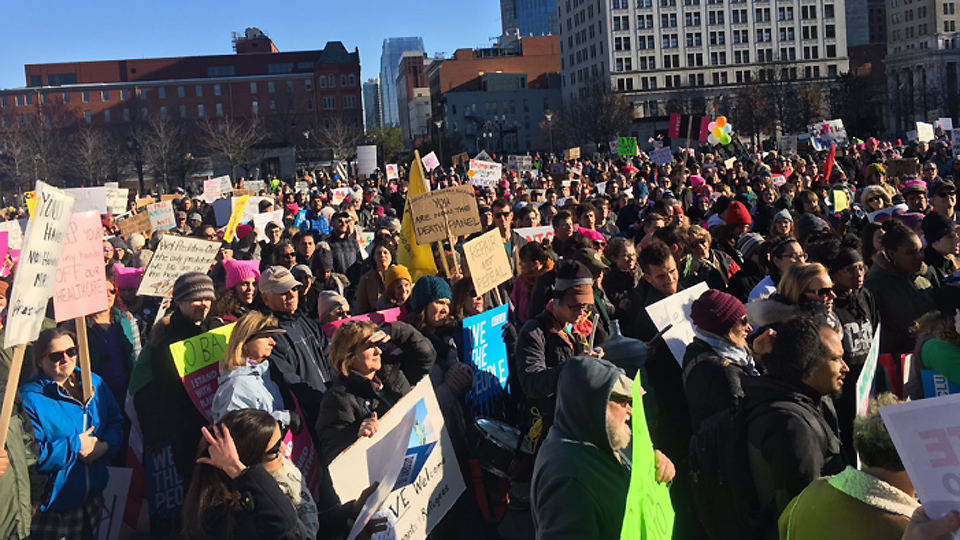 NASHVILLE, Tenn. — On a bitterly cold Nashville morning March 15, a determined group of local Native Americans and their allies withstood the seasonal bone chilling blustery winds of Middle Tennessee to demonstrate their opposition to Donald Trump's visit to the tomb of Andrew Jackson.  As part of his visit to Nashville Trump paid homage to Jackson by placing a wreath on his tomb at the Hermitage, the historic home of the seventh president.
The Native opposition group positioned themselves on the route that Trump had to take for his motorcade to reach the Hermitage. Their protest signs included "Trump–Indian Hater, Jackson-Indian Killer", "Creek War- a massacre of Indian people"—among many others. Trump was in Nashville ostensibly to promote his so-called health care bill.
The demonstration attracted much attention from passing motorists, the majority of them honking their horns in support.  There were, of course, Trump supporters who shouted insults and vile epithets. But, these Trumpites were few and far between and drove in the farthest lanes away from the demonstrators.
Trump has made no secret of his admiration for Jackson. He has called him "a great president" and "an amazing figure in American history, very unique in many ways." Native people have just the opposite view of Jackson, regarding him as an early-day American Hitler. Indeed, Hitler is said to have studied Jackson's treatment of Native Americans in crafting his plans for the Holocaust.
On January 24, Trump hung Jackson's portrait in the Oval Office; this was the very same day that he signed the infamous memoranda promoting the Dakota Access Pipeline (DAPL) and resurrecting the Keystone XL Pipeline. The symbolism of such a move was not lost on Native people nationwide.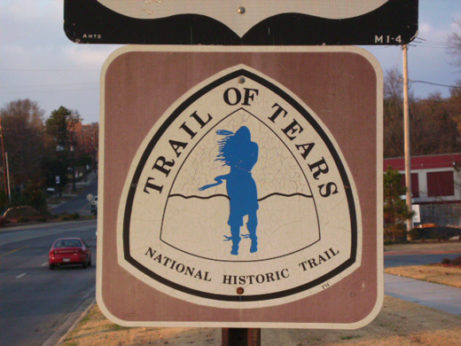 Jackson was responsible for the 1830s Trail of Tears in the Southeast that drove five great Indian nations—Cherokees, Creeks, Choctaws, Chickasaws and Seminoles—from their homes. This forced displacement caused massive loss of life, numbering at least in the thousands. The American South was all but completely ethnically cleansed of Native people who had lived in comparative peace, harmony and prosperity for thousands of years.
Before the Trail of Tears, in the Creek War of 1813-14, Jackson commanded U.S. forces that killed thousands and forced the Muscogee Nation to cede 23 million acres to white settlers. This land grab helped to develop the brutal plantation system in the South and the continued enslavement of millions of captive Africans.
Jackson's hideous legacy continues in the racist atrocities committed against protesters opposing the Dakota Access pipeline in North Dakota. It is present in the recent heartless uses of a "Trail of Tears" banner by Ohio high school cheerleaders at Greenfield-McClain High to taunt an opposing team named the Hillsboro Indians (I might have expected such behavior from cheerleaders in North or South Dakota, but Ohio! It seems anti-Native racism is everywhere).
As for Trump and his praise of the most ant-Indian president in the history of the U.S., keep in mind that George Washington was a ruthless speculator in Indian land and that Thomas Jefferson was, in fact the first president to advocate for Indian removal, beginning with the Cherokees.
It was no coincidence that Trump chose March 15 for his Nashville visit. This date was also the 250th anniversary of Jackson's birthday. This appears to have been meant to send a message to his racist supporters.