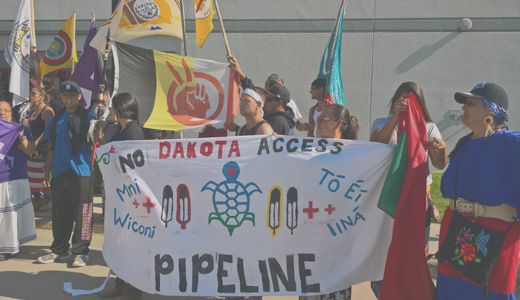 BISMARCK, ND — On Monday, August 29, a massive demonstration of the Standing Rock Sioux and their allies was held at the offices of the law firm, Fredrikson and Byron in Bismarck, North Dakota. The demonstration was to protest the firm's representation of Energy Transfer Partners, the Dallas-based corporation responsible for the Dakota Access Pipeline project. Construction on the project has halted and protesters have been camped out since April on Native American treaty land near Mandan, ND. Counsel for the corporation is attorney Lawrence Bender.
On the morning of the protest it was announced at the Oceti Sakowin (Sioux) camp that a demonstration was going to be held at the state police blockade of the main road from Bismarck to the reservation. People are allowed to leave the reservation but are barred from returning by the same route. The purpose of this non-violent, direct action was to be a "grandmothers' appeal" to the police to remove the blockade because it was tremendously hurting the tribe economically. Sacred, blessed water was to be given to the police as a gesture of non-violence, peace and goodwill.
Shortly before the motorcade was to leave, it was announced a change of plans at the request of the Standing Rock Tribal Council, because of negotiations in process with the state for its removal. Hence, it was decided to protest in front of the law offices.
We left with a 60-plus vehicle motorcade and were joined by other supporters along the way. Arriving at the blockade, the police were friendly and cordial and accepted the sacred water and we proceeded to Bismarck. Arriving at the law offices were cars and pickups waving tribal flags with over 300 demonstrators.
A delegation selected to meet with the attorneys found the doors to the building locked. Spokesperson Joye Braun, an organizer of the Indigenous Environmental Network, using a megaphone, several times, requested that Attorney Bender come out to meet with us and answer why he was representing a corporation that would jeopardize the lives of thousands. There was no response, although we saw office staff sometimes peek at us from behind cracked doors. We found this amusing.
"Going to the attorney's office was good because attorneys, like everyone else, have a choice and attorneys have the choice to decide who the clients are," said Braun, who said she is also a member of the Cheyenne River Sioux Tribe. She continued "We wanted to know why a law firm would put in jeopardy the lives of children, mothers, the unborn and all people. We are standing up not just for Native people, but for all people."
The protest continued in front of the law offices with speakers and prayer songs before we all departed back to the camp. Many more direct actions are being planned to stop the pipeline once and for all.
Photo: Melanie Bender | People's World