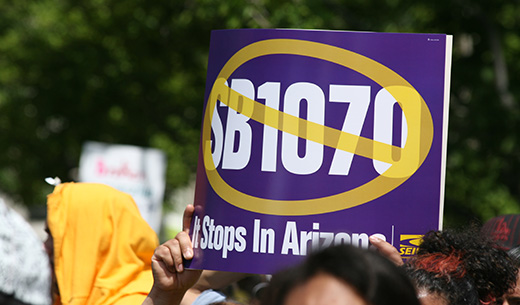 As a Jew, I have become alarmed over recent events on the immigration issue regarding the Arizona Law SB 1070 signed by Arizona Governor Brewer. The law which goes into effect 7/29/2010 apparently was written by a lawyer named Korbach, a member of the Federation for American Immigration Reform. The group is listed in the "Hatewatch" journal of the Southern Poverty Law Center. According to "Hatewatch," this group wears Nazi armbands and swastikas and does not deny their beliefs. They speak outwardly of being against what they call "the browning of America."
The July 18 San Antonio Express News raised concerns in "Civilian Border Watchers Raising Alarm." They explain that the border watchers are a Neo-Nazi group led by J.T. Ready, an ex-marine who proudly wears a U.S. military uniform. He is armed and proudly believes, "only white, non Jewish heterosexuals should be American citizens and anyone who is not white should leave the country." The police expressed concern about the armed groups.
According to the Southern Poverty Law Center the organizations who are known white hate groups such as A3P (American third Party) and stormfront.org (the oldest on line white hate group) are working the hardest to bankroll Governor Brewer's HB 1070 Legal defense fund against seven lawsuits to stop the law.
This week, a progressive group the Southwest Workers Union, which has done a lot of work against the SB 1070 law in San Antonio by organizing protests both here and in Phoenix Arizona, had their office on Commerce Street attacked by someone shooting a semi automatic rifle. They severely injured a young 23 year old intern and nearly hit six other youths who were in the same room.
Finally, during a youth workshop at the National Council of La Raza in the Convention Center last week, numerous young Hispanic people stood to say they had recently become afraid to walk or go outside and that over half the group of 200 agreed they had been stopped more than once for minimal activities on the way to the store or park.
During the City Council meeting Rabbi Aryeh Scheinberg of Synagogue Rodfei Shalom in San Antonio and a group of four congregants stood to describe the suffering of Jewish immigrants and gave support to a resolution to go to the state legislature in Austin to stop another copycat of the Arizona law being enacted here. I am proud that he spoke out for the Jewish community.
Unfortunately, the unfair trade laws such as NAFTA have driven many Mexicans off their land and there has been a mass migration in which many have risked their lives crossing the deserts to come here to try to have a chance to work and survive. Most of these people work like all immigrants, long and hard. They are honest and have close families and abide by the law. Often their employers fail to pay legal wages and sometimes cheat them of their wages because it is known that they have no recourse. They live in fear, risk arrest, and four million of their children have been orphaned due to ICE raids in workplaces.
We do not need individual states to create laws that copycat SB 1070. We DO need federal immigration laws that are inclusive, humane and enable a way toward citizenship, not force people to remain as a hidden second class of workers that are treated unfairly and bring all our citizens down economically and spiritually.
The armed "border watchers" and "Nazis" running around in uniforms with guns need to be arrested. Governor Brewer should be arrested, too, for accepting contributions from these dangerous, violent, anti-democratic and anti American criminals!
Photo:http://www.flickr.com/photos/45976898@N02/4575184210/sizes/o/