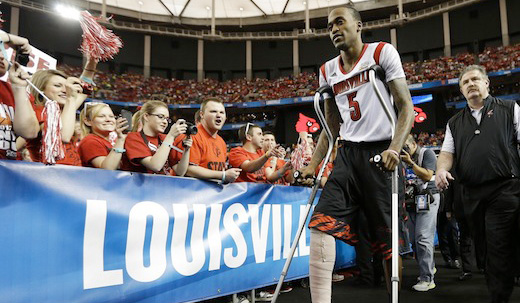 As college sports fans ready themselves for the NCAA Basketball National Championship Game, a new report from the National College Players Association and the Drexel University Sport Management Department highlights the level of exploitation these players face.
The report notes that from 2011 to 2015, men's basketball and college football players will be denied $6.2 billion in value that their labors have developed since college sports athletes cannot be paid. The report also notes that: "an FBS – or Football Bowl Subdivision, is the highest tier in college sports – school had a fair market value of $456,612 above and beyond the value of their scholarship. The average men's basketball player had a fair market value of roughly $1.06 million over four years, not including his scholarship. (That figure is even higher at Bowl Championship Series schools: $714,000 for the average football player and $1.5 million for the average men's basketball player.)"
While some will inevitably argue that a scholarship is payment, studies have also conclusively proven that many full ride scholarships for athletes do not cover the true cost of attending the university. Byzantine NCAA rules prevent players from taking "impermissible benefits" even in cases of selling their own game worn jerseys or their own personal property like awards they were given. The realities of top tier college sports also make getting a job nearly impossible. In fact, the NCAA's entire designation of "student athlete" was created as a legal fiction to avoid having to pay out benefits to the players.
Cases of alleged grade manipulation (i.e. UNC), sham online colleges like Western Oklahoma State College were used for students to maintain eligibility with the minimum of work (i.e. 3 credit hours for 10 days of lessons), the tragic case of Dasmine Cathey and other examples show that these athletic programs are often more interested in winning and getting the adults money than actual education for students. There is also no guarantee of a student maintaining a scholarship since it is at the discretion of the school on a yearly basis. So, if an athlete gets injured or lacks on field/court production, they may not be able to continue their education if their family can't afford to pay. Even acknowledging that a scholarship is somehow payment for their labor, it is still exploitative. After all, the students are "compensated" with a mere fraction of the billions that their blood, sweat and tears create.
Where does all the money go? It goes to increasing coaches' salaries. USA Today noted a 70 percent increase in the average football coach salary since 2006 with 42 Division I coaches making at least $2 million. In basketball, coaches like Louisville's Rick Pitino made $4.8 million coaching this season while his athletes work for free, including Kevin Ware who suffered the nationally televised gruesome leg fracture and has now become the school's rallying cry as they advance in the tournament.
The money also goes to huge expenditures on facilities and stadiums. As the NCAA's own Knight Report "Restoring the Balance: Dollars, Values and the Future of College Sports" noted: "…from 2005 to 2008, athletics spending increased at more than twice the rate of academic spending at nearly all of the 103 Football Bowl Subdivision schools. On average, FBS schools spend more than six times as much on athletics per capita than on academics. And most schools are forced to tap general university funds to balance their athletics budgets." Other reports agree.
Given these massive expenditures, it is no surprise that many of these schools are struggling with their academic mission and keeping education as open and affordable as possible. Auburn is seeing tuition increases as the school pays Gene Chizik $7.5 million to not coach the football team. Texas has raised tuition 55% since 2003 and is paying a massive contract to their football coach Mack Brown. Les Miles of Louisiana State just got a raise in his new contract while the school resorted to raising tuition by double digits. These are just a few examples of an egregiously offensive national trend of an "arms race" mentality to ensure their program keeps bringing in the top recruits so they can win more games and pay coaches even more money.
College sports have created a system that enriches conferences, the NCAA and top tier coaches while fundamentally altering the mission of the University system. From the demand that causes money to be diverted from the educational goals of the school to the crassness of many schools that don't care whether or not an athlete actually learns, but only that they maintain eligibility so they can play on game day, the comments by backup Ohio State quarterback Cardale Jones come hearkening back about athletes "playing school" when they are really there to play sports.
We can have a system that respects schools, their academic missions and the players for the value that they create on the court or field. However, of course, power never gives up anything without a demand. It is up to advocates of social justice, workers rights and sports fans to help athletes fight for just compensation for their labor.
For further reading, the author suggests Taylor Branch's "The Shame of College Sports" from The Atlantic and his e-book "The Cartel"
Photo: Fans cheer as Louisville's Kevin Ware takes to the court before the first half of the NCAA Final Four tournament college basketball semifinal game against Wichita State, April 6 in Atlanta. (AP /John Bazemore)