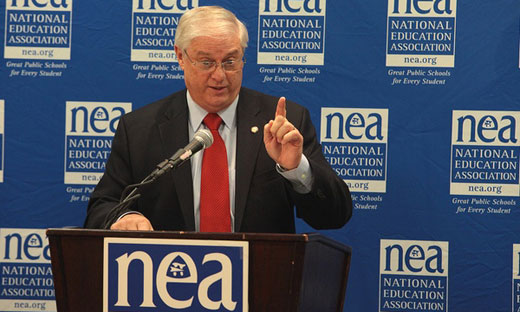 ATLANTA – The National Education Association (NEA), the nation's largest teachers and school personnel union, will institute a $3 per member extra fee on its three million members to fund new school improvement plans.
Delegates to the union's annual convention, the first week in July in Atlanta, approved the fee at the urging of president Dennis Van Roekel. He said it would show teachers are putting their money where their mouths are in the cause of improving the nation's schools.
Van Roekel challenged the delegates to "transform public education" by taking control of the process of improving it, away from corporations who want to profit from it or from politicians who are anti-worker, anti-union, anti-public schools or all of those.
The fee is a way to do that, he said.
Foes of public school teachers, including big-city mayors in New York, Chicago, and Philadelphia, and GOP governors nationwide, have stripped public schools of money, closed schools, fired teachers and generally indicated they believe teachers and their unions are the enemies of school improvement.
The fee for the association's "Great Public Schools" drive "is about creating a groundswell of alternatives to the corporate reformers and privateers – our ideas, our solutions – so we can drive them out – out of our classrooms, out of our profession, and out of our students' lives!" Van Roekel told his 9,000 convention delegates.
"It's about giving our members resources and support to fight for their dreams of what education could be. It's about showing the nation that we are not only the experts in supporting student success but that we are willing and able to accept responsibility for that success.
"Fighting bad ideas is not enough. We must be champions for quality in every classroom, every school. And we must use every tool at our disposal – lobbying, organizing, bargaining, our ideas and our energy.
"So if you are tired of a reporting system to parents that focuses only on test scores and not the whole child – then why not collaborate with your colleagues and create your own?" he asked.
"If your district isn't providing professional development for the implementation of the Common Core state standards," of education, "then why not create your own, using NEA support and resources?…Stop asking or waiting for permission – Proceed until apprehended!"
Photo: Dennis Van Roekel. AP