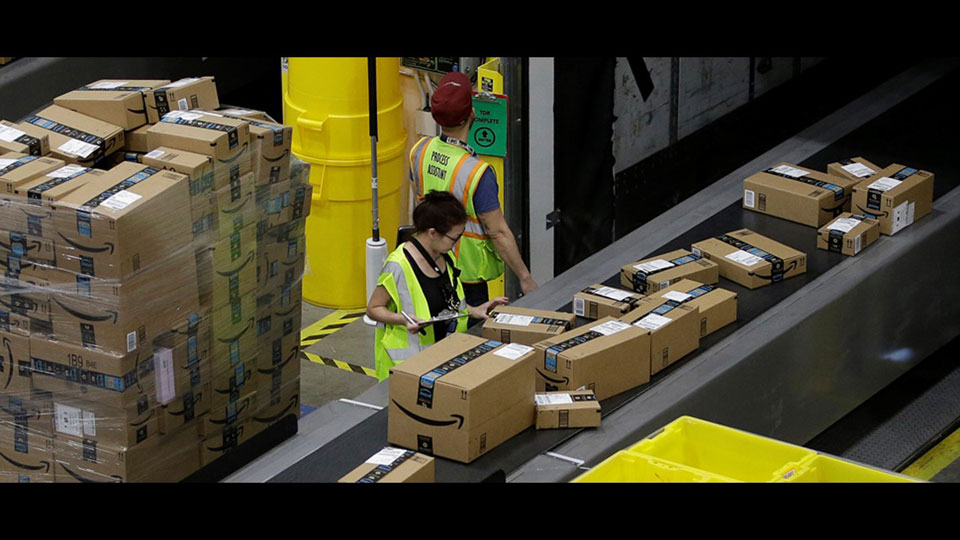 Online retail giant Amazon was pushed into releasing a trove of comprehensive data on the spread of coronavirus among its workers on Thursday, Oct. 1. The data disclosing for the first time that 19,816 workers, principally in the company's warehouses, have become infected. That's 1.46% of their total workforce.
But advocates for workers, including the United Food and Commercial Workers Union, say that number may be low. That's because Amazon has fired at least seven whistleblowers about the virus threat, intimidating others, and because its worker count does not subcontractors.
The information comes after months of labor organizations, elected officials, and health officials repeatedly pressing Amazon to disclose infection data. During the spring months, under pandemic conditions and increasing lockdown measures, Amazon warehouse workers raised concerns over inadequate health and safety measures and called for warehouses and other facilities with confirmed coronavirus cases to shut down to prevent further spread.
It also comes after three of the fired whistleblower workers, all Somali natives who worked at Amazon's Shakopee, Minn., warehouse, sued the firm in June. And on Sept. 24, a non-profit investigatory firm, KKS, issued a report, Covid-19 & Inequality: A Test Of Corporate Purpose, ranking Amazon in the bottom quarter of all large companies in handling the pandemic's outbreaks among workers.
KKS noted that while Amazon reported 400 workers tested positive for the virus from March through mid-May before Amazon stopped releasing cumulative figures, combing through local data and reports yielded a 900-person virus total by that same date.
The Amazon coronavirus infection figures include its Whole Foods subsidiary, and conditions at the grocery chain led UFCW into the fray on Sept. 24 after the KKS study was released.
"The pandemic…is bringing out the worst in companies like Amazon that are willfully choosing to ignore their responsibility to keep workers and their communities safe," said union President Marc Perrone. His union represents workers at other grocery chains, which must compete with Amazon.
The numbers come as little surprise, given events that have unfolded since the beginning of the pandemic.
On May 1, 2020, May Day, Amazon workers across the country picketed outside their warehouses, calling for safer working conditions and improved preventive measures from the company as the spread of the virus spiked.
"Inside the warehouse, it's crazy. I've heard that two people have the virus already, but they don't tell us anything. I don't think they care about us at all. Be careful about the packages you get. I try to wipe down all of mine, but they don't give you enough to do all of them," said Charles, an Amazon Prime delivery driver back in May.
To date, there have been at least eight Amazon worker coronavirus deaths are known to have occurred, but the information released Thursday did not give an updated virus mortality rate.
Previously, Amazon was quick to decline sharing the data, saying it would be "misleading and lacking context." In its Thursday blog post, the company claimed the information would be more powerful if "there were similar data from other major employers to compare it to."
As critics pointed out, contracted third-party delivery drivers handling a portion of last-mile deliveries were totally unaccounted for in Amazon's release. Without clear figures, it's difficult to accurately reflect the actual number of independent contract drivers, but the company has previously said it added nearly 85,000 driver jobs across the U.S., Canada, UK, Spain, and Germany.
Regarding the rate of infection, the company said it was "42 percent lower than the expected number," and Amazon continues to maintain that the rate of infection in its warehouses is lower than the rates in surrounding communities, despite a Minnesota warehouse showing that infection rates exceeded community levels.
In response to Amazon's damning coronavirus revelation, Athena, a broad coalition of local and national organizations, activists, and labor unions advocating for Amazon workers, released a statement, saying: "Since March, workers and their communities have been demanding these numbers from Amazon. Workers faced retaliation, including the risk of losing their job, just for standing up for their health and the health of their neighbors.
"Public officials must immediately launch investigations into Amazon and demand that that company report data on Covid19 cases from this point forward—publicly, regularly, and truthfully."
Amazon said they've "launched and are ramping quickly," their daily testing, to reach 50,000 coronavirus tests daily across 650 worksites by November.
The data on coronavirus infection comes as Amazon preps for its annual "Prime Day" sales event scheduled for Oct. 13 and 14, marking a busy period for its workers and drivers. In anticipation of the 2020 holiday season, the company announced last month its plans to hire an additional 100,000 employees.
"For the sake of their bottom line, Jeff Bezos is turning Whole Foods stores into a chaotic mess where employees are now being pitted against each other in the rush to churn out as many Prime Now orders as possible without any regard to the health risks they face," union leader Perrone said.
"Amazon's belief that workers are machines, and the company's ruthless obsession with speed, is forcing these men and women to run around stores and completely ignore the safeguards essential to protecting them and preventing another COVID-19 outbreak."
He demanded elected officials "hold Amazon and Bezos" accountable for their "dangerous actions" that "could spark the spread of Covid-19" among even more workers.
The coronavirus death toll in the U.S. has reached 208,000, with over 7.31 million reported infections, including President Donald Trump.